Record holder Hugh Jones on the 40th ASICS Stockholm Marathon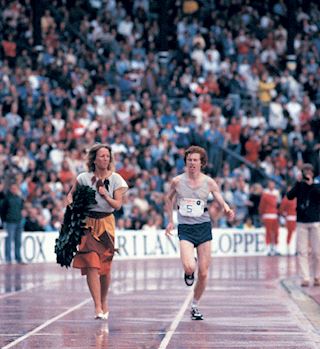 British Hugh Jones held the record in ASICS Stockholm Marathon for 33 years(!). He is one of the world's best marathon runners and continuous to be a vital part of the long-distance running industry. When Stockholm Marathon celebrates it's 40th jubilee, Hugh has been the one who has approved and controlled the new route, making sure it lives up to the standards of AIMS. Hugh Jones is one of the world's most experienced runners and has monitored both World Cup and OS. We took the opportunity to ask him about his experiences from running in Stockholm, Sweden and his views on the event going forward.
How come you first competed in ASICS Stockholm Marathon (ASM)
Several reasons - there was a financial incentive but that applied to most marathons by that time (not so only a few years earlier). I had been operated in November 1982 (Achilles tendon, under Prof Peltokallio in Helsinki). I had run my first race after the op. (10km) in March. I needed more time to build up to a marathon for UK selection for the first World Championships in Athletics in Helsinki in August 1983. The 'trial' race in London (from which the first two finishers were selected) was too soon (April) and Stockholm was about the latest date that still gave me a chance to recover before the Championships.

What was your first impression of the track
By most standards Stockholm is a relatively tough course - with undulations and the sustained climb over Västerbron (long bridge and landmark). But at that time in UK we were just emerging from the era of small club marathons of less that 100 runners run on country lanes with 'light' traffic and controls. These lanes tended to be more undulating than Stockholm. My first marathon was in April 1978 in the extreme southwest of England and is probably still the toughest course I have run. I won it in 2:25:12. The last 5km were gradually uphill. The marathon in which I improved to international standard was the 1981 English (AAA) Championships held outside Rugby three laps which each included an ascent of 'Carthorse Hill'. I ran 2:14:07 and improved to 2:13:06 on yet another 'undulating' course in Oslo six weeks later. 
After that I had run New York and London among other courses, which are both less than flat. So Stockholm was not a particularly tough course for me. It was a mass marathon but I had got used to those in the previous two years. But at that time Stockholm, with its two lap course was run more in the central city (apart from the Djurgården bit) than most other international races where it tended to be just the last few kilometres. In later editions I remember the crowds and sunshine that gave Stockholm such a summer festival feel, but in 1983 it rained. The race itself was competitive and demanded full mental focus - I only took the lead after 40kmn and was not clear until after 41km.

Tell us about about your great victory in 1982
I remember the start but not much more until Paul Cummings put on a burst somewhere near the Royal Palace I think - I cannot even remember how far into the race it was - mainly because I knew I could not follow it. Instead I help back and ran with Agapius Masong. We held a good pace but I thought Paul had gone for good. It was only with less than 5km to go that it seemed like we were closing, and it only seemed real when I spotted him ahead at about 40km, stretching rather than running, and we swept past him. I still had the battle with Masong over the last 2km but I had the feeling that it was me who was dictating the pace and agapius was near his limit. We had passed Paul on Odengaten but I think it wa only back on Valhallavägen that I took a clear lead. All I remember in the stadium was the poor girl trying to lasso me with the winner's wreath 50m from the finish line: I ran past her, not willing to take the victory for granted before I crossed the line.

How come that your record 2.1.37 could hold for such a long period as 33 years
Anders Olsson (the man behind the Stockholm Marathon) had a sensible elite athlete policy of only inviting runners that had times a little faster than the top Swedish stars. At that time that was Tommy Persson and Kjell-Erik Stahl. They both finished not too far behind me on that day. After that though Sweden - in common with most of Europe, suffered a decline in the abilities of their top competitors and so those invited also had slower times to their credit and the chances of breaking the record reduced. The rain made for good racing conditions - on my next visit to Stockholm for the 1992 race I won in 2:15:58 - but it was 28C on that day.

What importance has ASICS Stockholm Marathon had for the developing of marathon- and long distance running in Sweden
My impression is that it was a driving force in Sweden much as the London Marathon was in UK or, before then, the New York Marathon in US. It continues to offer a 'destination' - the combination of central city, parkland and water makes it scenically very attractive. It is also one of the few in Europe to be held in the summer (nearly all such others are also in Scandinavia).

You have measured ASICS Stockholm Marathon many times and now there is a new track. What do you think of the new course?
I think with the numbers increasing Stockholm had to go to one lap sooner or later - or reduce the first lap to something under 10km. The enlarged lap goes to parts of the city I had not seen before (particularly in Södermalm) and I think it continues the theme of offering a scenic urban course without being overly concerned to avoid challenging sections.

Do you have any special places in Stockholm to recommend for "running" visitors
The forest right behind the Olympic Stadium was an incredibly convenient location for warming up before the race.