Winter brings cold weather, freezing rain, snow, and icy conditions along with fewer daylight hours during the day but they seem to do little to deter runners. While outdoor winter running can be an affordable alternative to a gym membership, to do so safely and stay warm, it is best to invest in the proper essential winter running gear. 
Cold weather running may seem daunting but dressing the part is the key to success. The focus is on the layers. This simple concept means you can add to or reduce clothing items as you go along during your run. Of course, once you start to move, your core body temperature will begin to rise to help to warm you up more quickly so layering is the most efficient way to regulate your comfort during winter runs. 
Whether you are a beginner runner or hardcore enthusiast, it takes a bit of trial and error in finding the right balance of layers and apparel to keep your body warm and dry. The following is a list you can take from and apply to your winter run to help you run comfortably as the temperatures start to drop. And having the right gear can also help you to stay motivated to tackle even the most extreme winter.
Essential Winter Running Gear
: 
Start From the Ground Up
Running Shoes: A solid pair of running shoes are good for all seasons but if the conditions are slick, wet, icy, or uneven due to unshoveled snow you may want to opt for a trail shoe for more efficiency in treading. Running gaiters, such as these from Salomon, are also an optional accessory to help keep out snow and dirt while providing an extra layer of warmth. If the conditions follow a snowstorm, putting on removable traction cleats, such as Yaktrak Run Cleats, will provide a bit more grip which may help you with balance and prevent a fall. 
Socks: Socks are your best friends to keep your feet warm and dry. Wet conditions wreak havoc on your toes and heels which can lead to blisters and dry and cracked skin. Using the right socks can prevent disasters at the feet during the winter run. Socks should be combined with a wool-blend for warmth and tech dry materials to wick away moisture. A good fit would be this merino wool-blend with breathable and waterproof polyurethane layered socks from Showers Pass.  
Running Bottoms: Running bottoms include a variety of shorts, capris tights, and long-running tights. Tights are usually the preferred running bottoms which are made from a spandex material for form-fitting comfort. For colder runs, fleece-lined tights with snug leg cuffs are particularly good to help keep the legs warm. These are a personal favorite for cold runs from 361 Europe.
Running Tops: This is the bread and butter of layering. Tops range from nothing and sports bras to tank tops, short sleeves, long sleeves, jackets, and vests. For the base layer and one closest to the skin, you want to avoid friction and to wick away moisture, so look for materials that have minimal seams and are constructed of tech-dry material like this one from Nike. To minimize wind chill, use a light-weight windproof, and water-resistant jacket next such as this rave-reviewed wind and rain jacket from Janji. If the temps are below freezing, fleece or a down vest can be placed between the base layer and jacket. 
Hand Protection: Keeping your distal extremities like the feet and hands are of most importance. When running, the body tends to direct blood flow to the muscles in use and less so to these areas of the body. Gloves and/or mittens also constructed of wool-blend and tech dry materials are the best bet to stay dry and keep warm. Icebreaker makes a good pair of lightweight gloves that additionally have mobile phone fingertip pads in case of an emergency.

Headwear: Just like our hands and feet, our head has reduced blood flow during a run. Our ears suffer in colder temps so it is important to have coverage with either a headband or hat. Once your body starts to heat up during the run, the first place we will lose heat is from the head. We suggest a fleece-lined or wool blend hat, bonnet, or beanie like this one from Asics. 
Face Mask: Not only will a face mask be good in times of covid but also help keep your nose and lips warm. We recommend a multifunctional Buff for cold but sunny days as it provides UPF 50 sun protection or this multisport, Windstopper Gore balaclava.


Here is a quick guide on layering by temperature: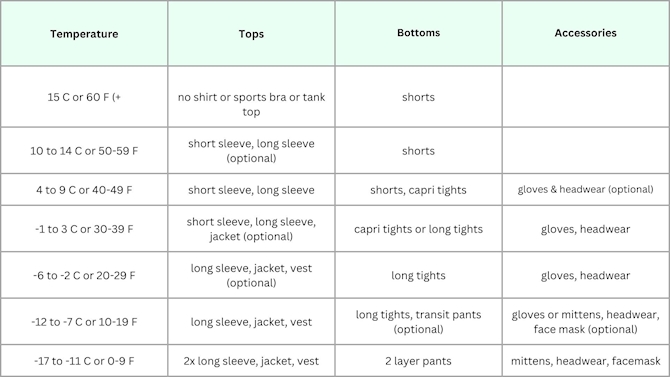 You may need to experiment with which amount of layers works best for you and your body type. As your body warms up, you may feel overdressed comparatively to the temperatures. A good reminder is to add 10-20 degrees to the outdoor temperature. This is related to the amount you sweat, the distance and the pace of the run to be done all of which will help you decipher what to wear. Reminder to also take into account wind chill. The stated temperature versus "Real Feel" temperature are two different variants when it comes to running in the winter. Always use the "Real Feel" as your standard measurement. That's why this quick guide may not be entirely exhaustive or inclusive for every individual. What works for one runner may not for another. 

Once finished with your run, immediately undress from wet and cold weather garments to help the body warm-up and reduce cold weather issues like hypothermia or to stop from developing a cold. If you are racing or running farther away from home, bring additional dry gear in your car to change into and grab some sport wipes like HyperGo wipes to clean the body and face from salt, sweat, and dirt before putting on your dry clothes. 
Happy Winter Running!