Halong Bay Half Marathon - My first Half Marathon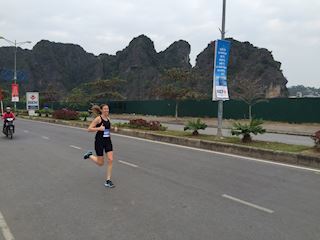 How to run your first Half Marathon
Or should I say… how not to run your first Half Marathon. 
Full of excitement I follow some friends during the Amsterdam Half Marathon. With the marathon app, you can see where the runners are on the track. Some runners told me their targets, fast times or just finish whenever is possible. I'm so enthusiastic, I keep refreshing the app and watch the runners move through the capital city. They are doing great!
Yes, another 5km. 
Wow, they are halfway. Man, he is fast!! Great to follow them just with my phone. Such a difference with my first half marathon. It was so primitive back then…. and suddenly I'm back at the Halong Bay Half Marathon…

I wake up to go to the bathroom. Once back in bed, I look at the time: 4 o'clock. That's really early, so I try to get some more sleep. Unfortunately, I can't sleep anymore. I'm just too nervous. Let's go to the toilet ones more. Then I force myself to lay in bed for a while, but I can't keep it much longer. The minutes go by so slowly… 
5 o'clock, I allow myself to get up and get some breakfast. I visit the toilet so often, I can use some energy.
I have all the time to get dressed. Shorts, singlet, it's going to be hot during the run. Race number on my shirt and where are my headphones? I can't run without music! Okay, I'm ready! Oh no, let's go to the toilet one more time. 
Gosh, how am I gonna do this? Already so tired and just empty! 
I try to keep it cool. Just go! It's just a run. If it doesn't work you can just go back. Don't think about the toilet. Just go!
It's just after six and starting to get light outside. Here I am, strolling through this sleepy town. The only people I see are fishermen on their way to the bay. Except for some flags along the road, I can't see there is a race about to start in a bit.
There's no other runner on the streets and my hotel is just five minutes from the start line. 
Once I'm at the race area, I first have to go to the toilet…. again. I have some more water, check my race number en my headphones. Everything is fine! Only my BIB number, what should I do with it?



I was at the expo yesterday. It was just so official and primitive at the same time! It's the first time Halong Bay organizes this Halong Bay Heritage Half Marathon. The foreign participants are invited to some kind of VIP event. I was there with a Dutch and American couple and a man from somewhere else in Asia. 
It was very official, yet so small that I felt so uncomfortable.
O gosh, they will expect a lot from me as an international athlete!
You might understand how nervous I was. I mean 'you feel the pressure'.



During the VIP-event they told us to please not lose the BIB-number. Not only because you could get disqualified, but also you will get a $100,- fine. I wonder why the bib-number isn't attached to our race number, but I understand they don't have all the high-tech stuff we are used to.


Anyway, at least I have a Bib number. In a minute we will find out how bad the quality is though.



It's time to go to the start line. We have to attach the number on our right side. I try my right shoulder, but since I'm not wearing sleeves, the sticker will not stick to my skin. Alright, I'll try my shorts. Fine.




Everything set. I'm at the start line with about 80 other runners. It doesn't really help my nerves. I'm afraid they're all good athletes. And here I am, not well trained, from a cold and flat country. I do a lot of sports but didn't run that much lately. I ran 16km in September and thought 'oh let's go for a half marathon in may'. And then I found a commercial about the Halong Bay Half Marathon and May became November.



Now I'm here at the start of the race and I just don't know why I registered. I really have to go to the toilet, but the race can start any moment now. The dixie is really close to me, but I'm afraid the race will start. When all of the 80 runners start I will run behind all by myself for 21k. I feel so terrible. Let's just start and die along the way!

Thank god, there we go! I'm running with the Dutch lady. She wants to finish in two hours, just like me. As always, I have no idea which pace to start with. So I run with her. After 1k she tells me we run too fast and after 2k we try to slow down a little. And then I see it….

I lost my BIB number! "O gosh, my BIB!" I turn around and run back. I'm panicking and shout out I lost my number. I run along the way and search on the ground. "O God, now my run doesn't count!" I'm shouting to someone who asks what I'm doing. "Just run for yourself!", he shouts back at me. He is so right and luckily I have the power to turn around. Like an idiot, I start to run to make up with the time. After about 3k there are some volunteers who hand out water and there the Dutch lady waited for me. Isn't that sweet!

We reach the first turning point and get our first bracelet. The bracelet is made of beats and works as a token to proof you ran all the way to the turning point. On the way back I keep looking at the other side of the road to find that white sticker.


After crossing the road three times to find just nothing, I give up. I won't find it again.

The course leads us past the start again at about 7k. I see one of the organizers of the race and shout almost in tears: I lost my BIB number. "It's okay, just keep running!", he shouts back at me. And that's what I do. What a relief!

I run past my hotel. I run along the empty market. I run over the bridge, wow that's tough! I still run with the Dutch lady.


We get another bottle of water. This is perfect! They have small bottles with a lid. I can just close the bottle again and take it with me along the way. It's so much easier to sip just a bit of water from time to time.
They didn't close the road for traffic so there are cars on the road. Some go slow and look at us and others pas by quite fast. They force us to run at the side of the road.

We go around the corner and arrive in the village. There are a few people watching us. Not many cause it's early and I don't think they did a lot of promotion for this race.

12k and I can't keep up with the lady. I want to stop, but I really don't want to give up. I wish the lady good luck and slow down a bit. I lost too much energy in the first kilometers, but I don't want to quit.
And now it gets hard! Not only because I'm tired, but also because there's no one running next to me. There's nobody along the road to cheer for me. There's nobody behind me and soon there's no runner in front of me. All by myself, I run a really slow race. Only straightforward on a wide and empty road in a sleepy town. Where's that turning point??

15k and there it is! A turning point and a second bracelet. I like this one a lot. It has brown beats and a little Chinese coin for good luck.
This bracelet encourages me!
I'm jogging more then I run. It seems like I'm not moving forward. But I'm not allowed to walk! When I walk once, I'm done running. I won't do it! Even though I have to run back on this boring part of the run all by myself, without support. I will not give up!


So I just run slowly. I'm surprised to see other runners and walkers on the other side of the road. Okay, at least I will not finish last!

No idea how many kilometers I have run, but I get another bottle of water. Strange, I didn't even finish my last one. It's not even that hot as I thought it would be. There's a fresh breeze in this bay. Perfect for a run! I'm not so sure about the length of this race though…. but hey, is that the 19k sign? I never ran this far! I allow myself to give up and force myself to go on in a split second. If you can make it this far, you can finish!

And there I go, over the bridge and the market, behind my hotel. And then I feel that runners high. I'm gonna make it! I will run my first half marathon! Is my brother already awake? Will he be at the finish? About that finish line… it was just a bit further than my hotel, right? And I just passed the 20k, right? I guess I should be able to see the finish by now?

Gosh, this bay is long! And oh what a beauty it is! Cause of that stupid number I just forgot to look at the bay in the first loop. What a beautiful scenery and how cool am I running here all by myself. I run around the corner and see some dressed up girls dancing and cheering for me. And there's my brother! Of course, I have to speed up now and with all my energy I sprint towards the finish line. What a strange feeling to finish there, solo.


I run towards my brother. He is surprised I finished in this time. He didn't expect me to make it. Sorry, I really have to go to the toilet!

Just in time, I run to the nearest Dixie leave all the nerves from this morning behind. Oof, what a relief! I don't know how I was able to run with that for 21k.


With my brother, I check my time. My phone tells me it's 02:01:49. Ai, just not fast enough. But I remember running back and forth in the first part of the race. I ran a bit further than 21k en my half marathon time is within two ours. Just within two ours, but it counts for me. Or I don't really care. There won't be an official time. I don't have a BIB so there's no finish time. but hey, I just ran a half marathon!

I just did it! And I'm not sore at all. I actually feel really good and suddenly have so much energy. We walk along the bay on our way to the hotel. It truly is beautiful out here and I feel blessed for being able to run my first half marathon here.

Two years later I find out there is an official time on the website of the Halong Bay Half Marathon: 02:01:43:242. I'm really proud I took this adventure. And if you see me somewhere, look at my wrist, there's a good chance to find the bracelet with the lucky coin!

I ran my second and third half marathon in the Netherlands. It was in 2016 when all the injuries began at the start of my NY marathon training. These runs didn't go smoothly and I could have prepared better for it. This year, 2017, I ran a half marathon again. You can read the story of this run in Midnight Sun Half Marathon. 

I promise all of you and myself to train better for my next half marathon, which is in March. So I'll start training by now.

In March I'll travel to Cyprus to participate in the Limassol Half Marathon. Do you want to know more about this marathon, check out this site Limassol Marathon. Would you like to run with me… the early bird tickets are still really cheap!


See you next run!