Limassol Marathon - Running my First Marathon!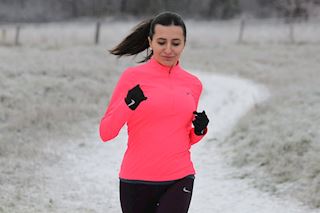 It is another magically white winter in Sweden. The same period of the year as 3 years ago when I signed up for my first half marathon race. I remember vividly how I wrote that very exciting line in the list of my good resolutions for the coming year. Now, I realize that I decided to run a half marathon without having the experience of any other shorter distance race. Crossing the finish line of that very first race didn´t bring, as I expected it, the feeling of an end but of a new beginning – much more than an accomplished goal, it marked the discovery of a life time passion for running. 
Here I am, 3 years later, in this same magical New Year's time when everything seems possible, facing a new important challenge: running my first marathon and not only that but also being an ambassador for the Limassol Marathon in Cyprus. 
Why you should sign up for a race
What I love the most about taking part to a race is that every preparation cycle is a new start, a new opportunity to improve oneself and it is an incredible journey of commitment, self-competition and discovery. Without running, I would never have learnt what I am capable of and I wouldn't have realized that the limits of our body are only temporary boundaries we can push with every training we do. 
Nordic winter Marathon training
The road to my first (the Mediterranean, sunny, warm, turquoise and crystal clear) marathon is taking me through snowy and demanding spots. In the same way that a growing tree, before to reach for the sky, has already built below the ground a huge, powerful but invisible system of roots, the success in a marathon is made on these dark, cold and lonely roads. Marathon training is a life, in short, a chance to discover yourself and to get better. 
The long and chilly Nordic winters ask for extra flexibility, adaptation and planning of the training. One of the biggest challenges I had to face was to perform the weekly long runs in winter conditions. The negative temperatures allow outdoor running but, when it comes to the endurance training of over 15k, my frozen cheeks and hands beg me to leave the sumptuous white landscape and find a shelter in the monotony of a gym treadmill. However, I am not an indoor sports enthusiast and, except for the endurance training, I had to change my relationship with the cold weather and besides the unpleasant conditions to persuade myself to go outside and respect the weekly training plan. I realized that one of the biggest differences between training for a shorter distance race and marathon training is the amount of freedom we have during the process. The marathon plan almost doesn't leave any space for modifications and asks for a strong commitment to the schedule. 
December and January are busy months of family gatherings and celebrations, full of expectations when successful training feels like a victory over yourself and the circumstances. When in the early, cold Christmas morning I came out for my scheduled tempo run I felt like a real runner. 
Hanson's Marathon method
Before starting the preparations for your first marathon, it is important to find the most suitable training program for your particular situation, daily routine and personality. After reviewing several marathon programs, I've chosen to follow the marathon method of the Hansons brothers, who were once part of the famous Hansons-Brooks distance project. Their program proposes a dynamic of training that is suitable for my body and running habits. While many of the marathon plans concentrate most of the weekly kilometres on the long run, Hansons propose well-balanced distribution of the kilometres on 6 workouts in the week and the longest run is never more than 16 miles or 25.7 kilometres. I am now in the 9th week of the program and I am very happy to see my pace and endurance improving with every day passed and every kilometre ran. I will write more details about Hanson's method and my weekly workouts in another article. 
Running in Limassol in March
Running is one of the best ways to actively discover new places – be they around the corner or thousand miles away. Since I started running in Sweden, I developed a brand new relationship with my neighbourhood, its forests, lakes, dog walkers, sunsets and fellow runners. In the same way, holiday places shine for the runner of a more authentic life, secret and yet given for everyone to see at the right tempo. 
I am therefore very excited at the perspective of running my first marathon, under the sun, in March, in Limassol, Cyprus – and to discover miles after miles of turquoise waters, flat roads and the thousand details that make a place unique and similar to no other that I can only imagine now, running in my white Nordic desert. 
The joy of setting sails for new adventures, new travels and new encounters is completed with the great feeling of being for the first time race ambassador. I am all the more grateful to have been selected as a representative for the Limassol Marathon that it will give me the opportunity to meet in real life several of the outstanding members of the running community I got to discover through Instagram! 
I will keep you updated with my training plan and am looking forward to seeing many of you joining me for this wonderful Mediterranean adventure, on the 18th of March in Limassol.
https://worldsmarathons.com/marathon/limassol-international-marathon?ref=gSH8pOE
Kisses, Vase