Vilnius Marathon - 42K in the must-see capital of Lithuania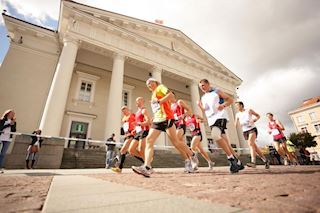 Vilnius Marathon in Lithuania is one of the fastest growing marathon events in the Baltic region and the total number of runners now exceeded 16,000. Vilnius Marathon started in 2001 as a 10K race and has since grown year by year – both in length and number of participants and spectators. Vilnius is a popular tourist destination, and the runners of Vilnius Marathon have a wealth of attractions to experience before and after the race which takes place on September 10th 2017. 
Vilnius old town is inscribed in the UNESCO World heritage list.The city is an outstanding example of the medieval foundation that exercised a profound influence on architectural and cultural developments in Eastern Europe. In the townscape and the rich diversity of buildings that it preserves, Vilnius is an exceptional illustration of a central European town which evolved organically over a period of five centuries. We would recommend you not to miss the Subačiaus hill from which you get a spectacular view of Lithuania's capital.
The marathon starts in the very heart of Vilnius, at the Cathedral square (T. Vrublevskio str.) at 9:00 am. To run the full marathon, you run two laps of the course and one lap for half marathon. The course passes through the most beautiful and distinctive places of Vilnius Old town and sights as Vingis parka, the Lithuanian Parliament, Subačiaus hill (with the best view of the city), Gediminas Castle and other historic buildings.
Central Vilnius is hilly, which means that Vilnius Marathon is a little more demanding than a flat marathon run. It is more than compensated for the views of the city. The Vilnius marathon course record of 2:21:15 was set by Richard Rotich from Kenya in 2007. The woman's record of 2:43:13 was set by Vaida Žūsinaitė from Lithuania during the 2014 Vilnius marathon.
Vilnius Marathon gives the runners the chance to discover the entire old town of Vilnius, multiple churches and four bridges and two higher hills on the way. Once in a goal, everyone gets a t-shirt, a medal and some goodies from the sponsors.
Before or after the Vilnius Marathon, we recommend runners and their fellow supporters to discover Litunania and Vilnius at a little slower pace. A very nice tourist destination outside of Vilnius is for example Trakai, the old capital of Lithuania with the castle in the middle of the lake.