Brief experience of a young marathon man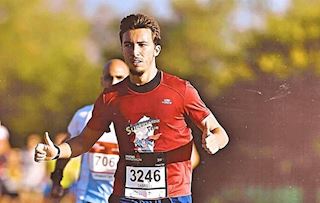 I was first introduced to the world of sports by my parents at the age of 5, where I started attending karate lessons. Practicing karate as both a sport and a martial art exposed me to many new perspectives on dedication, determination, mental strength and has encouraged me to constantly pursue further personal development. Thanks to karate, I have also developed my passion for various endurance activities, which today 16 years later has become a big part of my life.

Consequently, these perspectives were the main reasons behind why I "fell in love" with running at the age of 17. It first started off as a leisure activity, something to occupy me in my spare time. However, just one year later, I actually achieved my first important milestone, finishing my first half marathon! I quickly realized that I had something going for me and that something special was waiting ahead for me.
Running has also supported me and lifted me up during a sad period of my private life. It embraced my body and soul, which brought me a special, renewed burst of energy that supported me and help me to find new strength and motivation. With all these amazing feelings in my heart, I began training to complete my little-big dream: becoming a marathon finisher. That was exactly what happened on 27th November 2016 in Florence , when I crossed the finish line of my first Marathon! I can distinctly remember all the details of that perfect day, but most of all I remember the joy of my parents and friends, who shared the journey with me, including the 4 months of preparation for the 2h58' race.

"Hungry" for kilometers, I decided to take part in my second marathon adventure in Wien during April this year. It was a completely dissimilar experience, the "other side of the medal".
Just as Florence taught me the joy and the positive emotions from achieving desired goals, Wien taught to me the definition of a crisis. That windy day blew away all my energy and starting from the 37th kilometer, the Austrian winds started blowing away some tears from my face. Instead of running, I walked through the finish line with burning legs, zero energy left and 15 minutes lost in just five kilometers… It was my first time that I came face to face with real fatigue.

Nevertheless, I would like to say a big "thank you" to Florence, as well as to Wien, because only through the obstacles and difficulties in life, we can demonstrate our values, increase our strengths and refine our passion for what we like.

Unfortunately, I am typing these lines while suffering from an injury and being unable to run for a while… BUT, I think that not only is this not just a sad moment, it is a moment of great opportunity. The opportunity to realize my current limits, my future targets as well as ways which can bring me to greater achievements.

Before I conclude, as both a fellow young runner, and a friend, I would like to leave with all of you my personal interpretation of running: Running is a chaotic alternation of highs and lows, which is why I compare it with our own lives. It is an unpredictable sequence of surprising events that at many times leave us paralyzed and astonished. However, we can give to these events a direction and a destination: This is our passion, these are our dreams. Use them guide our lives, as well as our running days. Never, never stop pursuing our "calling", the call of our hearts. Make it real, let it come true with dedication and love.

Let our feet, one launched in front of the other, "compose" for us our own masterpiece and let our footsteps be the witnesses of our very own unpredictable, but unrepeatable journey.
Push your limit and you'll find a new horizon