THE PAUWELS CONSULTING GHENT MARATHON WILL BECOME ONE BIG NEIGHBOURHOOD PARTY ON SUNDAY THE 28TH OF OCTOBER 2018!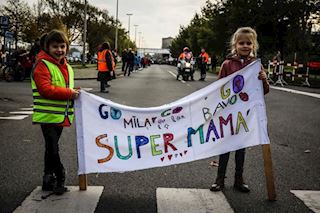 Run, party or supporter the thousand runners who will be crossing your street on Sunday the 28th of October 2018 during the Ghent Marathon and make it even greater by inviting your neighbours in your street to join the party. The Pauwels Consulting Ghent Marathon will become one big neighbourhood party on Sunday the 28th of October 2018!

The Ghent Marathon with his divers running distances will run on Sunday the 28th of October through different municipalities such as Ghent, Drongen, St-Denijs-Westrem, De Pinte and St-Martens-Latem including beautiful nature paths, districts and parks.

Which makes this running event so unique, and classified as one of the most beautiful tracks in Belgium, by inviting the whole neighbourhood to participate to the Ghent Marathon. The nature tracks through which the participants of the Ghent Marathon run are beautiful and green in such way that it will be breath-taking to run in such nice area as well an extra would be to motivate the runners along the way to the finish line.

To make the running party complete the organisation foresees music animation, enough food/drinks supply for the runners, motivating quotes, correct kilometres designations along the way and a free information brochure for all habitats in their mailbox.

Party in your street!

PARTICIPATE together with your neighbours in your street on Sunday the 28th of October between 10h – 17h to support all runners with a neighbourhood party, great street decoration, some water or goodies and do shout loud and clear to the runners to give them the necessary motivation and wings until the finish line!

Some party and supporting Tips:
Place tables and chairs outside your home, please not on the running track of course
Decorate your garden with balloons, sling, and motivational quotes, …
Place colourful flags and put yourself on a strategical position with bells etc.
Organise a BBQ or a nice aperitive with your neighbours
Hand out orangs and water to the runners
Give water spoons to the runners, this can be nice refreshing while doing a hard effort
Let your children slap hands or shouting Hi to the runners, always a great atmosphere
…

Do let us know if you are interested to organise something in your street so we can map it and help where possible. For any additional questions or suggestions send us an email to: [email protected] 
Join the party and get your ticket for the Ghent Marathon today!