Runner in the spotlight: Ann Thomas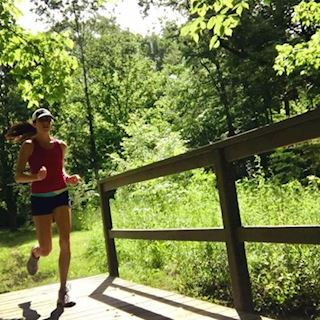 How has running changed your life?
Running empowered me to handle real life situations. It gave me confidence to make a difficult decision.  I knew that, even though it would be hard to be a single mom with sole custody, I was tough and could persevere.  I have been running competitively for over 20 years.  I started as a sprinter in junior high, transitioned to middle distanced in high school, ran cross country in college, and now compete in marathons, half marathons, and trail races.   At first, I ran scared.  I was so scared of failure in junior high and high school that I succeeded.  As I grew as a runner, I grew as a person.  I've become stronger than I had any idea I could be.  
Where is your favorite place to run?
I have so many!  I love to get out to Oak Mountain and run the trails.  It is so quiet and peaceful.  And such a total body workout.  I also love to go to my old high school's track to do speedwork.  But more often than not, I am running on the treadmill :)
What is your favorite post run food?  
Spicy Tuna sushi roll made with brown rice, cucumber, and avocado.  Love the salty, carb-y, and spicy!  
What do you consider your biggest accomplishment?
I think my biggest accomplishment is supporting my family by being a full time Run Coach, Personal Trainer, and Fitness & Nutrition Specialist.  I love helping people find their strength and become the best versions of themselves.! There is nothing like linking arms with my clients and working towards their goals.  
One of my favorite memories is pacing a client on her first marathon.  She had told me for years that she could never Boston qualify.  But for a year I had watched her bust it on her workouts both in the gym and on the road.  This woman totally had it all but the confidence!  She stayed right by my side during the marathon and BQ'd by 10 minutes.  We both were crying at the finish.
Who is your dream running partner?
Right now my daughter is only 20 months, but I think it would be so cool to run together one day.
If you could run any race what race would it be?
I'd love to run the Vienna City Marathon.  I absolutely love the art and architecture in Budapest, Prague, and Vienna. I would love to see it in person!  Then, if we are still in a dream scenario, I would explore to take in the gorgeous landscapes, history, and art museums.
Favorite piece of running gear?
My New Balance shoes. I've trained and raced in New Balance 890's, which are now the fresh foam series, since high school.  Love them.
What is your most embarrassing running story?
My friend and I signed up to run a North Carolina Marathon that was mainly on logging roads.  It looked absolutely gorgeous and was primarily a downhill race.  By the time race day got here, I was four months pregnant. Because I've been a runner for so long and had still been training, my OB was fine with me running the race.  I assumed it would have porta-potties along the course (hello pregnancy brain). The course was stunning and completely porta-potty free.  I had to pee along the side of the course more than a few times. You couldn't even really hide in the woods because of the poison ivy!   I felt bad about showing my hiney to so many runners!
What is one thing we should know about you?
Running a sub 3 marathon six months after my daughter was born doesn't define who I am.  I am very proud of it.  But I am so grateful for a profession has given me the flexibility to be a full-time mom and still allowed me to meet someone amazing in my life. He supports my running and even though he isn't on the course, he's definitely part of the team. Medals and "times" are fun, but they don't embody the true spirit of the sport. Races bring cities together. The volunteers bring the passion of giving. The clients let me experience their highs and lows together.  Running unifies all of us!
Did you enjoy reading about Ann? You can connect with her on Instagram.
 If you also would like to be featured, please send us an email to [email protected]