RUN LGT ALPINE MARATHON - CROSS NEARLY THE ENTIRE COUNTRY!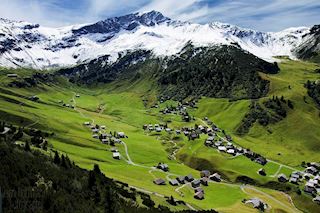 Annually, 850 brave runners join the LGT Alpine Marathon in the tiny European country of Liechtenstein. The race is a true challenge with an altitude difference of 1870 meters and track along a beautiful, yet demanding alpine area. When you pass the finishing line, you have ran across almost the entire country - how many marathon runners can brag about that? 
The first LGT Alpine-Marathon was taking place on June 17th in 2000. It's based on the idea of Mr. Hannes Willinger, the first president of the organization committee. It was his dream to organize an alpine marathon in Liechtenstein. Himself took the measurement of different routes to find the best possibility for the marathons racetrack. He was also looking for the money to getting started and for the sponsors.
Despite its challenging route, the race is pretty fast. The race´s record for men is held by Jonathan Wyatt 2:56:27 (2008) and the women's record is held by Aline Camboulives 3:28:23 (2015); two of the world's best mountain marathon runners.
Experience the best of  
Liechtenstein
On taking part of the marathon the runners cross almost the whole country. It starts on the lower part of Liechtenstein on about 450 meters above sea level, passes the princely castle (600 MASL) and ends up in the mountains on 1600 MASL.
Most of the runners who joins the race are fascinated of the beautiful mountain scenery and intend to come back for hiking or ski holidays. Along the race route runners pass many sights such as Vaduz; a capital city with a lot of museums, restaurants and other touristic attractions, Triesenberg: traditional mountain village with a beautiful view over the Rhein valley and Malbun: a famous ski and hiking resort
Top recommendations for international participants
•    Visit Vaduz and its surroundings before or after the race and spend some extra nights in one of the cosy hotels.
• Enjoy a city train ride, visit the museums and the princely winery or book an individually guided city or country tour.

•    Take the chairlift in Malbun to reach the lookout point on 2000 MASL.
•    Do the unique eagle adventure hike or any other hiking tour (if your legs are up for it!): Liechtenstein has over 400 kilometers of hiking trails.
Find more information about Liechtenstein and it's attractions on www.tourismus.li
There are a lot of runners from the nearby area that participate frequently in the LGT Alpine Marathon. There are seven participants who has ran every year since the premier year 2000. One of the runners in this dedicated group is also the oldest participant (so far) – he is born in 1935.