New track when ASICS Stockholm Marathon celebrates 40 years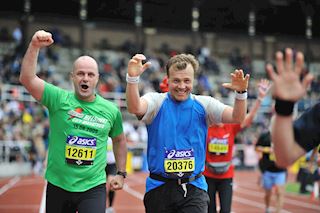 This year's edition of ASICS Stockholm Marathon will be the last time for you to experience the classic two lap course. When the marathon will celebrate its 40th anniversary in 2018 it will be on a totally new race route. Less repetition, new areas in the central parts of Stockholm and fewer steep climbs. Participants of 2017 years edition of ASICS Stockholm Marathon will have priority access to the anniversary edition in 2018.
It was in 1979 that ASICS Stockholm Marathon was arranged for the first time. About 2000 runners participated for the two laps around the central parts of Stockholm, since then has been the hallmark of the race.
Minor changes has been made over the years and for the 40th anniversary race in 2018 the biggest route change in the race's history will be made. Preserving the best part of the race route and to create a route which better reflects modern Stockholm has been the guiding principles in the work to develop the new line of the track.
A lot has happened both with the central parts of Stockholm and ASICS Stockholm Marathon since 1979. New neighbourhoods have popped up and the race has established itself as one of the largest marathons in Europe. The fact that the race route has passed through the most central parts of Stockholm has been something which made ASICS Stockholm Marathon unique. This is something we wanted to reinforce with the new race route. At the same time we want to show the runners even more of what one of the world's most beautiful capitals look like, says Daniel Almgren, CEO of the organizer, Marathongruppen.
The exact race route is still kept a secret. However the runners favourite part of the route which passes by Strandvägen, Norr Mälarstrand, Stadshuset, Skeppsbron and Västerbron will stay intact. What will be taken out is the least popular part of the race route which goes over Gärdet and out around Kaknästornet. 
It has been important for us to listen to the wishes from the runners around how we can improve our race and now we are adding more central parts of the city to the race route. I am very happy over the race route which we have now created and preserves what makes ASICS Stockholm Marathon unique and promise an even more spectacular experience for the participants in 2018, says the marathons project leader Ulf Saletti. 
The runners who sign up for this years edition of ASICS Stockholm marathon will have priority to the anniversary edition in 2018 and will also get an exclusive insight into the new race route. ASICS Stockholm Marathon is taking place for the 39th time on the 3d of June 2017 and you can still register for the race! 
Register for ASICS Stockholm Marathon!