My journey from sofa to stride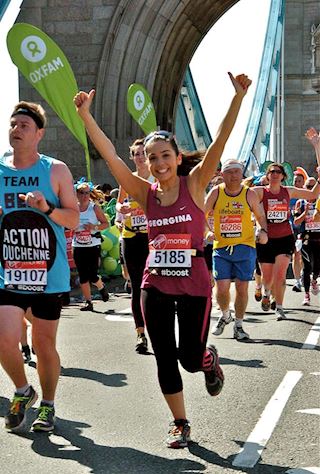 I will never forget my first run. It was 2011 and I had signed up to a local 5km race. I was the chubby young girl who was always open to new experiences but not really 'into' running. In fact, that is an understatement. I hated the thought of working out, let alone running, and always struggled to understand how people could ever enjoy it… Oh how that soon changed!
Only a runner will be able to truly relate to the feeling of race day, whether it be a park run or one of the World's major marathons - a race is a race and the thrill is what got me slowly addicted.
Since that day, without knowing it, I had joined the running community. I was a slow burner and I didn't immediately get 'the running bug' but over time I started to take part in more 5km runs and then begun to build up to 10km races and eventually half marathons. It was like discovering a new world for me. Not only did running help me keep fit and lose weight, it was having (and still continues to have) such a positive effect on my personal life. I was always in a better mood, better at my job and more driven to reach my goals. When I am training, I see a direct correlation to my attitude that I see no reason to stop pursuing.
So in 2014 I decided to go for gold and took part in my first marathon - the London Marathon - and wow, what an experience!! The training journey building up to a marathon is incredible. For many runners like me, it is something you tend to think about every day. When am I running next? How far? What should I eat? At what speed? Am I resting enough? The list goes on! I set up a personal blog to share my training and fundraising journey and the support from friends and family was very inspiring.
I always feel it is such a cliché when I tell people that running a marathon is an indescribable feeling but for me it was the best day of my life to date! It is a day where I think I went through every possible emotion - from excitement and adrenaline to panic and self-doubt as I worked my way through 26.2 miles. However, nothing beats the end emotion - euphoria!
As I type this, I am in the midst of preparing for the 2017 New York Marathon and I couldn't be more excited to take part in my second major marathon. I have no idea what this marathon holds in store for me but I am excited at the prospect and would love to have completed all of the 6 Major Marathons in my lifetime!