Midnight Sun Marathon – Tromsø, Norway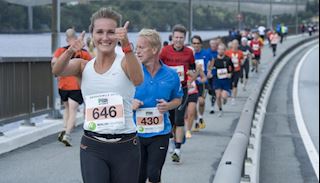 It's Saturday 19:30 … if I go now, I can still get some waffles. I would eat oats if I was in Holland, but I'm in Norway. The food is expensive here, but waffles are free in my hotel. Waffles seem like an excellent start, so let's go now.

I am not sure about coffee. Coffee will wake me up, give me energy. But I am so nervous already, it won't be very good for my heart rate. I can't decide, so I just drink half a cup. Doesn't make any sense, I know, blame it on the nerves.

I still have two and a half hours. Two-and-a-half to let my stomach calm down, to get dressed, maybe take a little rest.
Too much time for my nerves, too little time to get some sleep. Still enough time to walk to the start line. The marathon starts within ten minutes. 

An enthusiastic lady is leading a heavy warming-up. Only by watching the muscles in my leg start to hurt. I decide not to take part at this warming-up. I guess my heart rate is already quite high at the moment.

3, 2, 1, the marathon starts. In a few seconds all the participants are gone. I heard there were only thousand participants allowed in this run. I like that. It makes the run even more special. I have no idea how many runners there are in the half marathon. I actually don't want to know at this moment. 

I regret the idea of running this race. And at the exact same moment, I am absolutely looking forward to it. What a strange feeling to see yourself as naive and yet so tough and careless in this situation. I know it wasn't really smart to run so little the last months. But I believe it's also a good thing that I only trained in a way I liked it. Even though it has been more hours of fitness in the gym than running on the road. Who cares that I'm running, but not only a runner. Who cares if I have to walk a little and the run will take me two and a half hours. Okay, I care...but what do I expect? Run really fast without any proper training? I ran my first half marathon in Vietnam with a lot more weight training than running. I ran the New York marathon with so many injuries and struggles. Maybe I should stop it. No long distance running for me anymore. Or maybe even stop running for a while.

Okay, okay, enough with the nerves, get dressed and just go!

The weather and the choice of t-shirt are also questionable. At the moment the sun is out and I easily get hot while running.  But in a short time, the rain will come and I can tell, the arctic rain is cold!! Long sleeves, short sleeves, long sleeves, short sleeves. Alright, no time for this nonsense. Long sleeves. Sorry if you get too warm, you just have to drink a little extra.
When I walk outside I feel the cold. I'm happy that I chose long sleeves, but help! I need to pee again!
Well, I still have five minutes and the start is just around the corner…. just so you know: I'm always late! Of course, it is completely unnecessary to run to the toilet, it's just the nerves.

No more excuses, go now, before the run starts without me.
I walk to the start. The cheerful lady is still jumping up and down and many runners follow her steps.
The start is a little different than I'm used to. There are no waves. I can start wherever I want to.
There's a sign that says 1:15-1:30. Clearly not for me! This is the half marathon, right? Not the '10 mila'??
The sub 2 hours sign is tempting, but that's not a good idea. I'll already be exhausted in the first kilometers. I decide to go for 02:15 hours and hope for the best. I guess it's still a bit too fast, but the pacer will give me a steady pace. Oh….the pacer is not running....what do I do now?

I'm so lucky when two Dutch ladies stand right next to me. They aim for 02:15. This really helps me to start at a good pace. Especially when I find out, my watch is not working here. It just shows the time, but not the pace and distance. The Dutch lady runs a steady 5:30/km. That's perfect for now, maybe a bit too fast for the whole run. Oh and uphill it's a little hard. Those long sleeves are a bit too warm now.
20 minutes, luckily the little rain is cooling me down and then we see a huge and bright rainbow. What a gift!!
30 minutes, now idea how many km, but I feel that the pace is getting a little tough. The pain in my back, which I have since my NY training, comes up and I know we still have a long way to go. This is going to be a tough cookie!

35 minutes, the wind along the coast got me a little cooler and wow, what a view out here! We run straight into the sunset. A sea of light just above the ocean and the mountains. The following miles we run with a rainbow behind and a sunset in front of us. Well, the sun doesn't really set here. It's the Midnight Sun! I can't describe how gorgeous this is! Hopefully I can show you on my youtube channel.
40 minutes, I still haven't seen a km sign, the views are stunning, the locals keep on cheering 'heya, heya!' Less pleasant are the cramps in my stomach. I'm afraid I need to puke. I never ever had this feeling during a run, but I feel sick.

45 minutes, I'm giving up. I can't do it anymore. these cramps are killing. I really don't want to walk so soon, so the only thing I can do is run slower. I really don't like this but I have to let go on the Dutch lady. I know this is going to be hard! Not only the pain but also running alone.  I'm so lucky the setting is so beautiful and the locals are constantly cheering. 

Making videos of the stunning scenery distracts me a lot, but it also cost a lot of energy. So I better stop that for now. I decide to put on some music. That helps! The heavy beat gives me a good rhythm. The track is over and everything turns silent. I think I forgot to turn on the whole album. I grab my phone out of the belt again, the cables are tangling around me. I push shuffle, put the phone back in the belt, and the earplugs in, let's go!

Again the music turns into silence. Once more I grab my phone. It seems there's only one song available. One song?? Why, oh why?!
Anyway, I can see the airport, the turning point must be near. I see a lady walking with her running partner and encourage them to run, run slowly. Just then the road is going a bit uphill, but hey I can't quit now! The song does help me a lot right now!

And there's the turning point! I have to film that for sure. I grab my phone for the last time. Take the shot, repeat the song and then I'm done with the phone, the earplugs, and that belt. I really have to concentrate on running now, we still have 10k to go! But since we're running away from the airport now, we can enjoy the scenery again.

9 km. I am surprised and a little disappointed about this sign. How happy am I to hear the signs countdown! 9 km to go! Okay, but still it is quite a distance. My heart sank down into my running shoes. Still so far to go. It's not only the pains, but I really think I can't run much longer. It's too much effort to turn on the music. And there not so many runners around at this point. I wish I could change my thoughts. 
There's a girl walking at the side of the road. I encourage her to run slowly.  She doesn't say anything, but she runs with me. I start talking to here, but she remains silent. That's alright, we just run together. I am happy with her company.

A boy is walking. He hooks up with us when I tap his shoulder. He runs the full marathon, is tired, but thankful for the encouragement.
Another guy joins us. "We are all tired, but we can help each other".
Another fellow, who runs the full marathon is walking and exhausted, but he starts to run with us.
And so this little group runs together for a while. It gives me loads of energy. I'm thankful for the runners around me. I'm not tired anymore. I run just perfect at the sound of our shoes. I'm even able to talk, to encourage us.

After a while, the girl leaves us. I put my thumb up to here and hope she'll be fine.
7km. I thought 8km was still so far, but 7km is just one kilometer more than I ran last Monday. I can do that!
One of the marathon guys can't keep up with the pace. I lose sight of him at one of the water stations. He will make it, we are getting closer to the finish. Well...

6km to go. "Come on guys, 6k is a Sunday run through the park."
I don't know where I lost the other fellow, but the guy who just ran a marathon a few weeks ago is still with me. He told me he doesn't want to do a full marathon again. which I found obvious after running two on such a short notice.

"Uphill I need to walk", says the guy. "Yeah, me two, but we're not gonna! We just run really slow." On top of the hill, he is still right next to me. I have no idea what our pace is but I do see the 4km sign. I am surprised, I missed the 5km sign!

3km. The guy needs to walk a little. I think it's really brave of him to run with me for such a long time. I wish him good luck. 
2km and we run into the town. It's hard to tell how far that is. 2km is nothing, maximum 15 minutes if I do something stupid. But still it feels so far. People pass me, walk a little, run too fast again and pass me a second or third time. It is not helpful for them, but I know how it feels. I had these struggles in some other races. I know they are exhausted.
I keep running, terribly slow, but I am running. I want to quit, but I run!
Even the employees at the side of the road, cheer us on with a constant 'heya'.
I recognize the streets. We're getting really close unless they planned a little desert. Maybe they had an extra loop in mind.
Somebody next to me is struggling like me. The only thing I can say is: "we are almost there", although I'm not so sure. 
We run through the 'Storegata', the main shopping street. We pass some pubs, the cheering sounds a little different here. 😉 And then I see the finish line! I grab my phone for a last shot and sprint to the finish. It feels good to stretch the legs for the last meters. Those people on this run gave me so much energy!!

I am overjoyed when I pass the finish line! The medal we get is really beautiful! We also get a foil to wrap around us but I'm still steaming, I feel so proud, happy, maybe even blessed. After a few minutes, I do feel the cold rain, so I pull the foil a little closer around me.
I think I stood there for twenty minutes, but maybe it was just five. I'm waiting to see if the runners from our little group made it trough the race. We exchange high fives and hugs and thankfulness. What a gorgeous scenery it was! What a fantastic run! And those tough runners made the run so much better by running next to me! What an unexpected and beautiful gift where that rainbow and sunset during these rainy days! How proud am I for running without walking! How proud am I to be so naive to sign up for a run in Norway, far in the North, on my own, with just the kind of training that I preferred.  
I am so cold so I stumble back to the hotel, feeling satisfied and just one thought on my mind... where will I run next time? Which run can beat the Midnight Sun Marathon?