Manchester Half Marathon - Run to the beats in a city of sports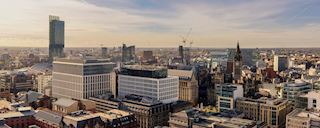 City travelers, football fans, music lovers and marathon runners have all reason to meet up in Manchester on October 15th 2017, when it's time for the Manchester Half Marathon. The race is renowned as one of the "fastest, flattest and friendliest" in the world. 
Following the success of the Greater Manchester Marathon, brought back by Xtra Mile Events in 2012 after a 10 years absence, the race organizers thought there was a real demand in the city for a half marathon event.
The half marathon had its premiere in 2016 and it was a resounding success – the event gathered impressive 11 126 runners.
Setting a new personal best
The Manchester Half Marathon is one of the flattest and fastest half marathons in UK with a minimal elevation gain and a glorious 2-mile finish straight. 
Tim Holdsworth, from the organizing team at Xtra Miles Events, points out that the track is perfect for setting a new personal record – something that strikingly many runners do. "The elevation does not exceed 20 meters, which is perfect for those who want to set their personal best" 
To give you an idea of how fast this course is, 74% of the first 50 finishers ran a personal best or a season best. 56% of the top 250 ran a PB or SB. There has only been one race so far, so the course record is held by the 2016 winners: Rebecca Murray - 01:12:59 (Personal best) - 10.83 mph and Adam Hickey - 01:04:41 (Personal best) - average speed 12.2 mph
Great supporting crowds
Experience Manchester with its dense city pulse, exciting history and strong sports heritage, is in itself an experience. Run on wide, closed roads, the flat and fast course takes runners through Old Trafford, Stretford, Brooklands and Sale, with lots of entertainment and outstanding crowd support.
The people of Manchester are known for their hospitality and always come out in droves to support the runners along the course. For those running without family and friends watching, who might need a push to keep going, the cheers from the crowds could be extra valuable!
Starting and finishing is located at Emirates Old Trafford home of Lancashire County Cricket Club. The athletes' village is also at Emirates Old Trafford, with great facilities for runners. At the finishing line of the Manchester Half Marathon awaits your medal, a finishers T-shirt, a recovery bag and of course a pint of alcohol free Erdinger.
Run to the beats
Manchester is a music town with a capital "M", which took off with the 1960s music wonders "The Hollies", "Herman's Hermits", "Bee Gees" and "Freddie and the Dreamers", to mention a few. In modern days, "New Order", "Joy Division" and notleast "Oasis" have made Music-Manchester known worldwide.
"The runners and spectators of Manchester Half Marathon will be offered a real up-beat experience", promises Tim at Xtra Miles Events. "80% of the music connected to the half marathon can be characterized as "Manchester music". We are also connected with famous The Hacienda night club known as the Madchester scene."
Awared race event
As evidence that the Manchester Half Marathon offers something extra, is the Bronze price in the Half Marathon category at the 2017 Running Awards. 
Explore Manchester and its surroundings
Tim Holdsworth at Xtra Mile Events also points out the proximity to a truly beautiful scenery. No less than three major national parks are within easy reach of down town Manchester. Among other sights, Lake District National Park with UK's highest mountain Scafell Pike. 
Below is the Worldsmarathon's top 5 recommendations:
1.    Visit the arenas of two of the most famous soccer clubs on the planet - Manchester United and Manchester City
2.    For a cultural experience, try the Museum of Science and Industry
3.    Visit the Chill Factory to try a bit of indoor skiing on real snow!
4.    Fancy a curry? Go to 'Curry Mile' - Manchester is home to the largest concentration of South Asian restaurants outside of Asia!
5.    Try a traditional afternoon tea at the Richmond Tea Rooms
The Manchester Half Marathon will again be returning to the city on October 15 2017, giving runners a chance to race to a unique experience.