,,Life is what you make it!" and I choose to make it adventurous - My experience at the Yeti Marathon Nepal 2022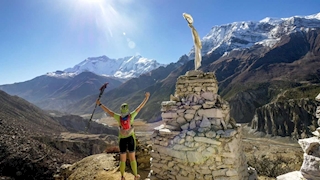 Finding the right words to describe my experiences in Yeti Marathon Nepal is hard. Yeti Marathon was on my bucket list as soon as I saw the advertisement. I was mesmerized by the idea of running in the clouds. As I seriously started to flirt with idea to do a marathon at 5km altitude, I was terrified with my physical ability to prepare for such an extremely challenging marathon, but thanks to Apolo Esperanza García I got the personalized training plan that helped me to become the best version of myself and indeed I started this challenge with nothing else but pure confidence in my heart.
I am delighted with my decision to face this challenge as so far it was the best adventure of my life! I have never been to such a beautiful land that contains such outstanding diversity from jungles to the ice caps. I was stunned by the rich culture, friendly people, and finger-licking delicious vegetarian food. Also, as a biologist I was overjoyed to see the rich flora and fauna and how it was gradually changing as we were ascending. We had luck to see lots of monkeys, longer than 1 meter snake and sparrow-sized butterflies! The nature of Nepal indeed is gorgeous, but nothing was more impressive than the mountains itself. I live in Switzerland and the Swiss Alps are breathtaking but white peaks that pierce the sky are just unfathomable.
I am extremely grateful to Apolo. The trip was organized extremely smoothly, and I felt that he put a lot of time, all his heart and thoughts into this adventure before inviting us to join this endeavor. He even included some surprises for us (like a massage!). By being an avid traveler himself he was able to spark the spirit of adventure in each step on our way by sharing all his knowledge about mountain culture and even coached us about body performance at altitude. Guided jogging and yoga sessions on the way to Tilicho Lake indeed helped me to sync in tune with my body at altitude, to feel assured about my physical capabilities and even to experience mountain mindfulness.
It is a great pity that due to extreme rain that happens once in every 20 years (lucky us!) we were not able to reach Tilicho Lake and the summit of Mount Pisang. I take it as a humbling reminder that it does not matter how strong we are, Mother Nature is the ultimate power we must bow to. Also, during the tough moments, I still felt propelled forward not only by the desire to explore the stunning landscapes and nature but also by the powerful people I met on this journey: the outstandingly brave and strong Yeti ladies, our dear guide and porters from Makalu Adventure impressed me with insane resilience and perseverance of Nepalese people that I can only dream of mastering one day. 
As for the race, it was fantastic. The organizers were quick and flexible in moving us to a new location due to weather conditions. We were blessed by the Lama monks before we started for luck and it worked for me as I finished first. The circuit was mountainous and very picturesque on dirt roads. Altitude was not a limitation due to our previous trip in the Annapurnas.
I will always remember it and it will remain forever in my mind reaching the finish line surrounded by child monks with the Nepali flags while I carry the flag of my country. It was a lovely sentiment that echoed the slogan of the Yeti Marathon...a race to be done once in a lifetime.
Still, I cannot stop myself from smiling as I remember the highlights of the trip like running under waterfalls, feeling of the increased heartbeat while crossing suspension bridges, soaking in hot springs while listening to the roaring mountain river and admiring mountains, observing local autumn festivities and in general the joy I felt being immersed in a completely different culture.
I have the feeling that I am leaving more than friends in Nepal, almost family that I hope will be for life
I'm planning to return next year to fulfill my dream and if you are an adventurous soul you cannot find a better opportunity to do something more extraordinary. As one very smart and brave man said: ,,Life is what you make it!" and I choose to make it as adventurous and worth living at its fullest as I can.
Find the race here