42K and 21K in the heart of Sweden - Jönköping Marathon race day must not be missed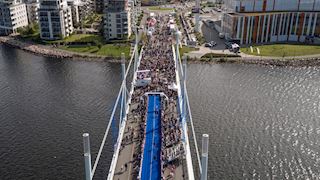 The Jönköping Marathon is one of the larges races in Northern Europe and gives you a chance to experience the heart of Sweden and the beautiful city of Jönköping in a half or full marathon. The town is famous for its friendly vibe and the local crowds will surely raise you to the next level! This finishing line has been crossed by runners from all over the world.
Which added value do you offer the runners?
Water, soda, snacks, fruit, beer and Enervit Sport sport drink, to help you refuel and recover. Each runner who finishes the race in less than 6 hours will receive the unique 2018 Jönköping Marathon or half marathon medal. The finisher bag contains a t-shirt and a lot to eat to recover. 
We have runners from all over the world. About 30 nations last year and 2019 it will be much more. We have elite runners and participants that runs a marathon or half marathon for the first time. Its a race for everybody. 
Places of interest along the race route?
You will see many nice parts of the city. Beautiful nature, the city center, lake Vättern (Sweden's second largest lake) and Munksjön. The route along the sea line makes the race more beautiful and cooling. And of course, the amazing and memorable finish line. 
Any special advice for new participants?
Visit the marathon expo arranged 22-24 August 2019. Before or after the race, there are a lot of great places to visit in the city of Jönköping; interesting museums, popular restaurants and great shopping. The days before the main race, the event organizers host kids race and a 5km Fun Run