25 years of Volkswagen Prague Marathon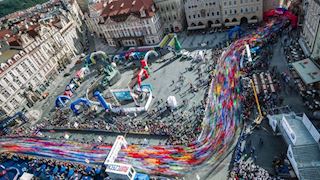 Like so many things in the Czech Republic, the story of the Prague International Marathon's birth has taken on legendary status. On a misty winter's night in 1994, Carlo Capalbo and Gelindo Bordin, the Italian Olympic champion, came upon the idea of launching a marathon in the tradition of New York and London while enjoying a beer at a local pub in the hills of Prague. After the draft of the race course was drawn on a napkin, they phoned Czech Olympic hero Emil Zátopek, who was thrilled and excited to support the idea… 
…If you think running 25 marathons is an amazing feat, imagine the effort that goes into staging them. But that's exactly what we have done. On 5th may 2019 the Volkswagen Prague Marathon is celebrating its 25th year in existence. It has taken hundreds of people, thousands of man-hours, and lots of ideas. It has taken faith. And it has taken courage, both from the founders and our partners. But what is more significant is what it has given us. Experience. 
Over the years, we have tried and failed. Dared and succeeded. We have studied markets and running trends. We have learned as much as any other race organization in the world what it takes to stage a beautiful, crowd-pleasing run. But while we have evolved over the years, one thing has not changed. Twenty-five years after we started this venture, we are still focused on the same thing we had our eyes on, way back in 1995. 
The future. 
The year 2019 will be a lot of effort, lot of sweat and also many blisters. But in the end, the tough preparations will be turned into a lot of fun during the running celebration at the Volkswagen Prague Marathon. And even though it's RunCzech who is celebrating its birthday, the runners will be the ones receiving a special gift! 
Here's a look back at Prague Marathon history, twenty five years after its legendary start.