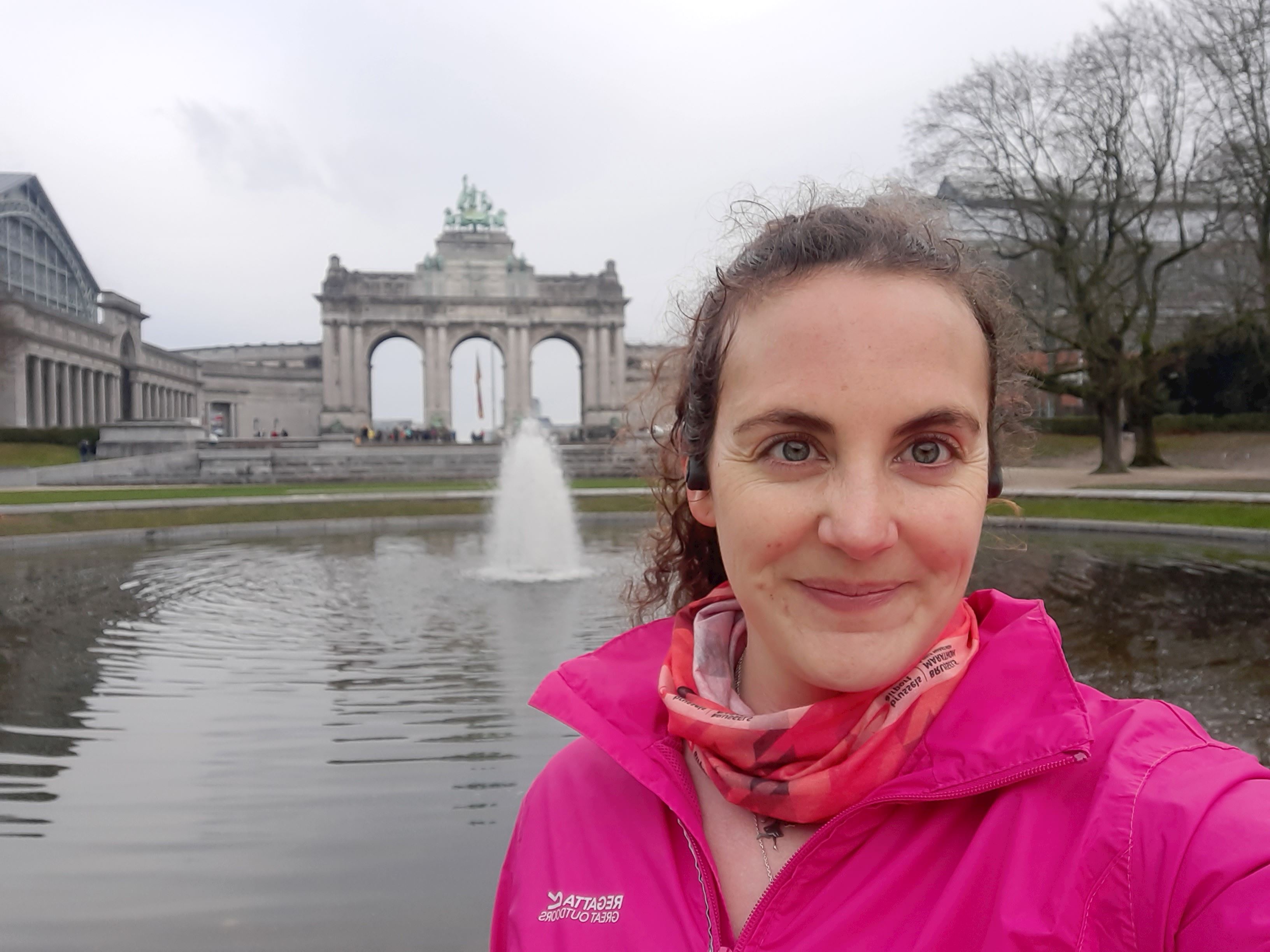 Today, we are sharing a story from Carolina.
She is sharing how she has started running, the running experience during the pandemic, and much more! Let's get started!



My name is Carolina Corcuera Figueras and I am 33 years old. I am from Catalunya, in Spain (around 200km from Barcelona) and I've been living in Brussels for the past 10 years.
After unfortunately losing my mum and ending my marriage I needed something to get rid of my anger. I still remember the first day (mid-February 2018) I met my coach to be and I told him that I hated running. Guess what? The day after I was on a treadmill! At the beginning I hated him, I never liked running. Ever. But there I was, challenging myself every day on the treadmill and feeling excited about it. I will always be thankful for Thom, my coach during that first year (the most difficult of my life), crossing my path. Without him, I wouldn't be here today. Every year I offered my mum a trip somewhere, but unfortunately, I couldn't do that anymore. Instead, that same year, in October, I decided to run my first 21km to celebrate her birthday and dedicate my victory to her.
I felt so good, proud of myself and convinced that my mum was there helping me and running with me that in 2019 I decided to participate in every single run organized in Belgium during the weekends (sometimes 21km on Saturdays and 21km on Sundays). That was a perfect way to challenge myself. I was feeling better and better and more powerful at every run.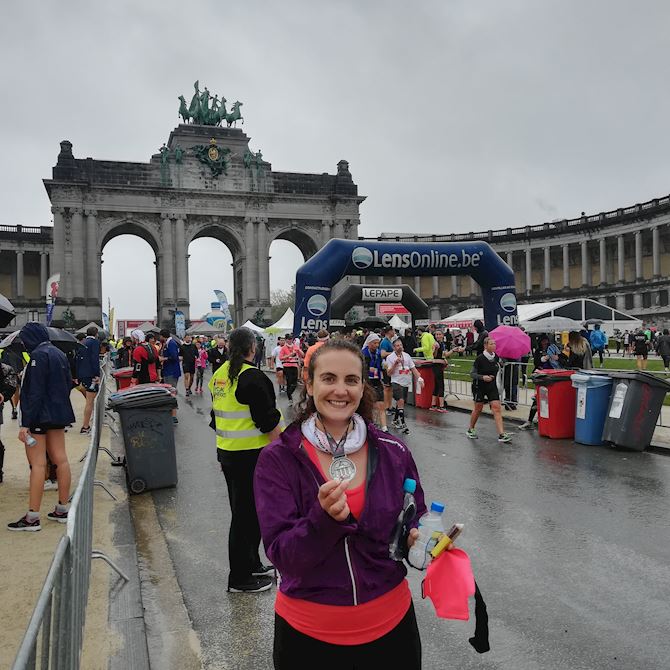 In January 2020 I decided to run a marathon with a friend. We wanted to run it during summer, in order to have some time to prepare it and somewhere not too hot. On World's Marathons' website, we found The Six Lakes Uppsala Marathon, in Sweden (on the 15th of August), and we thought it was perfect! We got our tickets. And then Covid arrived. We didn't have any news about the competition and there were many uncertainties about the future. However, we started training in early May in order to be ready in case it took place. Everything was going very smoothly and we were progressing very well.  Then, on the 7th of October, we received an email from the organization saying that only 45 people could run the event. We were really disappointed because we thought only elite runners would be able to participate, so we were out. Our motivation dropped down BUT, we finally discovered there were only 37 people enrolled for the event, so we could still participate!! On the 15th of July, we got our flight cancelled and we started looking for other options: car, train, other flights… End of July we managed to have everything under control again. In the meantime, we didn't stop our training because we always kept that hope! I can not tell you our excitement when we finally made it to Stockholm!! On D-day I felt calm, I trained as foreseen and I couldn't do anything more than just running. Sweden was not taking any precaution regarding Covid by that time but we felt totally safe. My very first surprise arrived when I received my number and it was number 1!! Meaning I was also the first person that enrolled for the marathon! 
The first 20km were ok, but from km 20 to km 30 it was pretty tough. It was a horribly hot day (so unusual for Sweden) and there were no shadows. I  remember pouring water at every single "station" (a chair with bottles of water, sometimes warm due to the sun) and thinking I wouldn't be able to finish it. It went better again from km 30 to 40  through the shadows. At km 40 I started singing, screaming because I only wanted to finish it,  laughing of stress and excitement. And when I finally made it and met my friend, who already finished it, waiting for me at the finish line, I couldn't stop laughing from happiness. I made it!! Of course, it couldn't be another way, it's dedicated to my mum!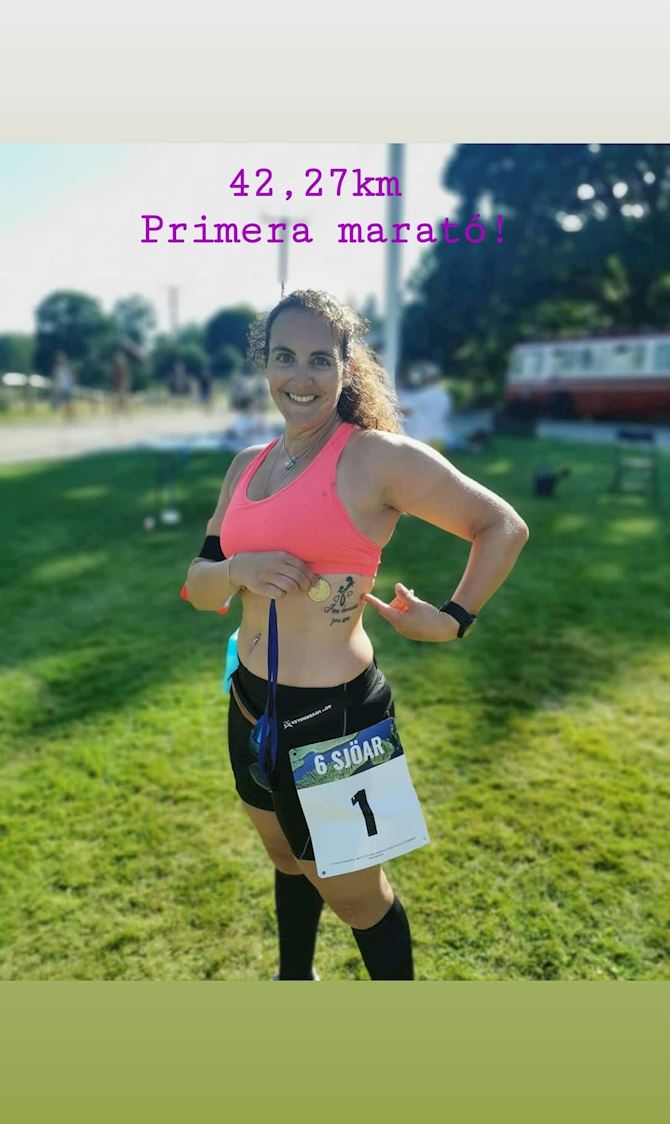 After a while, I needed another challenge (yes, I love them) and I decided to go for an Ironman (even though I am a member of the BTC, a triathlon club in Brussels, I never did a triathlon before. Covid also cancelled the one I was supposed to do in April 2020). In early October, I enrolled for the Barcelona Ironman. I wanted to have enough time to get ready, not a cold place to swim in the sea and home felt perfect to be around family and friends! I got my tickets and I started training the week after. It's been now 12 weeks getting ready and many more that have to come. I am not worried anymore. I  am putting all my chances by my side getting ready. If unfortunately the event gets cancelled, I will take it as an opportunity with more time to get ready for next year. My mindset has changed after all the stress related to the marathon during Covid times.  
What I've learned through the past year and what I would like to share with all "new" runners like me is that we have to run for pleasure (yes, it's the first time I am really admitting the word pleasure). Even if we have a goal, we have to be careful, because Covid is not on our side, but still keep in mind that even if the event does not take place, we've improved our health and we will have more time to get ready or improve our results. Sometimes we feel alone or not supported by friends or family. No stress. Our mind is stronger than we think and we all need to keep in mind: we are running for our benefit, pleasure and goals. If we don't run, nobody we'll do that for us. So just do it.  Believe in yourself. And go.  
I decided to create an Instagram page (@makuticaroadrunner) where I explain reality. Because I think that if I managed to run a marathon and now I am preparing for an Ironman, everybody can. And I'd like to make people understand that if we want something, we must fight for it. Sometimes I feel very powerful and sometimes I am really disappointed in myself during training. But the most important thing is to never quit, believe in ourselves and never forget our goal. 
Thank you, Carolina, for sharing your story and powerful messages to the fellow runners! 
Now the opportunity to meet other runners are very limited but we can stay united and enhance each other by sharing experiences or even by giving comments and likes. If you are keen to see how Carolina keeps challenging herself,  get connected with her via her Instagram account!
Do you also have a story or thoughts to share with the world?
Please send us an email! ([email protected])