The Big Five or Major Six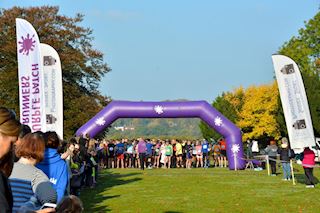 One ultimate goal, the Big Five or eventually the Major Six.

September 2015, I just finished the 10EM, which is the same as 16km, at the DamtotDam in Amsterdam.
It went smooth, even without proper training and that makes me courageous. A bit overconfident maybe, but well that has taken me to some awesome places. 'If I can run 10EM like this, then I can actually try and run a half marathon with some decent training.'
I open my laptop to look up the half marathon at the CPC in The Hague half a year later. I'm searching the internet and suddenly there's this commercial pop-up of a half marathon in Vietnam. Don't ask me how this technically works, but since I'm travelling to Vietnam real soon, the internet must have thought there was a match!
The half marathon is held for the first time in beautiful Halong Bay, which I assume will be the highlight of the trip. But this marathon is taking place in November. I only have two months and I'm afraid I won't be ready in time. I'm both insecure and overconfident, so I register and go for it! Just like that, just for once, cause I really don't like to train for those long distances.

December 2015, I'm back home from a wonderfull trip in Asia and still proud of the fantastic run in Halong Bay. I'm not running too much at the moment, but Big Brother is watching me and thinks it's time for a new goal. And again he throws an advertisement in my inbox. This time it's the New York marathon and although I never had the ambition to run a marathon or visit New York City, I directly sign-up for it.
'Pride comes before a fall', they say and well it is happening: I fall, get back on my feet and run the marathon of New York!
January 2017, two months after the marathon in New York I slowly start to think about running again. I'm not planning to run a full marathon the next couple of years, but a half marathon might be an option.
I can choose a unique run, in a country I've never visited. That must be a good motivation! I register for the Midnight Sun Half Marathon, forget about training, but run one of my most beautiful races in Tromsø, Norway! 
I'm the worst example if it comes to training structure and injuries. I decide to be wise: If I won't train, than I can't sign up for long distance runs abroad. But there's a trip to Disneyland Paris coming up. I'm glad I can participate on a 10km run, It's just enough Disney-craziness for me!

November 2017, I'm back from Disneyland for a while now and I just had enough of the runs abroad. I can't keep myself motivated to run. Actually, I just want to run twice a week because of other sports, fear of injuries and lack of motivation. Also I have no idea how to surpass 4 unique experiences abroad.
And then I receive an email.
Whether I want to join a marathon on Cyprus.
Say What??? My heart starts pounding. Cyprus? Wow, I've never been there! It is really sunny out there, right? Running along the coastline of beautiful Limassol? Shall I try to run a long distance one last time?
And there he is again.... Hello Courage! Yes I Do!
My common sence decides I'll run the half and not the full marathon. One last time, my fifth half marathon and fifth run abroad. A great addition to my personal Big Five.
I have the intension to train seriously, but choose to keep the training fun and achievable. If you enjoy training, it will keep you motivated. I run twice a week, one interval training and one distance run. For tree times a week, I do a circuit- or weight training. There are many people who would say it's not enough to run a half marathon. My advice on them is to read my other race blogs. 😉
It's not the best training and I won't run my best race, but again it will be my unique story!
Are you looking for a unique running experience? Your ultimate goal or a race for your personal Big Five?
Would you like to run through magnificent, sunny, Limassol on Cyprus? You can participate in races of 10km, 21km and the full marathon. YES, you can do it, just like me. 
With World's Marathons I can give you a 20% discount on your bib-number. Have a look at Limassol Marathon, use the code 'Healthy travels' when you sign-up and join us at a sporty weekend in sunny Cyprus!

I know for sure I will enjoy this amazing fifth run. I won't restrict myself with a training schedule or time limits, but I will certainly enjoy! Oh... and for those who thought I lost my courage....... I already planned the next run. I will travel through the Baltic states for a half marathon in Riga in May. The Big Five -in terms of safari- is already turning in to my personal Major Six -in marathon terms. Will it really be my last one.....?
Let's start thinking about a magical combination of 7... just in case. 😉