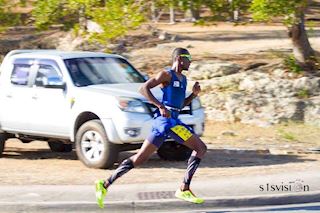 Currently standing at 183 cm, I am slim and strengthened to traverse the terrain of endurance races. Road racing is my preference, but I do enjoy a middle/long distance race on the track. Open water swimming appeals to me but there are times when the pool does suffice. Cycling, for me, sets the pace and rhythm for a scenic tour. The triathlon appeals to me as I have the will to endure three different disciplines in one event. My motto is Hard work + Determination = Success. My life is what God graced me to have, everything I have is credited to His glory and honour.


2011: Return to Running


It was in the summer of 2011, shortly after I came to Barbados from Guyana to pursue my studies that I enrolled in Samuel Jackman Prescod Polytechnic to gain my qualification in Microcomputer Technology. My game plan in this new environment was to get involved in meaningful activities, one of which was running.
The last time I competed was approximately six years before at secondary school games. So I basically began from scratch, with long runs and calisthenics. Knowing that the first college meet was some two months away, I pushed my training and sustained a strained ligament in my right leg. This paused my progress but was not enough to stop me as I still continued training and eventually competed in the games, but at a price of a torn ligament later in that month. I was decommissioned for the remainder of that year.


2012: Return from Injury


In January of 2012 I resumed training, not fully healed but better than before. My father would join me on several training sessions as he too resumed his training and had already began competing.
I was eager to get in shape for the overseas trip in March of the same year, once I qualified at the college annual athletics championship. I battled through my preparation for the championship and made the team for the 800m, 1500m & 5000m races, winning three gold medals and an additional gold in the open 4x100m OECS team relay.
I competed in my first local road race during February that year. It was the annual Holetown Festival 7km. I placed 9th overall and was looking forward to do more road races. As the year continued I participated in several events, mostly road races, along with my father.
My performance began to look promising so I took more interest in the sport, getting more connected with the local running community. I also invested approximately $250US in a GPS [Garmin310xt] to enhance and accompany me on my training sessions. My training was decided by me after doing research and other inquiries.
As my training progressed, I sustained the same injury as in 2011, but to the left leg this time. Once again I was decommissioned, but I made good of this time by preparing mentally for my events and spectating races to see how it appeared from the outside. You may be surprised how much you can learn from watching your competitors' races!
Later that year I was back racing and adding some mileage to my legs. I registered and completed the 2012 Run Barbados Gold Challenge (1.6km, 10km and 21.1km during an approximate 35 hours period). It was a good learning experience, painful from day two but I made it to the end of day three and earned six medals.
To be continued…