Former elite runner Anders Szalkai on ASICS Stockholm Marathon 40th edition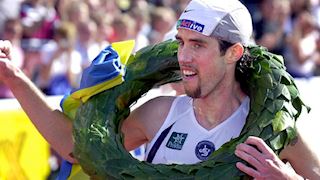 When the ASICS Stockholm Marathon is held for the 40th time on June 2nd 2018, one runner will guaranteed be mentioned despite that he stopped running as an elite years ago; Anders Szalkai. During his successful career, he participated in the Olympic Games, ran 70 different marathons around the world, finished 20 Stockholm Marathons and won in Stockholm in 2001, a race no Swedish male runner had won before. Anders has become a role model for thousands of athletes who have managed to run a marathon thanks to his inspirational and useful training advices. Today, he is editor-in-chief of the running magazine Runners World and great ambassador for ASICS Stockholm Marathon and Stockholm, one of the world's best cities for running.

Anders was born in the Helsingborg in southern Sweden. The starting point of his career in long-distance-racing was a teacher who persuaded the twelve-year-old to join a 10K race. In the race, Anders bypassed the teacher and finished in 48 minutes. Anders was bit by the running bug and after the race his training speeded up seriously.
Anders joined a club, IS Göta, and got a coach who was able to both teach him the basics of running and how to create great teams. Anders started by running 800 meters and joined his first Swedish championship as a 15-year-old, winning a silver medal. After a while, he ran longer distances and at the age of 18, he won a gold medal in terrain and became one of the most promising atlethes in Sweden.
The first marathon he joined was in Paris during a visit with his high school class.
"We saw posters and banners which said that it was a marathon in Paris. We signed up to the race on the actual day and joined the marathon with 9,000 other runners. I finished as the 32nd at 2:32 pm. This was a big surprise for everyone and generated lots of attention by the media, he says.
By this time, he had moved to Stockholm and joined Spårvägen Friidrott, which is one of the organizing clubs of ASICS Stockholm Marathon. A finishing time of 2:19:50 in Frankfurt became his real breakthrough as a marathon runner, who was then 22 years old. He studied sports on an academic level parallel with his running career. In 1993, Anders sign up for Stockholm Marathon for the first time. He came second at 2:20 and met there the "wall" he heard of and feared so much.
In total, Anders has completed 20 editions of Stockholm Marathon and one Olympic Games in Atlanta in 1996, where he finished as 64th with 2:24:27. He was also up for the Sydney Olympic Games, but a health injury stopping him going. Still, Anders is the latest Swedish runner who has qualified for an Olympic marathon race. It is honorable to Anders, but sad for Swedish athletics.
Back to Stockholm Marathon on June 9, 2001. Anders, then 31 years remembers the special feeling.
"I was excited and nervous as I had been before all Stockholm Marathon races in the past. I opened fast, but after 6 kilometers I understood that I would break down if I kept the same fast pace. After 30 kilometers I was told that the Moroccan runner Rachid Ait-Bensalem, had suffered convulsion. Many spectators also shouted that Rachid looked tired – this gave me extra strength. I dropped off my second clutch and in the intersection of Odengatan / Dalagatan, I caught up with Rachid."

"Only in the stadium did I understand that I would win the race. It is my life's greatest moment as runner.
Continuing problems with his health forced Anders to leave the Swedish running elite. But he did not leave the running shoes on the shelf. He was offered a job at the a sports oriented high school in Sollentuna north of Stockholm and after that he was approached by the sports gear maker Puma, who gave Anders the opportunity to develop both the brand and Swedish running in general.
After five great years at Puma, he started to work with the Marathongruppen in Stockholm (the organizers of ASICS Stockholm Marathon) and the popular site for runners Marathon.se. Togheter with the team, he built and developed an exercise framework with qualified but easy-to-understand training programs for athletes. Thousands of runners followed Anders footsteps when training for Stockholm Marathon. The program is still very popular. In additon, he started up the running group "Team Stockholm Marathon" which is the biggest running club in Sweden, organizing exercise 
Since spring 2017 he is editor-in-chief of the leading running magazine Runners World.
ASICS Stockholm Marathon, Anders is very close to his heart.
"It is Sweden's most important long-distance running event with a rich history, good organization and an event which has managed to maintain its attractiveness in the increasingly competitive Swedish and international long-running industry. For the runners, it's something special to run in the middle of a beautiful capital with lots of water along the track." 
The 40th Edition has a completely new route as a result of the extensive reconstruction of the city center. This means that new parts of the southern island, Södermalm will be opened for both the runners and the audience, while some "transport routes" on Djurgården will be a bit shorter.
"There is still a two-way lane that now gets more character of a lap.
Since the 1979 premiere and Anders own debut in 1993, of course, much has happened to the Stockholm Marathon.
"Unfortunately, the public interest has decreased slightly. Previously, it was more or less compulsorily to view the race. But there is so much happening in Stockholm that other activities sometimes distracts. Especially days when the weather is not so public-friendly. I believe that the Asics Stockholm Marathon will keep its appeal also when it's time for the 50th race. But as a race organizer, you have to constantly develop the track with various events and activities.

Asked to name a few people which has been crucial to the development of today's classical Stockholm Marathon, Anders does start with Anders Olsson, the man who "invented" the Stockholm Marathon in the late 1970s.
Other legends are legendary Kjell-Erik Ståhl and Åke "Biten" Eriksson and, in particular, Ewy Palm, who has contributed a lot in making girls and women interested in long-distance running.
"I like the runners who join for the sake of the race itself. Those who join wholeheartedly even if they know they will never win!"
Asics Stockholm Marathon is Anders his own favorite of all the marathons he has joined. But he also has another with top ranking, for example the Jubilee marathon on July 14th, 2012. On the day and minutes, 100 years after the dramatic marathon run at the Olympic Games in Stockholm in 1912. Anders was the obvious choice to wear a copy of South Africa's Kenneth Kane McArthur's victory suit from 1912 and run as the a celebrated winner at the Stockholm Stadium.
Now when the 40th Asics Stockholm Marathon will be held, Anders will definitely join the celebrations. Even though he will not put on a BIB, he will be one of the most recognized and appreciated faces on the race day.