insert_invitation
This event has been rescheduled from 11 oct. 2020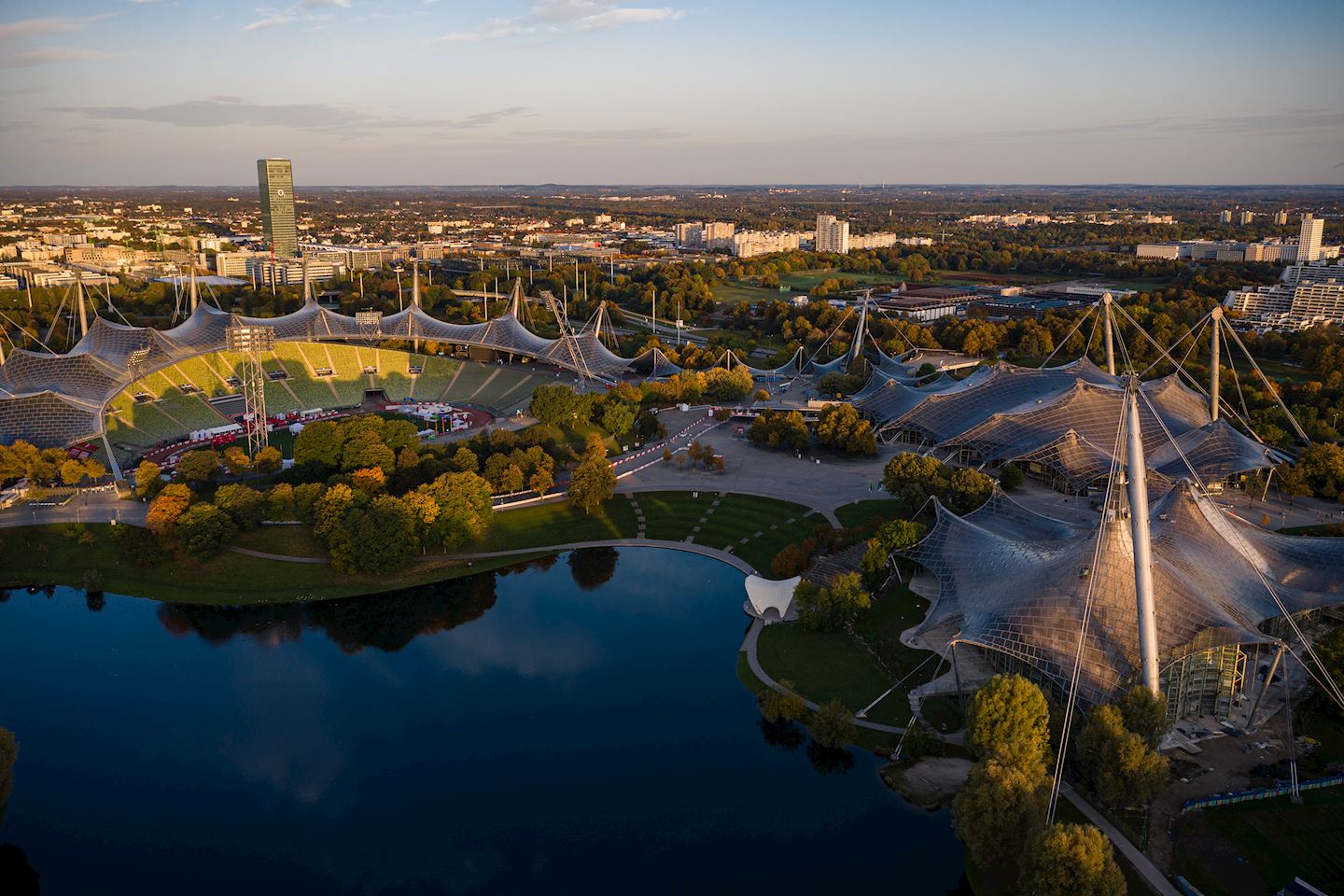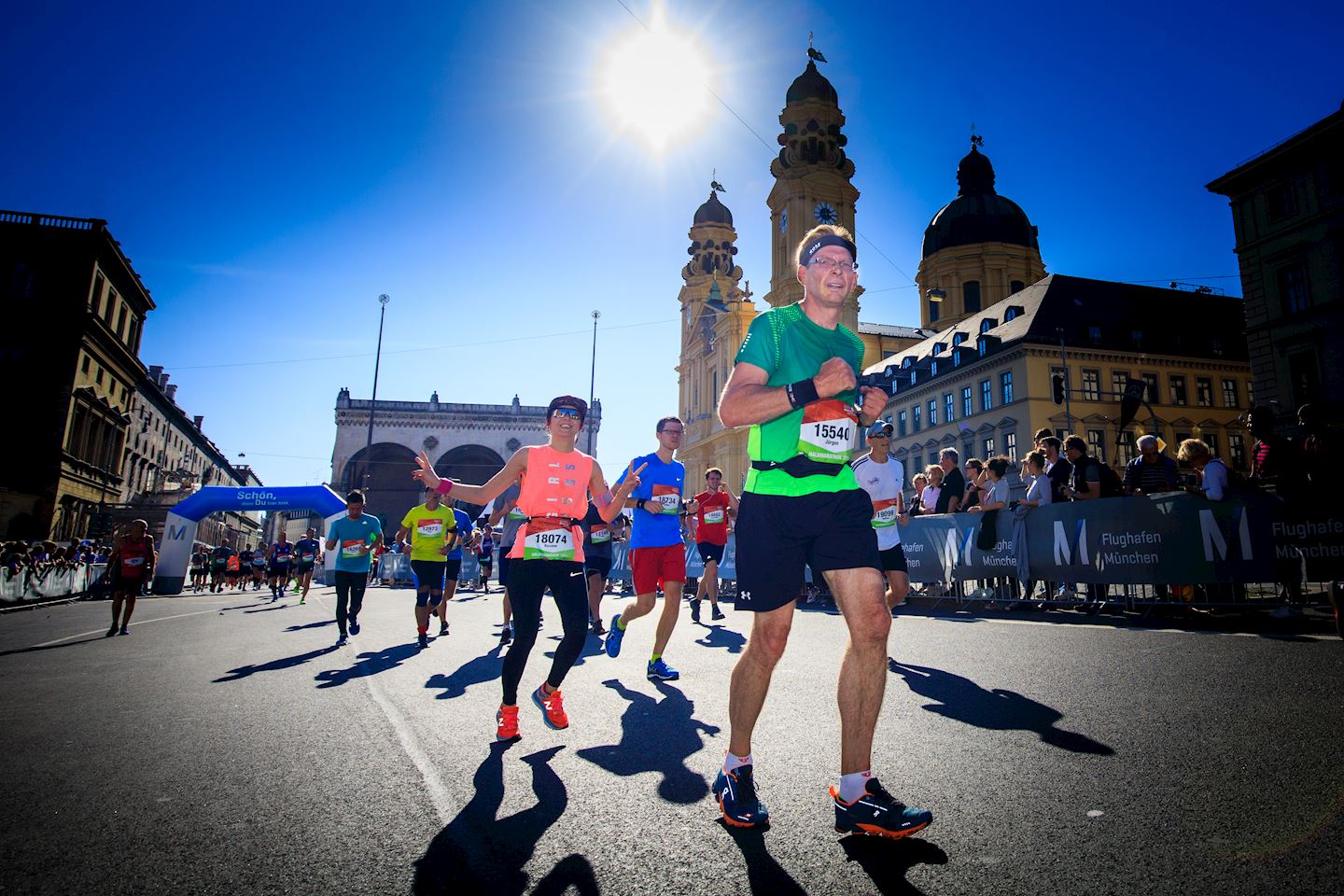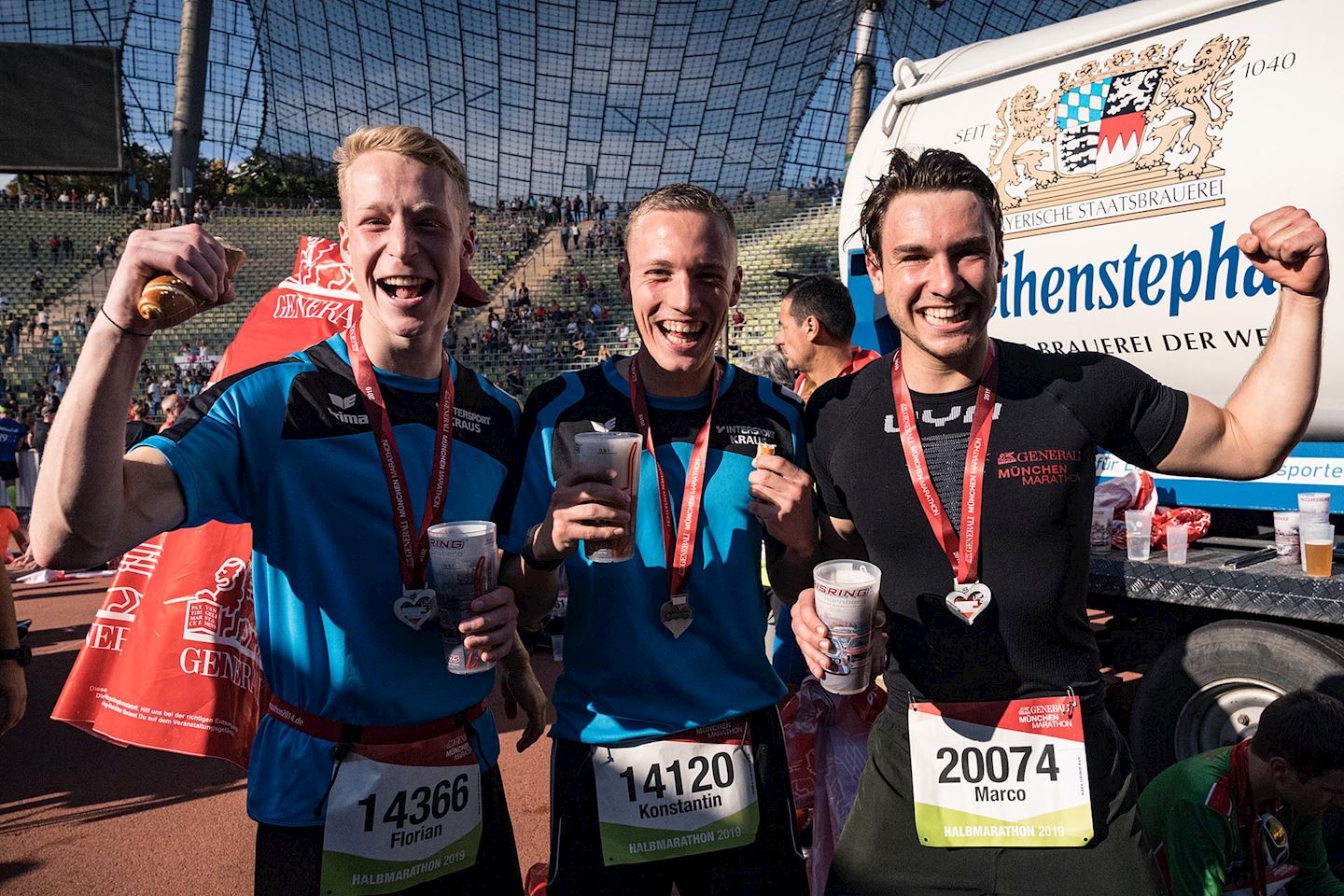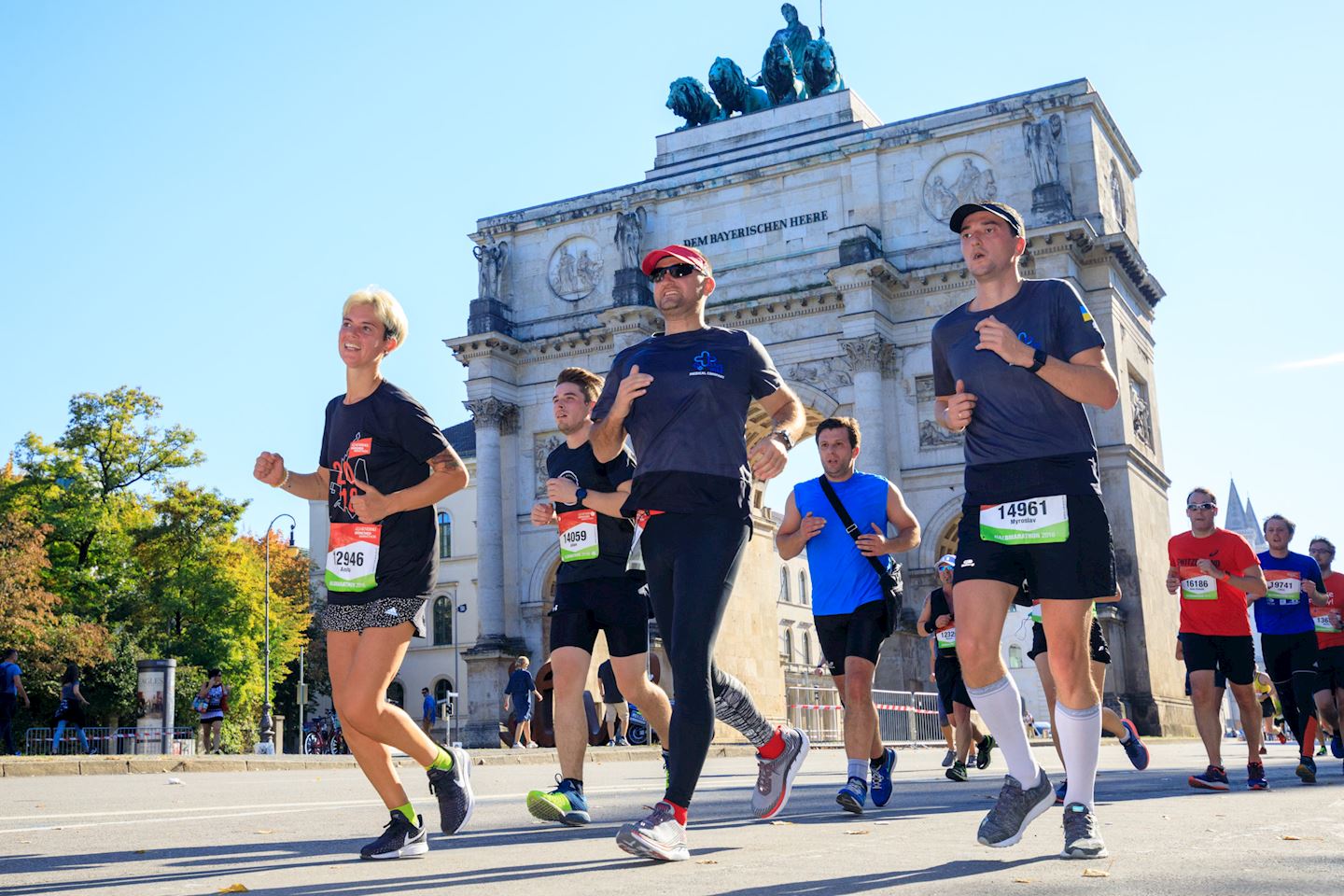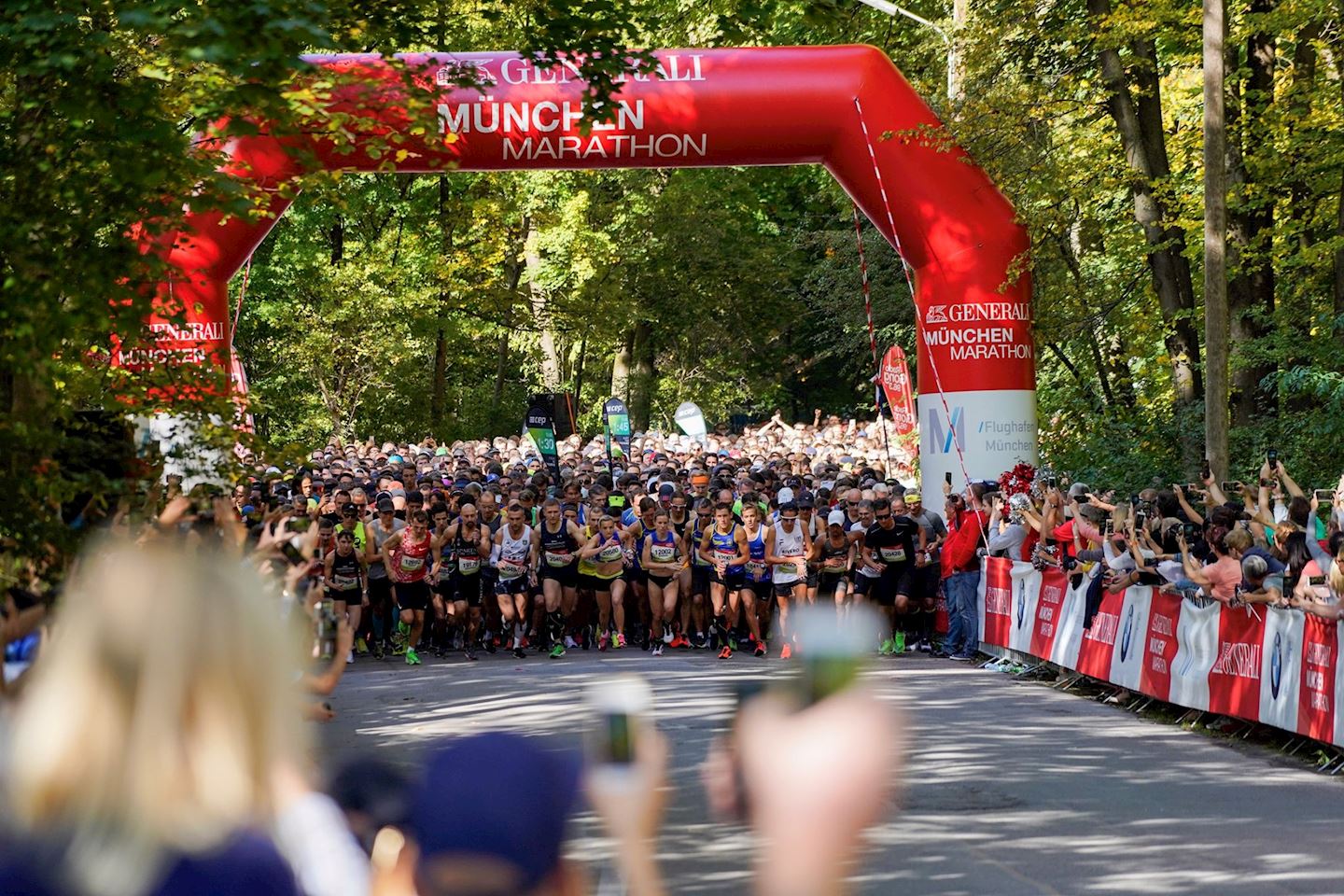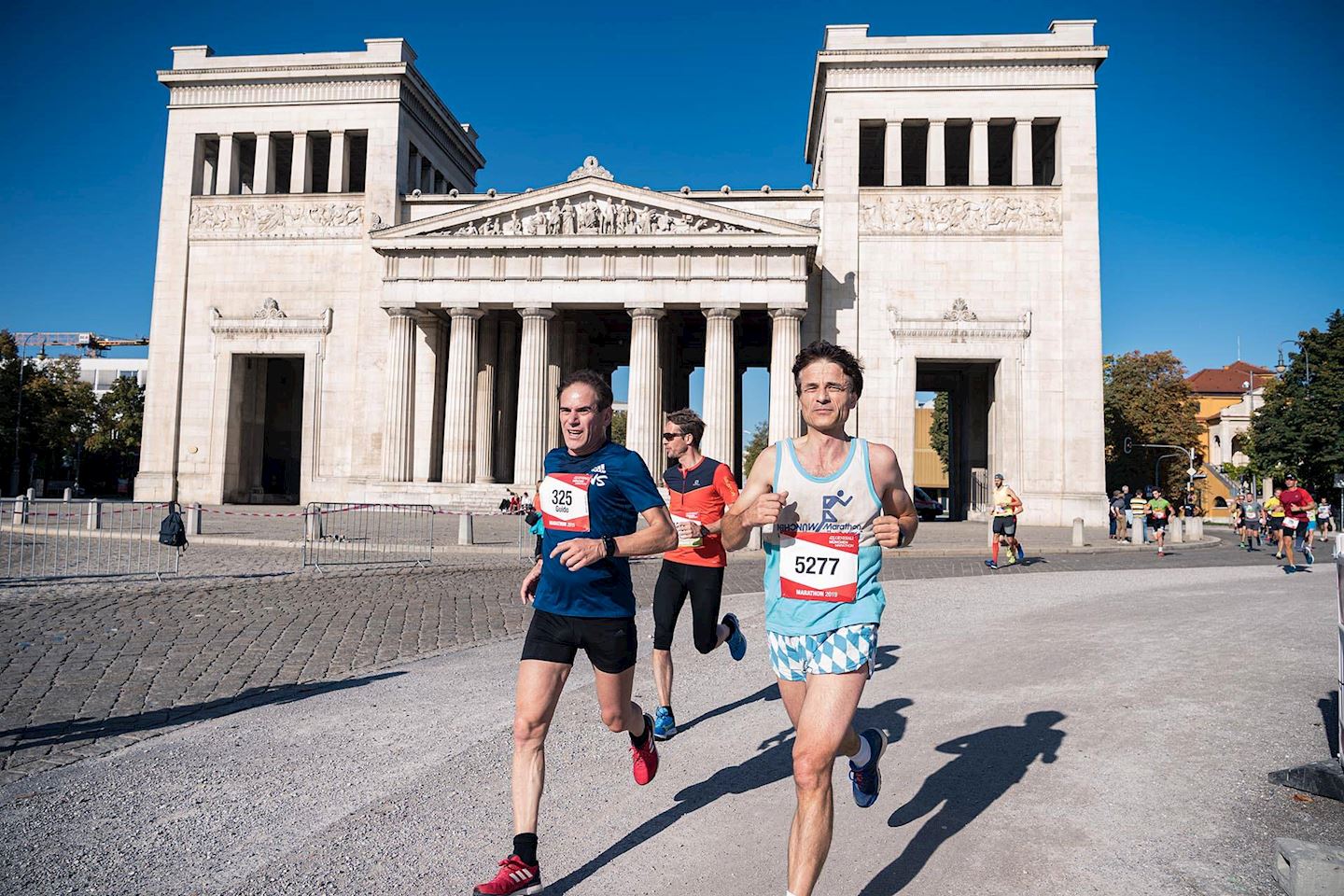 Generali München Marathon
check_circle 24h ticket cancellation
check_circle Prix le plus bas garanti
check_circle Offres et réductions
Rejoindre Generali München Marathon
Le parcours légendaire du marathon de Munich démarre dans le parc olympique construit pour les Jeux olympiques d'été de 1972, année où le marathon a eu lieu pour la première fois, et conduit les coureurs à proximité de certains des sites les plus emblématiques de la capitale bavaroise. La ville qui accueille le Generali München Marathon est célèbre non seulement en raison de l'Oktoberfest (fête de la bière), mais elle possède aussi un riche patrimoine architectural centré autour de la Marienplatz, avec des sites comme l'église Saint-Pierre datant du XIIe siècle ou le Neues Rathaus de style néo-gothique. Assurez-vous de vous inscrire au marathon Generali München et découvrez ce que cette belle ville a à vous offrir.
Description par organisateur
keyboard_arrow_down
The cityscape of the home of Munich Marathon is characterized by centuries-old buildings and numerous museums. The Bavarian capital is known for the annual Oktoberfest and it's sportiness. In the old town on the central Marienplatz there are landmarks such as the neo-Gothic New Town Hall, whose popular carillon plays melodies and stories from the 16th century.

The city of München Marathon is a natural habitat of Mediterranean-style street cafes, highbrow art and high-tech industry, Germany's unofficial southern capital is a flourishing success story that revels in its own contradictions. If you're looking for Alpine clichés, they're all here, but the Bavarian metropolis has many an unexpected sides to be discovered.

With that being said, the Munich Marathon is the place to be!!

Whoever has competed in one of the editions of München Marathon knows that tingling sensation. The concentration and tension of the runners is tangible; only subsiding when the starter's pistol finally sounds and your sightseeing tour through Munich starts right away.

Be part of the GENERALI MÜNCHEN MARATHON!

Carte du parcours
directions_runAdresse de départ: Coubertinpl., 80809 München, Germany
flagAdress d'arrivée: Spiridon-Louis-Ring 23, 80809 München, Germany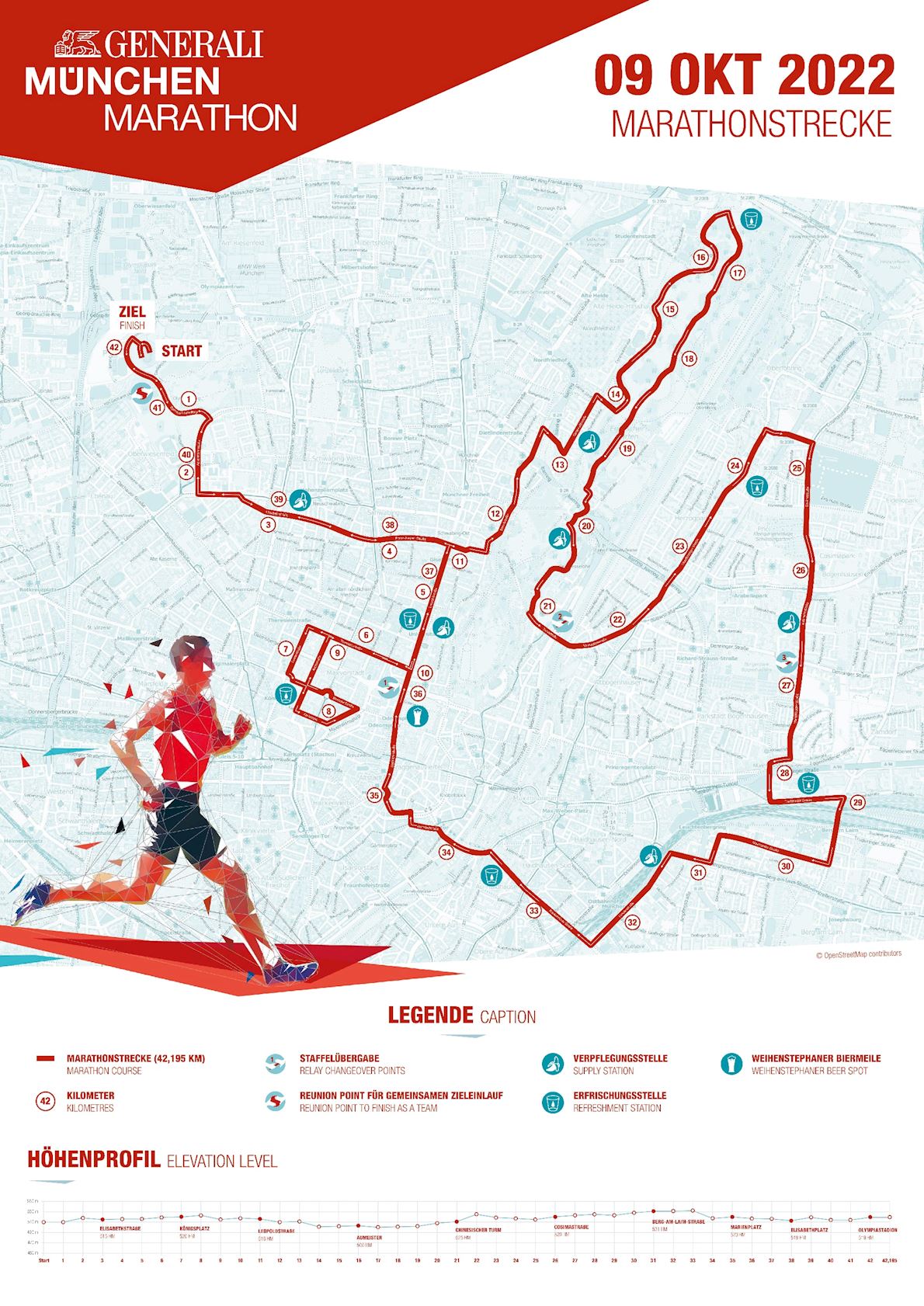 Included in the fee
Free access to public transportations in the MVV area with your race number on marathon Sunday
Starter bag with race number and race documents
Time measuring attached to race number (without additional chip)
Clothes/luggage safekeeping on the marathon day
Pacemaker service
Refreshments among the route
Refreshments at the finishing line
Heat sheets at the finishing line during cool weather conditions
Souvenir medal at the finishing line
Medical care if required
Physiotherapy for all finishers after the race
Shower and changing facilities after the race
Certificates download on the Internet
Continuer à lire
Montrer moins
Informations pratiques
At the finisher area in the Olympic Stadium participants are offered water, non-alcoholic wheat beer, fruits, cake and bretzels. After the race, changing and showering facilities are available free of charge in the Olympic Hall from 11:30 a.m. to 5:30 p.m. Your race number grants you permission to the facilities. The showers can be reached via the northern side of the main Olympic Hall on Spiridon-Louis-Ring. 80 physiotherapists will be available in the Olympic Hall (Arena) after the showers. For reasons of hygiene, we request that you shower before. The area is open until 5.30 p.m. on Sunday.
18 years for the full marathon.
There will be catering stations at KM 10,5/ KM 13 / KM 20 / KM 26,5 / KM 31,5, KM 36,5 and KM 39. In addition to water, isotonic sports drinks and bananas will be available at the catering stations. In addition to the catering stations, there will be refreshments stations offering water at KM 5,5/ KM 7,5 / KM 16,5 / KM 24 / KM 28,5 und KM 34 with water. There will be an refreshment hotspot with beer at KM 36.
Each marathon finisher will receive a commemorative medal at the finish line.
On the Sunday of the marathon, clothes can be stored from 8:00 a.m. on Level 0 of the Olympic Stadium, between Block A and Block X. Changing facilities are also available. Please use only GMM sports bags in the clothes storage facility. These are issued along with the bib numbers at the GMM Sports Expo. Please mark your bib number clearly on the bag. For other sports bags or larger luggage items we offer a safekeeping service charging a fee of EUR 5,00 per item, located at the information counter (north entrance to the Olympic Stadium).After the race you can collect your GMM sports bag up to 5:00 p.m. by giving your bib number. Lost property can be handed in to the information counter or enquired after by calling +49 (0) 83196060516
The finish time is 16:40 in the Olympia Stadium. The pass-through times along the route must be adhered to, and will be displayed on a race control vehicle. The event is time-limited and the road blocks along the course of the race will only be in place during the given race times.
Approach to the Olympic Park from all directions (A8, A9, A92, A95, A96 and A99) via Mittlerer Ring. Follow the signs for "Olympiapark". There are limited parking spaces available in the "Parkharfe" at the Sapporobogen. Daily parking fee: EUR 5,00 for cars and EUR 20,00 for coches. Tue to road closures, there may be traffic jams around the Olympic Park on the day of the event.You can avoid waiting times by having the exact change for the parking fee ready.
You can view and order your personal commemorative photograph or video at www.marathon-photos.com at the latest 24 hours after the event.
Le Kit De Course comprend
Free access to public transportations in the MVV area on marathon Sunday with the race number, starter bag with race number and race documents, time measuring attached to race number (without additional chip)
Water, isotonic sports drinks, gels, bananas and bars will be available.
Time keeping at the GENERALI MUNICH MARATHON is done exclusively via your race number. The electronic transponder records your personal time. The finishers will be evaluated according to the net running time (effective running time).  There will be no time keeping and no evaluation without your race number!
By MVV public transport:Line U3: 7:30 a.m - 10:00 a.m. between Sendlinger Tor and Olympiazentrum Line U3: 2:00 p.m - 7:00 p.m. between Olympiazentrum and Sendlinger Tor Tram Station: Olympiapark West. Approx. 10 minutes on foot.
Generali München Marathon
check_circle 24h ticket cancellation
check_circle Prix le plus bas garanti
check_circle Offres et réductions
Les informations de course ont été trouvées sur le site officiel de l'événement ou par des sources accessibles au public. Toujours se référer au site officiel pour les dernières informations sur la course. Veuillez nous informer si des données sont fausses ou manquantes, en nous envoyant un e-mail..