Wexford marathon - run in the footsteps of the Vikings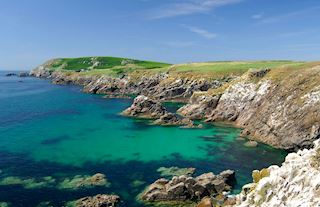 3rd annual Wexford Marathon
Ireland is known for Gaelic football, hurling, horse races, golf and endurance racing. The Wexford Marathon on June 11 is a strong newcomer to the Irish marathon scene and is organized for the third year in 2017. The race starts at the "Quay front" in the middle of the city and takes you through a beautiful, rolling landscape; more or less around the city of Wexford itself. The runners pass Kerlogue, Johnstown, cross Forth Mountain, Larkins Cross, Taghmon and run back across Forth Mountain to Murrintown before they are welcomed at the finishing line in the Faythe, in the middle of town.
From the Vikings to John F. Kennedy
The runners in Wexford Marathon will, in addition to the unique and varied nature, also experience the wings of history. The city was founded by Norwegian Vikings around 800 AD, and the name Wexford is said to origin from Norwegian and mean "inlet of the way". The Irish name is Loch Garman from a legend of a young man who drowned at the spot. Wexford has an exciting history and has in modern times been honored by a visit by John F. Kennedy in 1963. Staying a few days extra before or after the Marathon Race may be a good idea.
Irish marathon record
Ireland is a successful sports nation which has participated in the Olympic Games since 1924. Their greatest endurance runner is John Treacy's who won silver in the Olympic Games in Los Angeles in 1984. John Treacy still holds the Irish Marathon Records at 2:15 pm from Boston Marathon in 1988.
Successful launch of the Wexford Marathon
Wexford Marathon was hosted for the first time in 2015 and instantly became a successful event. The two hundred runners who ran the premiere race appreciated the Marathon Route with beautiful views, the organization of the event and the warm atmosphere in Wexford. Now Wexford Marathon is evolving further and welcomes both Irish and international visitors to the third edition of the race on June 11, 2017.