Runner in the spotlight: Arnar Petursson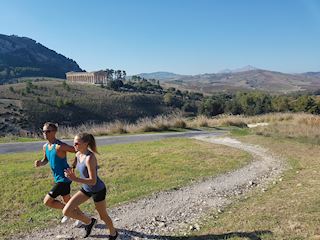 HOW HAS RUNNING CHANGED YOUR LIFE?
Running has probably changed my life in more ways than I can ever imagine. First of all it has given me the opportunity to chase my dream of reaching the Olympics and even if that dream won't become a reality I know that I am happy every day just going out for a run. I know that even though I have a big goal in mind it is the journey that is most important and i try to remind myself of that as often as I can.
WHERE IS YOUR FAVORITE PLACE TO RUN?
Iceland during the summer is like no other place in the world. We have amazing trails and when the weather is nice I guarantee you won't find a nicer more peaceful place to run at. Beside Iceland I have really enjoyed my time in the Alps where you are surrounded by mountains and nice trails.
WHAT IS YOUR FAVORITE POST RUN FOOD?  
Post run I like to have a protein shake and water as soon as possible and then prepare some food. After a long run I love having a pasta with chicken and salsa sauce.
WHAT DO YOU CONSIDER YOUR BIGGEST ACCOMPLISHMENT?
This past summer was really kind to me. I managed to become national champion here in Iceland in 8 different running distances, everything from 3000m indoors to the marathon. This past August I won the Reykjavik marathon for the third time and finished the race in 2:28:17 which is the best time an Icelander has ever run on Icelandic soil.
WHO IS YOUR DREAM RUNNING PARTNER?
I would love to run with Bernard Lagat. I really look up to his success and especially his longevity in running. It would be awesome to pick his brain on running and how to stay in the sport for so long.
IF YOU COULD RUN ANY RACE WHAT RACE WOULD IT BE?
My dream race has to be running in the marathon in the Olympics and getting good results. It is such an amazing atmosphere that I would love to be a part of someday.
FAVORITE PIECE OF RUNNING GEAR?
Definitely my Adidas Adios boost shoes. I wear them for all my races and I have had great success with them. I like how they fit my feet perfectly and I also like that although they are a bit heavier than some racers they treat my feet much better than other shoes, leaving me fresher towards the end of races.
WHAT IS YOUR MOST EMBARRASSING RUNNING STORY?
Five years ago I was in a training camp with approximately 20 other people. We were training at the track and field stadium and after the training session we were supposed to take the bus back to the hotel but I decided that I wanted to get some extra miles in (I had already run about 10 miles during the practice). So I decided to run to the hotel which was about 3 miles away from the stadium. I thought it would be easy as I only had to run to the beach and then follow the beach to the right. I don't know exactly how it happened but I completely lost my direction and unknowingly started running in the wrong direction. Instead of asking for direction I ran for 12 miles in the opposite direction from the hotel and finally decided to ask someone from help as I was severely dehydrated and extremely hungry. The taxi ride ended up costing me 50 euros and some very embarrassing moments with my teammates, but at least they got a good laugh out of it and I got my long run in a little bit earlier in the week than I had planned.
WHAT IS ONE THING WE SHOULD KNOW ABOUT YOU?
I am always happy and running is a big part of that.
Did you enjoy reading about Arnar? You can connect with him on Instagram.     
If you would like to be featured as well, kindly drop us an email at [email protected], and we will be in touch to get you all set-up!