Ile-Ife Heritage Marathon Virtual Run
directions_run
Marathon, Half marathon, 10 km
Ile-Ife Heritage Marathon Virtual Run has ended
emoji_events
112 finishers
View results
check_circle 24h ticket cancellation
check_circle Lowest price guaranteed
check_circle Deals & Discounts
Join Ile-Ife Heritage Marathon Virtual Run
In 2018, the Ile-Ife Heritage Marathon was founded with the hope of building an event for the entire ancient city of Ile-Ife in Nigeria. For the past 3 years, runners, volunteers, spectators and community members have shown up on the streets of Ile-Ife to support one another. They have consistently turned an individual sport into a collective experience. In response to the coronavirus pandemic, the event organizers have had to reluctantly announce the decision to convert the 2021 Edition of the Ile-Ife Heritage Marathon to a virtual event. While we had  hoped to once again line 42.195 km of our streets in January of  2021, the health and safety of everyone participating and supporting the event is our highest priority. In light of this decision, registered runners for the 2021 event will have the option to receive a refund for their race entry or to defer their place and entry fee to the 2022  edition of the Ile-Ife Heritage Marathon. Our team is working hard  developing plans for a virtual experience which recognizes the dedication and commitment of everyone who would have taken part in the local destination experience of the 4th Edition of the Ile-Ife Heritage Marathon. Details on how runners, their network of supporters and fans of this sport can get involved will be shared in the coming weeks.
On a personal note to the runners who have kept our race going during the past three years, we want to thank you for your kilometers and for your loyalty. The Ile-Ife Heritage Marathon has always been your race, the people's race, and with your continued commitment to the sport, we will re-unite in the ancient city. The pandemic has mandated social distancing but we do not need to stop our marathon running. We will find new ways to engage as a running community by applying patience, resilience and determination to achieve our running goals. When we finally return to the streets of Ile-Ife, we will celebrate the moment with our collective spirit that defines who we are as a global running community. We are powerful, we are persistent and we will continue with our running adventures.
We have introduced the additional distances of 10 km and 21.1 km to our usual 42.195 km in the 2021 Edition. This will encourage inclusiveness for more runners. The organisers will finally be able to join in the fun of running and sharing live virtual events on the marathon route. Furthermore, 20% of each entry fee will be donated to the Osun State Branch of the Nigerian RedCross Society and the Obafemi Awolowo University (OAU) Command of the Man O War Society. Both are remarkable international humanitarian organizations. The exceptional work of the RedCross prevents and alleviates human suffering on one hand.  The Man O War Society, on the other hand, applies the challenges found in the environment to instil in our youth the core values of courage, trust, integrity and compassion.
Please join the Ile-Ife Heritage Marathon Team to support the Osun Branch of the Nigerian RedCross and the Obafemi Awolowo University Command of the Man O War by signing up to run with us on the 31st of January, 2021.
Sign up, run anywhere in the world and upload your time, photos and video clips to: 
✅ Receive A chance to support the Osun State Branch of the Nigerian RedCross Society
✅ Receive A chance to support the OAU Command of the Man O War Society
✅ Download An E-Running Bib
✅ Receive A Finisher's Medal
✅ Download A Finisher's Certificate 
✅ Publish to the Finisher Gallery
✅ Upload time to the Ile-Ife Heritage Marathon Global Leaderboard 
Read More
The world runs for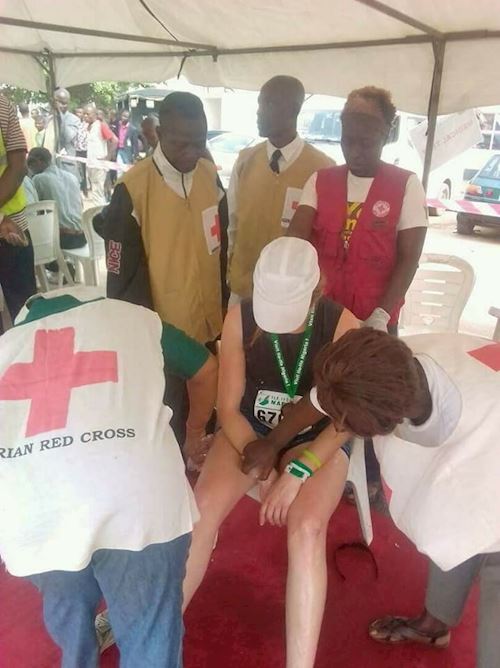 How does it work?
Register for the race by purchasing your ticket

Download any tracking app on your phone. You can also use a GPS watch

Plan your own race route according to the chosen distance

Complete your run anytime within the event's timeframe and track the activity with the app

If you run a little further than your chosen distance, that's fine! We will calculate your finishing time according to your average pace

Take a photo from your run to share with other participants

Take a screenshot of your activity to verify your result

If you choose to run the distance on a treadmill, simply take a photo of its screen after you finish for verification
How to submit the result?
Log in to your World's Marathons account

Provide your finish time and distance

Upload the screenshot of your recorded activity or a treadmill photo

Upload the photo from your run for the Finisher's gallery
FAQ
When do I have to finish my run?

You're free to run any time you want, as long as it's within the event's designated timeframe (you can find it on top of the page). Just don't forget to record your activity!

Where can I run?

You can run your own race, at your own pace, wherever you are in the world! Choose your favourite local trail or track, run in a gym or on your own treadmill.

How should I track my run?

To record your activity, just use any app that allows you to track your distance and time. Some of the most popular apps are Strava, RunKeeper or Nike Run Club. You can also use a GPS watch. If you'll be running on a treadmill, then no app is required, simply take a photo of the screen that shows your result.

Can I run further than the chosen distance?

Yes! If you run a longer distance, we will adjust your time based on your average pace.

Can I break up my activity into a few runs and submit my total time?

The distance has to be covered in one go, just like during a physical event.

When will my medal or other finisher's goodies be sent?

If the event offers any post-race merchandise, those will be sent out by the Race Organizer after the race. Please contact the Race Organizer directly in case you have any questions.
Frequently asked questions
When and where can I collect my BIB/race pack?
keyboard_arrow_down
You can download your E- Bib after registration
Can someone collect my race pack for me?
keyboard_arrow_down
Unfortunately No, you have to download your E Bib from the confirmation link you will receive after registration
How do I get to the race location?
keyboard_arrow_down
You can run anywhere as long as you start your run between 12:01am and 11:59pm on January 31, 2021
Can I change the distance after I purchase a ticket?
keyboard_arrow_down
You will unfortunately not be able to change your distance after your purchase a ticket
Do I need a special Running App to Run?
keyboard_arrow_down
No, you do not need a special running App to run, but you are encouraged to: 1) Create a Worlds Marathon accounts to enable you submit your results and upload your photos in the Finisher Gallery 2) Download Strava running App and join the 2021 Virtual IHM Running Club
How is my Result Verified?
keyboard_arrow_down
There are 2 ways to verify your results: 1) Either you send a screenshot of your running watch or treadmill 2) Or you send the link to your running App. Make sure the setting is public
Where will I run the 2021 Edition of the Ile-Ife Heritage Marathon Virtual Run?
keyboard_arrow_down
You can run the 2021 Edition of the event anywhere of your choice. All you need to do is map your route, run your distance and upload your distance on the worlds marathon platform to earn your Finisher Medal and Certificate
Ile-Ife Heritage Marathon Virtual Run has ended
emoji_events
112 finishers
View results
check_circle 24h ticket cancellation
check_circle Lowest price guaranteed
check_circle Deals & Discounts
The race information has been found on the official website of the event or through publicly available sources. Always refer to the official website the latest race information. Please let us know if any data is wrong or missing, by emailing us.