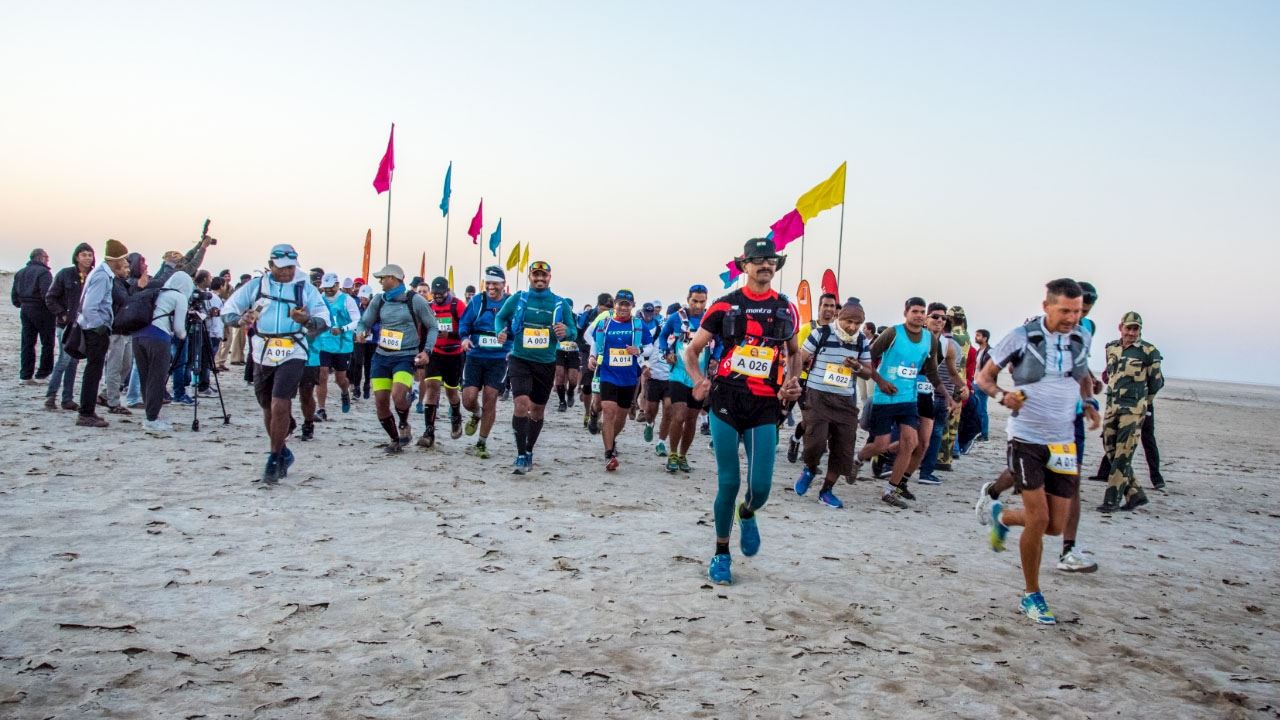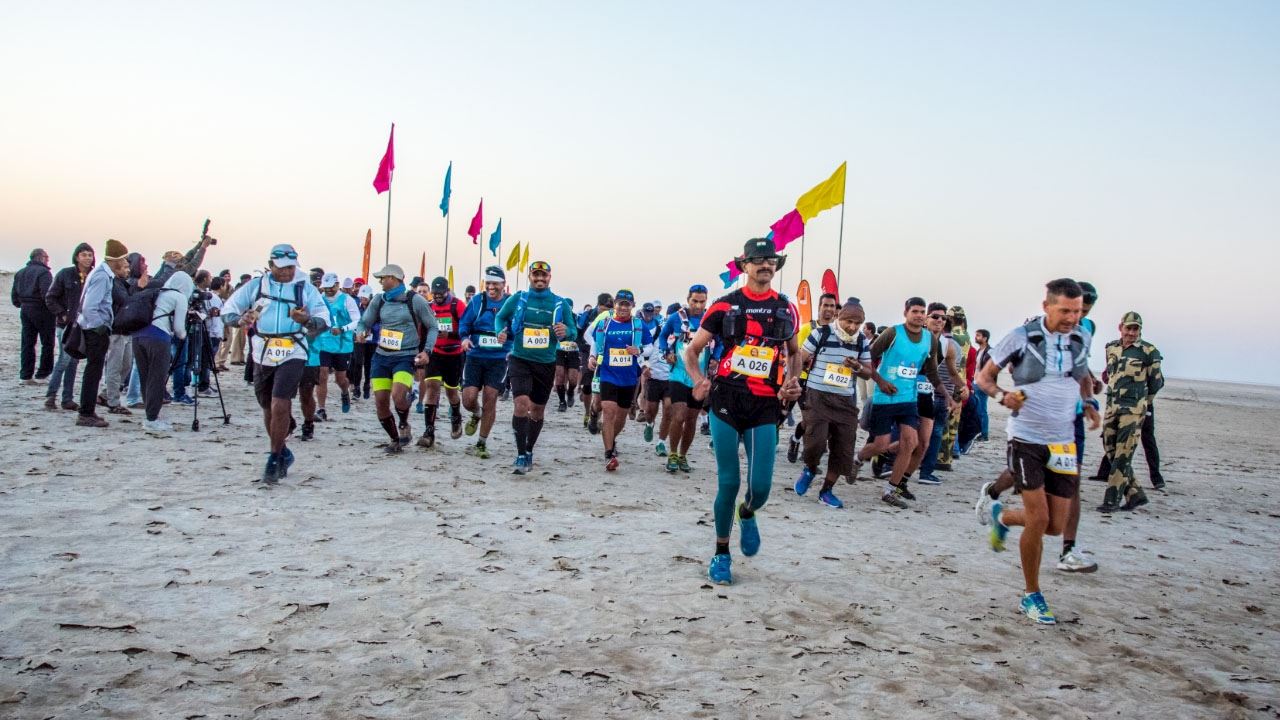 check_circle Canceación de ticket 24H
check_circle Precio más bajo garantizado
check_circle Ofertas y descuentos
Únete Run the Rann
Run The Rann™ offers events deep in the salt marshes and forested islands of the Great Rann of Kutch, making use of three trails marked around the Khadir bet island. The rule is that all races must be run partly self-sufficiently.
Set against the silver-white landscape of India's biggest salt desert, the annual edition of Run The Rann will be a race for the strongest. A place which was once home to one of the grandest and most advanced cities in the Indus Valley Civilization has only nothingness to offer till infinity.
Over 100 adventure enthusiasts will participate in three different races (161 kms, 101 kms and 51 kms) and embark on India's hardest trail running desert race. Cracked desert land, vast salt marshes, and unforgiving cacti along with a few slithery surprises like wet mud, black cobras and giant monitor lizard will be offered to the runners. This will be a quick journey in paradise (or hell?) they will never forget.
In 3 days, the runners will circle the ancient ruins of Dholavira, one of the largest, grandest, most advanced metropolises of the 5000-year old Indus Valley Civilization. They will explore the island and its remotest corners, fight the temptation to quit and meet with every surprise the Khadir Bet Island has to offer. From friendly and huge gypsy buffaloes, happy to come sniff your sweat, to the high peaks we have decided you will climb several times to oversee the gigantic northern white desert.
Run The Rann is not your average trail running race. It's more of an adventure that will take you deep into what Incredible India has to offer. Be prepared. Only the strong will Brave The Desert.

Destacable en la ruta
161K (100 MILES) 
The 161 kms race segment poses extraordinary challenges. You will start off with everyone else and when 51 kms runners turn around to sprint towards Dholavira, the base camp, you head further along with the 101 kms runners.

The north side is remote and almost never been explored except by Border Security Forces and our race explorers when selecting the route. Very few other human beings have been there, except some local shepherds from time to time. You will run more or less 50 kms on this side. It's not much but it won't be easy. You'll spend your time going up, and down, up and down and up again.
Away from human intervention, the area is only explored by the Border Security Forces. Very few humans have been here, except for the team to chart the race course and local shepherds who wander here from time to time. There are rocks and sand, marsh land and craked desert, thorns and picturesque landscape. It will not be easy, but we never said it would be.
You will create history as you pass through the pages of history when you run through the ruins of ancient Indus Valley Civilization. While you may want to sit back and take in the overwhelming expanse of nothingness, do not forget to run. You have only 48 hours to finish the 161 kms of run!
This is a test of endurance and survival. Tremendous physical and mental strength is required to Brave The Desert.

101K 
While you start the race with everyone else, when the 51 kms runners sprint their way to the finish line, you move forward. We promise that the trail gets harder, the terrain harsher. The route takes you near the Border Security Force outposts where the friendly BSF soldiers have got your back. The trail will take you uphill and downhill and just when you think you have reached a flat surface, you will be climbing cactus covered rocks again.

After the wilderness, on your way back to the finish line, you will be thrilled to see even the buffaloes! The cows and goats will look at you curiously as you run past them. After kilometers of nothingness you will finally see some life again. Welcome back to civilization.
Throughout the trail, the view is breathtaking. You will see the beauty of nature amidst the unforgiving dryness of the desert. You will be out in the wild, through the ancient ruins of the Indus Valley Civilization. The unchartered territory will take you on one exhilarating adventure and only the strong will Brave The Desert.

51K 
We have upped the challenges. This trail run is not for the faint hearted. The salty sand and mud flats on one of the most brutal terrains will show you the evil beauty this island has to offer.
Our team has made it their mission to leave you breathless. It will get dustier, hotter and harder with each passing mile. The thorns will leave you with marks that will always be a reminder of an epic journey.
You will start your race with the 161 kms and 101 kms runners and turn around for the sprint back to the finish line as they move forward to explore the uncharted territory of the Great Rann of Kutch.
Even if you have never participated in a trail run, you should try this one out. To see if you have what it takes to Brave The Desert!
Leer más
Mapa de ruta
directions_runDirección de comienzo: Dholavira, Gujarat 370165, India
flagDirección de terminación: Dholavira, Gujarat 370165, India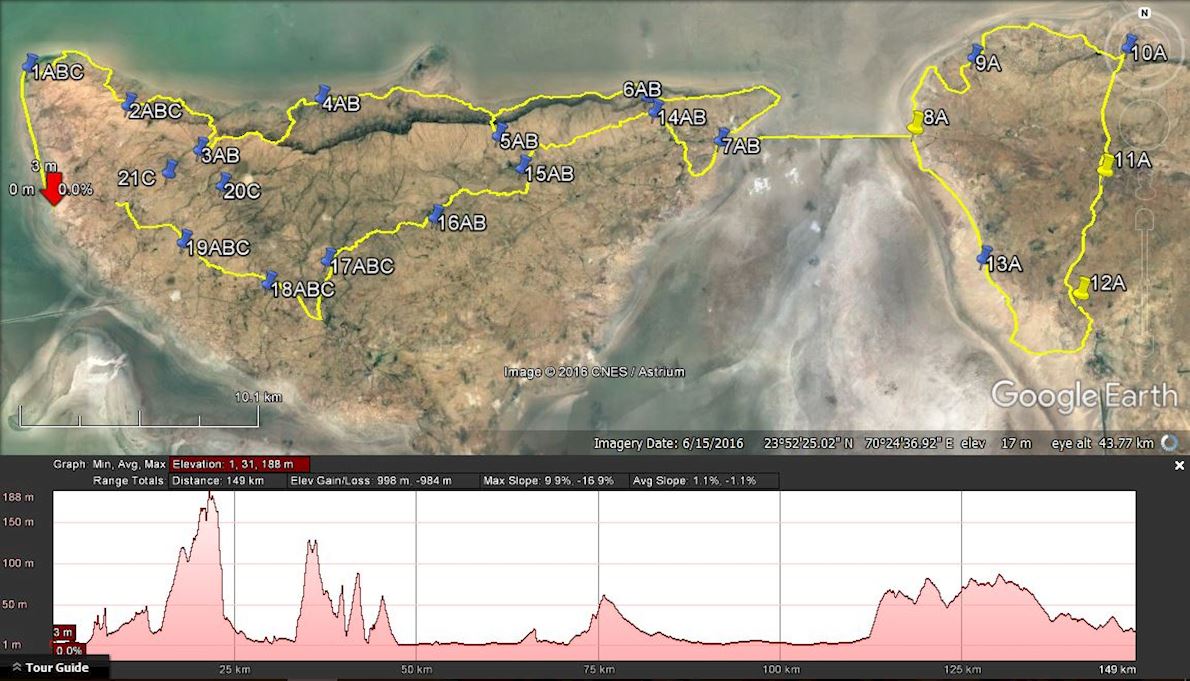 Particularidades
Runners should be at least 18 years. We will consider applications of younger runners if they are experienced runners and can present a note from their parents or legal tutor.
161 km cut-off is 46 hours. 101 km cut-off is 28 hours. 51 km cut-off is 12 hours.
During the race, runners will have access to sodas (they are good for upset stomach and they contain sugar which is the number one fuel for muscles) and energy drinks - But drink these little by little because an energy drink can also quickly upset your stomach if you drink too much at a time and run immediately after that.
Transport will be made available from Ahmedabad. You will not have to pay extra for that transportation. But it is compulsory you reach Ahmedabad on your own. This will be arranged regarding the number of people to transport and the emergency of the situation. Transportation on bikes, tractors and trucks will be made available as much as possible but there will be areas where no machine can go to get you. This means that you should in any case try to reach the closest aid station. If you can't move, tell a runner you find around you and he'll tell the next aid station. Worst case scenario: be ready to spend some time waiting for help. This is the reason why you should have water and food with you at all time.
Se el primero en escribir una reseña para este evento
check_circle Canceación de ticket 24H
check_circle Precio más bajo garantizado
check_circle Ofertas y descuentos
La información de la carrera se ha encontrado en el sitio web oficial del evento o en otras fuentes de acceso público. Consulta siempre el sitio web oficial para obtener la información más actualizada sobre la carrera. Si falta algún dato o hay algún error, envíanos un correo electrónico para informarnos..