Vilnius Marathon - a great way to celebrate 100 years anniversary of Restored Statehood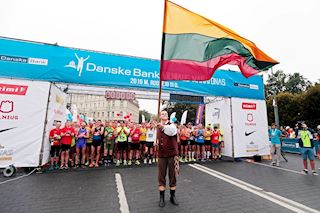 On September 9th, Vilnius Marathon will take place in the beautiful capital of Lithuania. The race is a part of the celebration of the 100 year anniversary of the restored statehood of the Baltic states. As a runner you will experience a flatter and faster route lined by cheering crowds. We spoke with Giedrė in the race organizing team to get the latest updates on the race preparations. 
More information and registration
2018 is a special year for Lithuania, how come? 
Yes, Lithuania is celebrating 100 years anniversary of Restored Statehood. That's the celebratory year for all three Baltic states – Lithuania, Latvia and Estonia.

How will runners notice the jubilee in the city? 
The Danske Bank Vilnius Marathon is centenary marathon in Vilnius, with very special gift for all finishers – medals with national heraldic symbol – The Lithuanian State Coat of Arms Vytis, attached. And of course, to mark this occasion during the marathon there will be musicians, military band to congratulate runners.
What is different about Vilnius Marathon this year? 
We have almost twice flatter race course which offers the opportunity to strive for the personal best result. However, the most significant part of race course – beautiful baroque Vilnius old town streets will be kept in a race course to enjoy and experience the Old town – UNESCO worlds heritage site.
Are there some great Lithuanian runners competing this year? 
So far we don't know all, but Vilnius marathon record holder and Olympian marathon runner Vaida Žūsinaitė will run 10k, and best Lithuanian marathon runner Remigijus Kančys will compete for the gold in marathon distance.
Could you tell a bit more about the unique medal?
Lithuanian's coat of arms is a national emblem and strictly overseen by heraldic commission. But as a gift to the nation, Vilnius marathon got an exceptional right to have medals with the original version. All finishers of any distance will be awarded with this special symbol of their running atchievement.
Medal is complimented with the lanyard with Lithuanian flag colours – yellow, green and red.
Which are your personal top 3 recommendations on what do/see in Vilnius? 
Gediminas Castle, Gate of Dawn and Uzupis Republic – an artsy area in Vilnius. Although for runners of course to run along the Neris river bank, very scenic :)