A terrible race - lessons learned from Hammer Trail 100 miles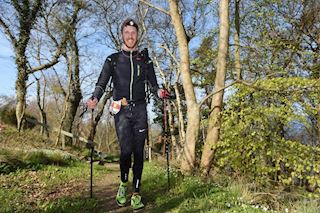 "What doesn ́t kill you, makes you stronger"  Friedrich Nietzche 
We expected adventure when we boarded the boat towards Bornholm on the 4th of May. Together with my younger brother, I had applied, scared but thrilled, to Denmarks hardest running race, Hammer Trail 100 miles. Weather gods were not on our side and heavy winds created a terrible boat ride to the small danish island. Staff at the boat handed out puke bags before take-off. They knew what was waiting for us. For the first time in my life I experienced real sea-sickness together with the majority of people on board. 
Not the best build up for a 100 mile (160 km) run race. In hindsight I wouldn ́t call it a run race though, but a painful shuffle in running shoes. Very few parts of the course were runnable, and I could almost imagine the smile of the organizers when gathering 6600 meters of altitude gain on the northern parts of Bornholm. Some parts even required ropes to reach the top of the cliffs.
Already after one lap of six I was convinced that this would take more than 24 hours. With a maximum time of 32 hours it was also obvious that several of the 35 starters would never make it to the finish line in time. Six laps and a warm tent with food and drinks at every lap finish. Needless to say, we had plenty of opportunities to call it a day and give up. Also the rules said that after 50 miles (halfway) it was ok to quit and still get a result in the 50 miler race (going on in parallell). 
That would turn out quit tempting for quite a few runners eventually. After 38 km I faced the first obstacle of the day. Losing attention for a fraction of second, I stepped on a root and strained my left ankle. I went down and bad thoughts of quitting started to run through my head. Quitting with 75 % of the race unfinished was actually not an option. Using my mandatory band-aid I was soon on my feet again. Ten hours into the race I called my wife and two kids, in the middle of their Friday night dinner, to gather some mental energy and pep-talk. I felt so sorry for myself, but at the same time I was grateful for the adventure I was part of. "This is terrible" was the only thing I could muster when my wife asked how I was doing. 
At that moment I wanted nothing but teleporting myself home to my family. 12 hours into the race I had reached the half point and I took a proper break for 25 minutes to eat some real food and change to dry clothes. It was time for the night shift and the feeling of adventure got stronger. I actually looked forward to the night. One foot in front of the other, constant motion forward. That became my mantra. My body hurt, my toes were sore and my foot was really stiff and swollen by now. My legs burned in every downhill section. 
The pain kept me awake and the tricky course up and down forced me to keep focused. My brother had brought two pairs of rods. One of them, my old grandmas walking rods. They became an invaluable asset during the second half of the race and actually made the brute hills and rocky paths manageable using my upper body as well. The night got to an end and the sun rose. Almost 24 hours had passed and I still had one more lap to go. The sun made it hot and I made a mental restart with shorts, cap and sunglasses and left my head torch behind.
In hindsight I realise how exhausted I must have been when starting the last lap. I didn ́t do the math to realise that the last lap would take almost seven hours with my current pace. So I didn ́t bring enough energy and fluids. I had to manage the last four hours of the race on less than one liter of water. In burning sun. And during the last three hours the only energy I had was two small dextrose tablets. I thanked myself that I ́d been training my body to sustain on a low fuel strategy using mostly fat as fuel. But it was a thin fine line. I was not sure I would make it.
The 18 km from the last fuel station to the finish line felt like forever. I called my wife again (I was glad a mobile phone was mandatory equipment) to distract myself and get some new encouragement. I also asked her to get a pair of crutches for the coming days. My body felt completely ruined and I expected my strained foot to be hurting a lot. The thought of a wheel chair crossed my mind, but with all the stairs in our house, that idea never got across to my wife. My body was completely empty and finished. Low energy levels and the hot sun was burning on my skin. My inner voice kept me going. One foot in front of the other. The pace is slow but I am progressing. The words from one of my early role models, Dean Karnazes echoed in my mind. "Run if you can, walk if you have to, crawl if you must, just never give up".

After 30 hours, I crossed the finish line as one of 14 athletes who managed to run the whole race. My feet and hands were swollen. I was completely exhausted but had learnt a thousand lessons during the way. I never used the crutches my wife had fixed. My hands were hurting more than my feet and my strained ankle had self healed during the 24 hours in motion. Also small miracles are worth celebration. Thanks for reading and make sure you also enjoy the adventures in life. Sometimes it ́s a thin fine line between fear and happiness, between pain and pleasure and between stupidity and insights. And isn ́t that what life and personal development is all about? Balancing more often on that line!