For blind runners in Beirut, a vision of glory awaits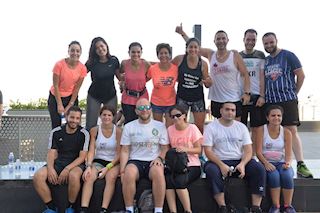 Running a marathon is difficult enough as it is, but doing so as a blind person, less than five months after taking up the sport, is an extraordinary task. 
But as the days count down to the 2018 BLOM Bank Beirut Marathon on November 11, that's exactly what Ghina Achkar, a 26-year-old Lebanese woman, is preparing to do. 
Achkar turned blind during high school but when she takes to the line next month, her sight will be the least of her worries, given she only took up running in recent months and now has to cover 42.2km on foot. 
"The furthest I'd ever run before I woke up in June and decided to run this year's marathon was to catch a bus," says Achkar, who will race this year's marathon as part of Team Blind With Vision, a new initiative which brings together blind and partially sighted runners to race the BLOM Bank Beirut Marathon. 
"I've always been challenge-oriented," she explains. "Setting goals, finding ways to reach them, meeting allies, stressing about biting off more than I can chew and eventually getting there – it's what keeps me going."
Since late June she has been running three times a week with Team Blind With Vision, led by group's coach Mary Kleyani. With support from the 542 community – a running program operated by the Beirut Marathon Association which helps newcomers complete their first marathon – Achkar has progressed rapidly in recent months and is thankful to her guides for the help on this journey.
"Mary has done a great job bringing together amazing pacers, training them in running techniques and matching them with blind runners," says Achkar. "She pours all her energy into this project and she, alongside my pacers Myrna and Nadine, are some of the few people I've met who have the capacity to acknowledge your blindness and then forget about it and move on. It's heart-warming to see how my objective has become their own."
Achkar, however, admits all of this was never in her plans until recently. 
"To each their own bucket list and mine didn't feature a marathon until four months ago," she says. "But now I'm really into running and I'm sure I'll keep adding mileage in these legs well after November 11."
She will race not only for herself, but to prove to people with visual impairment everywhere that they don't need to limit their aspirations – in sport and in life. 
"We are more disabled by society and preconceived ideas than we are by our bodies," she says. "If there's one message the Blind With Vision team can spread, it's this. It goes for blind people and for the sighted ones just as much."
Marathon running may be known as an individual pursuit, but for Team Blind With Vision it's been anything but. When they take to the streets of Beirut next month, they will do so as a group, working together to achieve a common dream. 
"Running, which is often viewed as a loner's hobby when you're sighted," says Achkar, "turns into a team sport when you're blind or running with a blind person." 
About the BLOM Bank Beirut Marathon: the race was first held in 2003, attracting over 6,000 runners from 49 countries, and has since grown into one of the world's biggest marathons, with 48,000 runners toeing the line last year and a record-breaking 50,000 expected this year. Created by businesswoman May El-Khalil, the race has the theme of unity at its core and brings together both competitive and recreational athletes from various backgrounds in a friendly festival of participation and inclusion.

For
more information, contact [email protected] or the race website www.beirutmarathon.org