schedule Canceación de ticket 24H
local_activity Ofertas y descuentos
verified_user Refundable Booking
Join Cook's Tour
The Glasshouse 50 or Cook's Tour – based at Woodford is held on the Sunday closest to 17th May Captain Cook named the mountains on 17th May during his voyage up the east coast of Australia in 1770. This year sees the return of the GH50 mile. With its return is the addition of a new section of forest we haven't used previously. Runners in the 50 mile will have the opportunity to traverse the Peachester State Forest which will be included in the GH100 later in the year. The forest is an area NW of Mt Beerwah which has some great hardwood stands and native palm pockets dotted throughout. Terrain is open in some sections with new pine growth regeneration occurring but the route regularly ducks for cover to make this an interesting day / night out with spectacular views of all the mountains at daybreak.

Course highlights
Black Lagoon - 6.6km
All runners.

All events start outside the Woodford pool on Peterson Rd. Head down Petersen Rd to its end and straight ahead into a narrow rough bush track. Turn left at its end onto a well formed 4WD road and up the hill to the fence line, right turn, and follow this track for 1.3km. Arriving at a Y intersection, turn left and in 200m over the hill and take a sneaky narrow track on the other side of the hill to the left and follow for 1.0km. There is a creek crossing and further along is the picturesque Black Lagoon (photo opportunity) on the left. 200m later the track will veer to the right and intersect with a gravel road, turn right for 200m and then right again at the next T intersection and follow without any turnoffs for 2.6km to arrive at Checkpoint 1 which is 400m south of the "Mango Tree" on Beerburrum - Woodford Rd.

Crew vehicles to park on northern side of checkpoint on the eastern side of the road only. Keep road clear at all times as runners and officials vehicles will be traversing this road. This is also the crew access road to Checkpoint 4.

Swains-Cove Rd – 12.5km
50 mile runners only.

Head north for 400m, cross diagonally over the road, past the mango tree, continue north and at 3km turn right and follow markings east to reach the southern fence line of a macadamia farm. Turn left (2.3km) underneath the Transmission lines which is the road that cuts through the middle of the farm to head north. The course will meander in and out from under the Transmission lines beside a fence line. After 2km at a Y intersection veer left and then right 500m later at another Y intersection, which will take lead to Swains Lookout. Continue north and at the gully at the bottom of the hill are several road intersections. The runners will cross over the wet area into tree shade and take a track to the left. This will head west to Checkpoint 2 on the edge of Cove Rd.

There is some off road parking available and the access road is 200m after reaching the gravel section of Cove Rd. on a sharp bend. Do not drive into the forest.

Peachester – 12.4km
50 mile runners only.

From Checkpoint 2 retrace your steps for 700m and take a left turn onto a track following the fence line north for 1km, then east for 1.5km to re-join the transmission lines. Road veers left and head north for 2km weaving in and out of palm forest and bright sunshine to crest a lookout at Peachester. Down a slippery track and head east for 1.4km to nearly intersect with Reserve Lane, the forestry road runs parallel with Reserve Lane for 600m before veering SW. This part is on narrower rutted trails under palm and eucalypts and muddy sections, just like the old Powerlines section years ago and in 2.3km re-emerge under a different set of Transmission line. In the Glasshouse area most Transmission lines head north-south, this may help if you get lost. Turn right (south) for a 1km and then left to breeze pass the macadamia farm and follow well formed roads to crest a hill with the best views in town, another photo opportunity. Scarper down the trail to the right and arrive at Checkpoint 3 which will be situated just outside the Mt Beerwah Picnic area. Ultra runners will have their first Weight check on arriving.

Parking for crew will be outside the visitors car parking areas on the edge of Mt Beerwah Rd on the northern side only. Toilets are available inside the Picnic area if required.

Beerwah – 12.1km
50 mile runners only.

Head SW through the parking areas into the picnic area and the walking track is to the right of the toilet block. Follow for 2km to emerge in a sandy area under the Transmission lines, south for 200m and into pine plantation roads for a little over 2km heading SW. The roads will re-connect with the Swains-Cove Rd section (22km earlier) at a Y intersection, turn left down the hill and retrace steps back to Checkpoint 1 passing through the macadamia farm.

Blackrock – 5.9km
50km runners only.

This is a flat and fast section mainly on well-formed tracks. Head north for 1km and turn left to run this loop in a clockwise direction. This loop is nearly 6km and you will re-join the major road at where you turned off earlier, Retrace your steps back to Checkpoint 1.

Woodford East – 7.0km
50 mile, 50km and 33km runners only.

Head south keeping to the left hand side of the road (this is the official crew travelling road to checkpoint 4 and can be busy), at 400m turn left onto a narrow sandy track (Spider Alley) and follow for nearly 2km. Exit track and turn left and run this road for 1km to come to a major intersection with a green "W" sign on the far side of the T intersection. Turn right and follow for 2km crossing over Raaens Rd and onto McConnell Rd to nearly crest the hill at Checkpoint 4 under the Transmission lines. Ultra runners will have their weight check on arriving.

CREW vehicles cannot drive all the way to Checkpoint 4 but must park about 500m short of it and walk the rest of the way if they wish to see their runner.

Bracalba West Loop – 11.9km
50 mile and 50km runners only.

From this point you will firstly do a loop of about 11.9km to return to Checkpoint 4 at the top of the hill, to the west (clockwise this year). This section is natural vegetation and quite scenic. There are some hilly sections and part is along the old railway track that used to run from Caboolture to Kilcoy through Woodford.

Bracalba East Loop (short edition) – 5.4km
50 mile, 50km and 33km runners only.

(Anti-clockwise this year). Leave Checkpoint 4 heading the same way as previous loop, but at about 2km turn left and follow the track to meet under the major transmission lines at a fence line. Follow the track markings left to eventually bring you to the bottom of "Cook's Climb". A 1km steep climb up towards McConnell Rd. Near the top is a newly constructed walking track, turn left onto this track and follow to bring you out just below Checkpoint 4. Turn left for 200m to checkpoint. Ultra runners will have their last Weight check on departing.

Both these loops have been resurveyed by NPWS and colour coded for Bushwalkers. We thank them for this. TRAQ and GMAN associations have both contributed to their development. Eventually we may see more of this throughout this Region.

Powerlines – 8.6km
50 mile, 50km and 33km runners only.

After completing the loops at 4 return to the north along McConnell Rd to the intersection with Raaen Rd (just over a kilometre) and run straight across and up the road for 1km. Turn right just after the farm, through a clear creek and up a rutted track to the hill top. Turn right and follow signage for 2km roughing it out under the Powerlines heading north. Beware of trail bikes and 4WD's especially in this area. Take a turn to the left, uphill for 1km to reach Red Hill and a major dirt road. Turn left and in 100m then right onto pine plantation track, follow to its end turn right and follow to come out under a telegraph line just shy of Woodford-Beerburrum Rd. Turn left onto a track and follow to Checkpoint 1.

Woodford – 5.4km
All runners.

Head south keeping to the left hand side of the road (this is the official crew travelling road to checkpoint 4 and can be busy), at 400m turn right this time and follow the recently cleared pine planation and creek boundary. This track meanders around and can be muddy and rough in some areas. Exit this track and turn left up the hill passing the track on the right that led you past the Black Lagoon earlier. Over the hill and in 200m take the right track at the Y intersection and retrace steps back to the Pool.

Leer más
Mapa de ruta
directions_runStart address: Woodford,au
flagFinish address: Woodford,au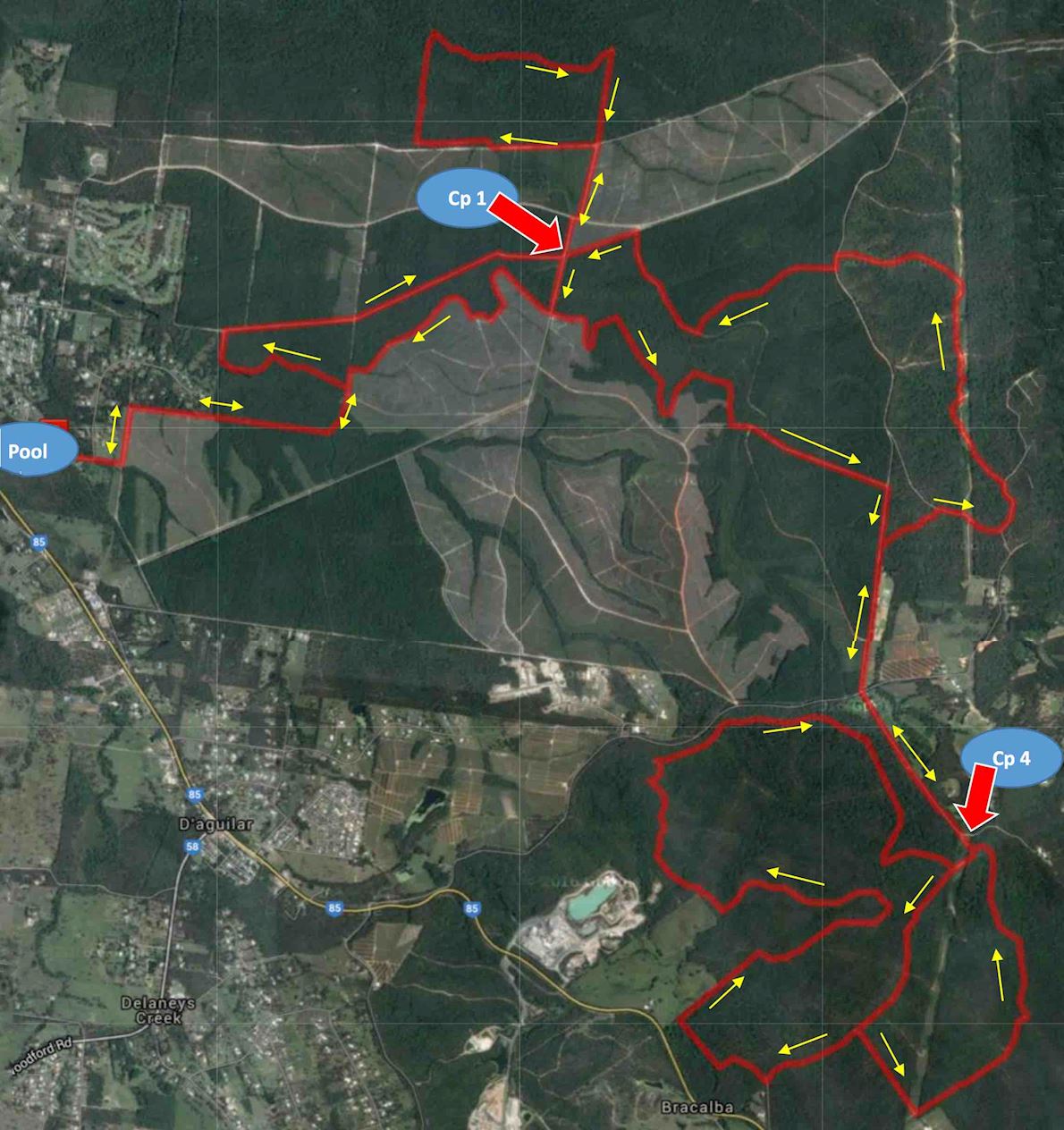 Se el primero en escribir una reseña para este evento
schedule Canceación de ticket 24H
local_activity Ofertas y descuentos
verified_user Refundable Booking
La información de la carrera se ha encontrado en el sitio web oficial del evento o en otras fuentes de acceso público. Consulta siempre el sitio web oficial para obtener la información más actualizada sobre la carrera. Si falta algún dato o hay algún error, envíanos un correo electrónico para informarnos..