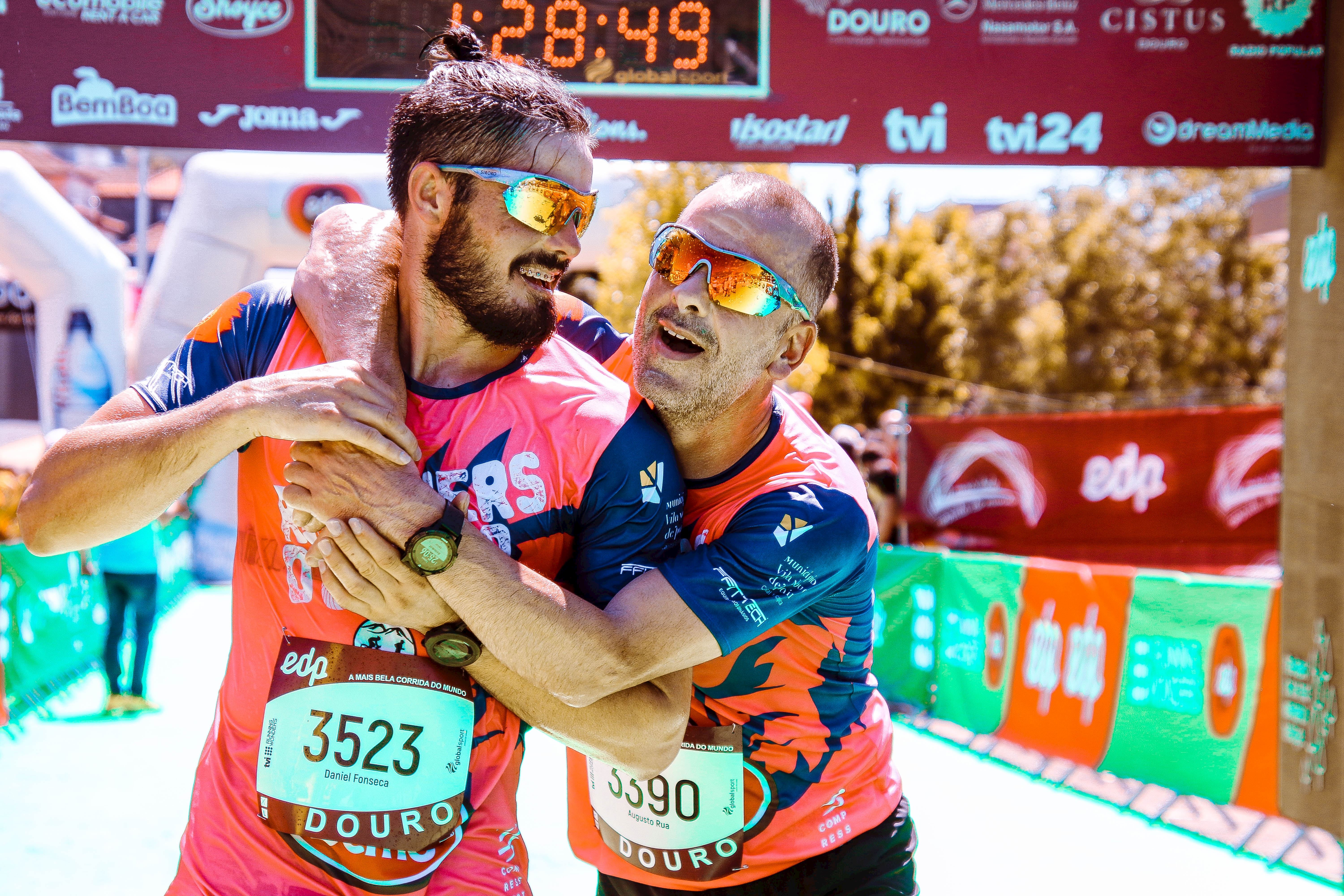 For many, the year 2020 may feel like it's been one of the worst years yet. With a novel deadly virus postponing or canceling many road races, it can be hard to remain optimistic about the future of running. As we approach the last quarter of the year, we could all use some positive news. We've searched the internet for some of the best feel-good and touching running stories to help brighten your day. The following are a collection of inspiring and uplifting running tales from random acts of kindness, to making a persistent personal lifestyle change, and to seeking out the best nature in the world, one step at a time. 
Lending a Helping Hand
Our first story comes from a pair of runners, first strangers now friends, due to a scary incident that thankfully turned positive thanks to a helping hand. 
Jenna, a wife and mother of 3 and Vice President of Human Resources for a manufacturing company in Cincinnati, Ohio, and Anoush, a product marketer for a Health Tech company and certified running coach at MyStryde Treadmill Studio in Boston, were both running the 2017 Boston Marathon in unusually warm weather. Upon approaching the finish line, Jenna experienced apparent heat exhaustion of stroke and started to blackout and crumble to the ground. Anoush was just behind seeing the events unravel and quickly jumped into action, despite her pain and pride to finish. A famous photo, which quickly became viral, is of Anoush helping to lift and assist Jenna to the finish line and is the epitome of selflessness.
Can you give us some insight into the story that brought you two together?
Jenna: I first started running right after college but got more serious about it 7 years ago, doing about 2 marathons a year and qualifying for the 2017 Boston Marathon. I have strong mental confidence by using positive self-talk when running distances, which has helped me finish 18 marathons but on that day, the positive talk turned into my demise. After running for multiple hours straight, like in a marathon, most of your oxygen is going to the muscles in your legs and less in your brain so sometimes your brain gets a bit lightheaded and fuzzy. On this day, I remember starting to feel this way and kicked up the positive self-talk "just get to the finish, run bold, you got this" all phrases that I say to myself at the end of a marathon. I don't remember running down the famous last stretch of the Boston Marathon on Boylston Street. But what I do remember is my legs collapsing, seeing the ground, and my last positive weak prayer "someone please carry me across that finish line". That is my last memory. The next time I woke up, I was in the medical tent with excruciating pain in my calves. They were cramping as a reaction to my high fever. Next, I was carried to a large ice bath and surrounded by nurses and doctors. There I learned that my temperature was 105.6 F and I was vomiting continuously. Later that night, I learned that Anoush had stopped to pick me up after I collapsed. She was steps away from finishing and stopped to pick me up and help me finish.  
Anoush: I qualified for my first Boston Marathon in my first attempt! Marathon training is extremely trying and I had trained so hard for this amazing race but unfortunately, I struggled in the heat starting at mile 16. I survived with the help of another runner on the course and we helped push each other until I was able to take off for the final mile. That is when I saw a woman (Jenna) ahead with her legs moving like jello and then she collapsed. I didn't think about it at all and ran up behind her and tried to talk to her while helping to pull her up. Eventually, others helped me get her across the finish line and to the ER staff. I have confidence anyone would have done the same.
Can you explain the meaningfulness behind your new friendship?
Jenna: On that day, I felt close to death and swore I would never run a marathon again. I had blacked out and was unconscious for a long time. It wasn't until a mutual friend sent me the photo of me being picked up at the finish line by Anoush. As marathoners, we tend to be a competitive group. And to me, the fact that Anoush noticed that I needed help when the finish line was only steps away and sacrificed her own finish time, speaks volumes of her character and who she is as a person. I remember that night Anoush and I connected and exchanged messages until about 3 am. I felt like I had met an angel, someone who was with me during one of my darkest moments in life and lifted me. I was a stranger and she didn't even hesitate to help me before helping herself.
Anoush: Thanks to the popularity of the viral photo, Jenna and I discovered that we had a ton of mutual running friends through Instagram. They were able to put us in contact and we talked for a long time in the days after. We discovered that we would be doing some of the same races in the future where we got to meet in person. Jenna is kind, caring, sincere, and has the most beautiful soul. I say whatever I am thinking and can be a social clown. We balance each other out in a very unique way.
What's your takeaway from all of this?
Jenna: I am still a big believer in positive self-talk. Your mind is your most powerful muscle. When your legs say, "I am tired" usually they can keep going as long as your mind believes it. Stay positive. Stay confident!
Anoush: The best summary I have is that while running is mostly an individual sport, where you compete against yourself, it is also a team sport. The running community is unlike anything you will ever encounter. The more you commit to a sport like running, the more you will get out of it. I believe that anyone that wants to run a marathon, can and will run a marathon. All it takes is some hard work and a positive attitude to push through the bad days. That is the beauty of this sport! Ultimately, I want to set myself up to run for a very long time and stay healthy as I get older. 
You can follow Jenna @jennammchugh and Anoush @noushy14 and their running stories on Instagram.
A Lifestyle Transformation
Our second story is from CJ, originally from Mexico now living in Germany, who is an inspirational mother of 2 and is a special needs assistant who used running as a tool for weight management. In the end, she conquered so much more. 
Can you tell us about how running has transformed your life?
CJ: I started running in October 2016 after having 2 difficult surgeries and being 40kg overweight. At the time of the surgeries, the Doctor was very sincere in telling me that I was in very bad shape and that if I continued on this path that I might not see my children grow, and that scared me. Right after that conversation, I started exercising and changing my eating habits, beginning what I called a "no diet" journey. Running began with no special gear or a definite plan. My only plan was to just start. I began with running 15 seconds/walking 1min for 3km. It was difficult and painful in the beginning but I could see that I was improving from week to week to the point I could run 3km continuously. This was such a victory for me and kept me motivated to keep going. I can say that running has truly given me a completely new life, one that I have never dreamed of. I feel healthy, free, fresh, new, and full of energy.
From a 3km to an ultra race, please tell us about this:
CJ: The runs in the very beginning were the most difficult to overcome due to pain from being overweight. I stayed strong and disciplined and got addicted to the results as they continuously improved. From 3km in 2016 to my first marathon in Berlin in 2019, I knew I wanted to run further. The most rewarding part of my journey has been my first ultramarathon of 55km in July 2020. It takes a few ingredients to run one: patience, endurance, passion, persistence, love, and support from family and friends. I am so grateful and am ready for my next goal of 70km Brecon to Cardiff Ultra in Wales. 
What advice would you give to someone fearful of their physical limitations who, ultimately, would like to participate in endurance sports?
CJ: It's never too late to change, we just have this one life...Go for it and make it count. Changes don't happen overnight but having the willingness to get started is the beginning of so many opportunities.
You can follow CJ @run.smile.love and her running stories on Instagram.
Creating Adventures One Step at a Time
Our final feel-good story comes from Carlee, a young woman originally from Michigan who now makes her home in Southern California working at a local running store. A blogger and influencer who teaches us to follow our dreams by sharing her love for running and travel adventures. 
Where has running taken you, physically and geographically?
Carlee: I began running in 2012 at the "happiest place on Earth" for the Disneyland Half Marathon. I fell in love with it and have been running ever since. I was diagnosed with Fibromyalgia when I was in high school and I know I probably won't be able to run forever. With that being said, you better believe I am going to enjoy it for as long as possible! Since 2012, I have been lucky to conquer the majority of my running goals throughout the continental US. My most recent ones were to run a sub 1:35 half marathon in California, qualify for the New York City Marathon, hike Mt. Whitney (the highest peak in the continental US), and run the Grand Canyon Rim 2 Rim 2 Rim with my husband (50+ miles, self-supported in preparation and carrying all our essentials). Additionally, we have been fortunate to take many road trips including the West Coast of the US (San Diego to Seattle) in our AdventureMobile VW EuroVan. We have since traveled to Bryce Canyon and Zion National parks in our upgraded AdventureMobile (an F150 with a Four Wheel Camper in the truck bed) and love taking it whenever and wherever possible. 
You are a natural storyteller about your running adventures while giving useful advice on how to be a change-makers in the world. Can you tell us more about your platform?
Carlee: I love helping the running community in any way that I can, and by sharing our training, travel, and experiences, this is just one of the many ways I can give back. My goal is to continue to run as happily and healthily as possible. And hopefully, I will be able to spread my love and passion for the sport on to those around me. I try to offer advice for those interested in getting into endurance sports, and my best advice is to start small and with something manageable. That could be walking on your lunch break or shooting to run 2x a week. Be realistic about what you can fit into your current schedule. Don't get me wrong, endurance sports take time and sacrifice, but when you are starting, dip your toes in the water slowly before you jump in head first - we don't want anyone flailing in the water and giving up before they have the opportunity to fall in love. Do what you can and little by little it adds up (it will also help prevent injuries). Oh yeah, and get fitted for proper shoes - they truly can make all the difference!
You can find Carlee
on Instagram,
on Twitter,
on Facebook, and her blog
.