Salt Flats 50 Mile Endurance Run
directions_run
Ultramarathon
Salt Flats 50 Mile Endurance Run
check_circle 24-Stunden Ticketstornierung
check_circle Günstigster Preis garantiert
check_circle Deals & Rabatte
Beitreten Salt Flats 50 Mile Endurance Run
The Salt Flats 50 Mile Endurance Run is a premier 50 mile event, exposing the runner to the mind-bending terrain and extreme environment of the Salt Flats, Island Mountains, and Mud-Flats surrounding the Bonneville Speedway. The weather at this time of year can be everything from sunny and low 80's to blowing snow and low 20's. Part of the experience of running this course is encountering and conquering the unpredictable weather. The course will start with the 100 Milers and take the runner along the same course as the 100 Mile Endurance Run up to mile 23, where it diverts and heads back south, over two mountain passes, and returns to the flats for the finish. As has been demonstrated, the weather at this time of year can be everything from sunny and low 80's to freezing rain and blowing snow in the low 20's. You are fundamentally responsible for preparing yourself to run in any weather. The finish cutoff is 14 hrs, and every finisher receives the 50 Mile "mini-buckle" medal! 
The 50 Mile race starts at 7:00AM at the same time as the 100 milers on the Bonneville Speedway and runs out to join the roads and trails that traverse the "islands"... mountains that seem to float on the Salt Flats.
As a general description; you'll be running on the salt and compacted salt-sands for roughly 16 miles, then transition to dirt jeep road (double-track) for about 5 miles where you'll hit (Cobb Peak road). Then you'll split off from the 100 mile course for 9 miles of dirt road, followed by a technical double-track climb and descent of about 6 miles, a couple more miles of dirt road, then another double track climb of a mile or so with moderately technical descent of another mile or so back to the salt for the remainder of the course. I personally love the two climbs/descents on the 50 mile course... they are an exceptionally beautiful example of the desert mountains and offer a good technical respite ;) The course starts and finishes at the same location, so runners won't have to worry about shuttling vehicles or themselves.
Strecken Highlights
The course begins at the end of the Bonneville Speedway access road on the staging area for the Speedway. Once the gun goes off, head north following the flagging along the Speedway for 10 miles, passing Honey-Bucket portable toilets at mile 3 and 7, to Aid Station 1 at 10 miles.

You'll be running on nearly 6 feet of solid salt for this entire section!

The surface is generally quite hard, similar to hard-pack dirt. However, if there's been any moisture, it can be very sticky and you can accumulate some salt cakes on the bottom of your shoes… just keep running and it'll fall off eventually.

From Aid 1 (Salt Flats), head north following the same flagging for almost three more miles, and then turn east following the same flagging and then pin-flags for about another 3 miles where you'll reach Aid Station 2 (Lone Post), at 16 miles. You'll have transitioned off the salt and will now be on the classic firm sand of the salt basin. It's a little like running on the beach near the water line. The big post stuck in the salt here is a mysterious relic from the past and serves as a great marker for the aid station.

From Lone Post, follow pin-flags north for just over a mile where you'll intersect the hard-pack, dirt road that connects Floating Island to Silver Island, turn left following the big flour arrows and pin-flags and head west on that road. Follow this road due west for a mile and a half, where it enters the brushy landscape at the foot of Silver Island. The road ultimately winds around to head south, where it joins the Silver Island Loop road. Follow the flour arrows and pin-flagging south, then continue following the pin-flags to Aid Station 3 (Cobb Peak Road), at 22.6 miles

From Cobb Peak Road, continue south on East Silver Island Road for 9.9 miles to Aid Station 4 (Jeep Trail) at mile 32.5.

Leave Jeep Trail Aid Station on a narrow, rocky 4x4 road heading North-West. Follow this road as it turns west for 5 miles to where it joins West Sliver Island Loop Road again, and then head south for 2 miles to Aid Station 5 (Rock Pile) at 39.3 miles.

After leaving Rock Pile, follow West Silver Island Loop Road south for about 1.3 miles to a dirt road on the left, and following the signage and blue pin flags, make the mile climb up to a narrow pass, then enjoy running the fun ATV trail down to Ranch Road, cross it to the dirt road on the other side, and follow the blue flagging as you cross the saline canal, and make a b-line for the "C-Store" (aid station 6) at 45.5 miles.

Leave C-Store Aid Station and continue following the 100 mile course (green pin flags) west to the intersection with Speedway Road. Turn left on Speedway Road and follow it north for just over a mile and then bear right onto the salt flats on the right side of the Speedway Access Road and head east staying about 50 yards from the Speedway Access road, ticking off the mile markers for your four mile sprint to the finish!

Where the salt flats themselves have collected rain water and are under 3" of water. Under this circumstance, we'll be running an alternate course, which proceeds as follows: Leave the start, and run west along the shoulder of the access road following the green flagging. At the Y with Levy Pass Road (mile 3.83), continue to head west for 0.71 mile to the "scenic byway" of east Silver Island Road (and an unmanned water stop). Follow the flagging north for 5 miles to Aid 1. Leave Aid 1 north and continue for 3.33 miles to Aid 2. Leave Aid 2 and head north past the 50K turn-around at 15.5 miles, and to Aid 3, where you'll turn around and return to Aid 2, and follow the normal course on Jeep Road.

Mehr lesen
Route
directions_runStart Adresse: Bonneville Speedway Road, Wendover, UT 84083, USA
flagZiel Adresse: Bonneville Speedway Road, Wendover, UT 84083, USA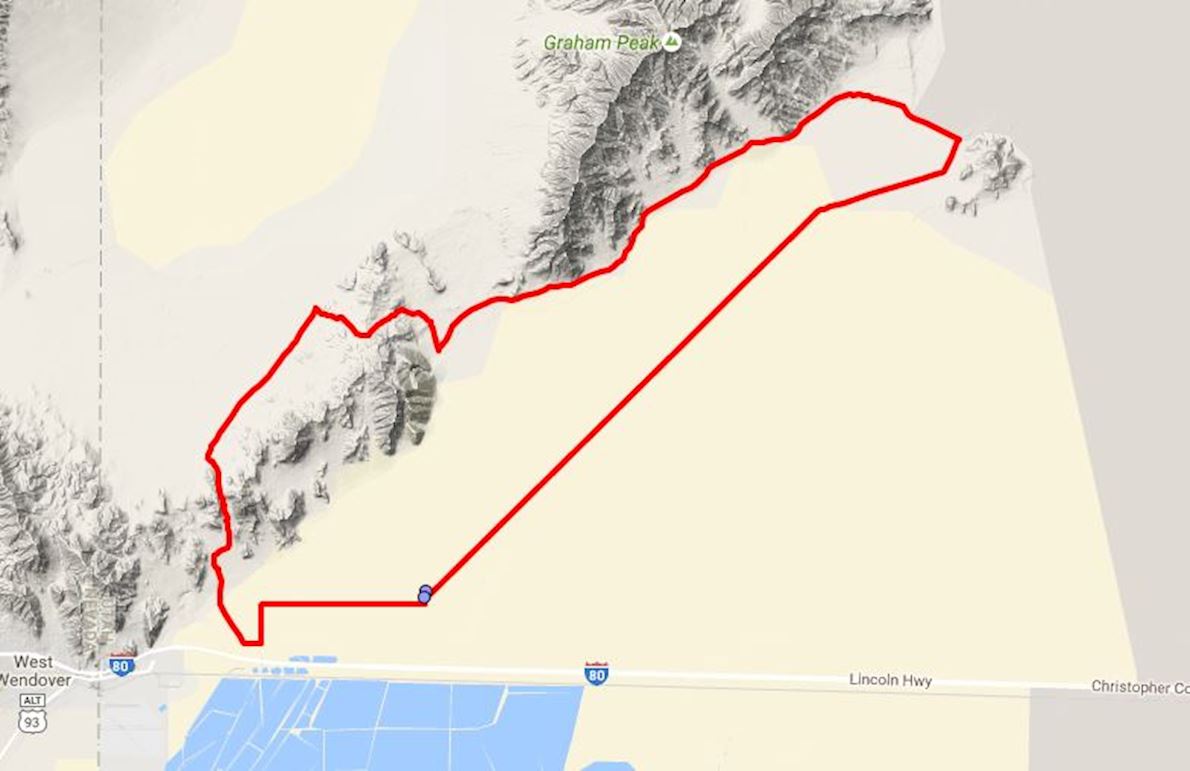 PRAKTISCHE INFORMATIONEN
We will provide aid stations with water and traditional aid station fare (Electrolyte Drinks, S-Caps, Gel, melons, bananas, PB&J, etc) but in the end, you are expected to be responsible for your physical well being. If you are visibly tweaking at an aid station, we reserve the right to hold you for medical evaluation or even pull you from the race. Please take care of yourself! There has been much discussion over the past few years on the level of medical evaluation that should be a part of a race like this. This event is NOT the Boston Marathon... it has no "medical director", no on-staff physicians. Thanks to the Elko Fire Department and several dedicated HAM Radio operators, we will have emergency medical support and off-road evacuation capability. If you have any doubt about your ability to maintain your own health, don't register. Also, please refer to the "Medical" page on this site for some general info on some ultra-running-related medical topics.
All finishers making the cutoff receive a finisher's medallion.
There is a 14 hour cutoff for an official finish.
Sei die/der Erste um eine Bewertung zu schreiben.
Salt Flats 50 Mile Endurance Run
check_circle 24-Stunden Ticketstornierung
check_circle Günstigster Preis garantiert
check_circle Deals & Rabatte
Die Renninformation wurde auf der offiziellen Website der Veranstaltung oder über öffentlich zugängliche Quellen gefunden. Auf der offiziellen Website finden Sie stets die neuesten Informationen zum Lauf. Bitte lassen Sie es uns wissen, wenn Daten inkorrekt sind oder fehlen, indem Sie uns eine E-Mail schreiben.