Salt Flats 100 Mile Endurance Run
directions_run
Ultramarathon - 0km
Salt Flats 100 Mile Endurance Run
schedule 24-Stunden Ticketstornierung
local_activity Deals & Rabatte
verified_user Refundable Booking
Join Salt Flats 100 Mile Endurance Run
The Salt Flats 100 Mile Endurance Run is a premier 100 mile event, exposing the runner to the mind-bending terrain and extreme environment of the Salt Flats, Island Mountains, and Mud-Flats surrounding the Bonneville Speedway. The weather at this time of year can be everything from sunny and low 80's to blowing snow and low 20's. Part of the experience of running this course is encountering and conquering the unpredictable weather. You are fundamentally responsible for preparing yourself to run in any weather. Finish in under the 36 hour cutoff, and the coveted SF100 Buckle is yours! Signup Now!
The 100 Mile race starts at 7:00AM on the Bonneville Speedway and runs out to join the roads and trails that traverse the "islands"... mountains that seem to float on the Salt Flats.
The course starts and finishes at the same location, so runners won't have to worry about shuttling vehicles or themselves. The course will also spend several miles in Nevada, so we'll see about getting a few slot machines at those aid stations. 
Runners will be traveling on the Salt Flats, dirt roads, atv-trails over mountain passes, open mud-flats, and will have amazing vistas throughout the course... even at night! Keep your camera handy during the run, as you'll only see these views here!

Course highlights
The course begins at the end of the Bonneville Speedway access road on the staging area for the Speedway. Once the gun goes off, head North following the flagging along the Speedway for 10 miles, passing Honey-Bucket portable toilets at mile 3 and 7, to Aid Station 1 (Salt Flats) at 10 miles.

You'll be running on nearly 6 feet of solid salt for this entire section!
The surface is generally quite hard, similar to hard-pack dirt. However, if there's been any moisture, it can be very sticky and you can accumulate some salt cakes on the bottom of your shoes… just keep running and it'll fall off eventually.

From Aid 1 (Salt Flats), head north following the same flagging for almost three more miles, and then turn east following the same flagging and then pin-flags for about another 3 miles where you'll reach Aid Station 2 (Lone Post), at 16 miles.
You'll have transitioned off the salt and will now be on the classic firm sand of the salt basin. It's a little like running on the beach near the water line. The big post stuck in the salt here is a mysterious relic from the past and serves as a great marker for the aid station.

From Lone Post, follow pin-flags north for just over a mile where you'll intersect the hard-pack, dirt road that connects
Floating Island to Silver Island, turn left following the big flour arrows and pin-flags and head west on that road. Follow this road due west for a mile and a half, where it enters the brushy landscape at the foot of Silver Island. The road ultimately winds around to head south, where it joins the Silver Island Loop road. Follow the flour arrows and pin-flagging South, then continue following the pin-flags to Aid Station 3 (Cobb Peak Rd), at 22.6 miles and prepare for the first real climb of the run.

From Cobb Peak Rd, head East up the hill on a winding, hard-pack and rock 4x4 trail which turns North to reach Cobb Peak pass, and Aid Station 4 at 25.5 miles.
Descend North from Cobb Peak Pass down the canyon, and take note of the dozens of caves in the rock formations to your right… The Native Americans in this area historically used these same caves as shelter, storage, and ceremonial sites. Follow the road out of the canyon 3.3 miles to the intersection with the Silver Island Loop road, and again follow the flour arrows and pin-flags to join the hard-pack, dirt road heading north-west. The road quickly turns more due west, and after another 2.7 miles, you'll arrive at Aid Station 5 (Hastings Junction) at 31.6 miles. You are now standing in the same place that the Donner-Reed party camped during their fateful journey to California.

From Hastings Junction, follow the main dirt road north, avoiding any of the tempting by-roads.

As you pass over the first hill, you'll descend onto Crater Island. You'll pass a few other possible departures from the main road, but stay on the main road headed north. The landscape will begin to change and become more formidable as you climb up to the first pass at 37 miles, then you'll descend again through a wide valley before the short, rocky climb to the second pass at mile 39.5. Take in this surreal view, as very few humans ever see this part of the Salt Flats, and if the day is clear you'll be able to see the mountain peaks in Southern Idaho from here. Aid Station 6 (Sheep Camp) is located here, so you can eat while you enjoy the view. Top off your water for the next section... you're going to need it!

From Sheep Camp, descend down the steep, rocky jeep road and as the tracks fade into the sands of the salt desert, follow the pin-flagging left and head south along the edge of Crater Island, following the intermittent ATV tracks and the regular course flagging.
Pay close attention to the course markings and flagging, as the trail here is very ill-defined at best, and virtually non-existent at worst. Keep the brushy parts to your left, and the salt desert to your right and you'll be on track. The surface here will alternate between relatively firm to almost like flaky pie-crust, so plan on your hip flexors getting a bit of a workout. Follow the curves of the foothills of Crater Island as it takes you South for about 8 miles where you'll link up with a very rocky jeep road heading East. A water station is located here. This winding road climbs up the hill to where it joins the main road you ran North on as you left Hastings Junction. Head South on the main road back to Hastings Junction at 50.4 miles (Aid 5 and Aid 7).

From Hastings Junction, head west on the hard-pack dirt of West Silver Island Loop road and follow it for 3 miles to where it makes a sharp turn south around some rock formations and out onto the flat, bushy desert.
Continue south on this road for another 3 miles to Aid Station 8 (Ghost Dog) at 57.4 miles. From Ghost Dog, continue south on this road to the intersection with Silver Island Pass Road (Aid Station 9) at 61.7 miles.

From Silver Island Pass Road, head East on Silver Island Pass Road for 4 miles over to the east side of Silver Island where Silver Island Pass Road intersects with the East Silver Island Loop Road. As you ascend to the pass, you'll hit the "talcum powder 100 yard dash" portion of the course. Gators are handy here. Once you hit the intersection on the other side of the pass, head South on East Silver Island Loop Road for 1 mile to Aid Station 10 (Jeep Trail) at mile 67. Leave Jeep Trail on a narrow, rocky 4x4 road heading North-West. Follow this road as it turns West for 5 miles to where it joins West Sliver Island Loop Road again, and then head South for 2 miles to Aid Station 11 (Rock Pile) at 74.3 miles. 
After leaving Rock Pile, follow West Silver Island Loop Road south for about 2 miles to a fork in the road, and take the left fork which runs you past a large concrete building on your right.
After passing this building, you'll turn right (East) on a paved road and continue running West for another 2.7 miles to Aid Station 12 (Nevada) at 80.6 miles. Be prepared for the pavement to end, and the washboard and rocks to begin as you enter Nevada.
Leave Nevada and continue West for another two miles where you'll see the left Turn (flagging, flour arrows, and traffic cones now mark this turn) which takes you back South-East on a narrow, hard-pack dirt ATV trail. Follow this trail past an unmanned water stop (this climb can drain your bottles) to just after mile 88 where it turns sharp left and takes you North over a summit and down to Aid 13 (Utah) at mile 89.8.

Leave Utah, make your last short, steep climb, and continue the descent North-East on the now sizable 4x4 trail and follow it as it turns East. At mile 91, turn right taking the larger fork South and head towards the mountain top with the microwave antenna. After 1 mile, turn left and double-back on another 4x4 road heading back North for .4 mile towards a retaining dike, then turn East again for .3 mile, where it will turn South East for a mile. Continue on the ever-increasingly large road as it makes a bend North and then back to East to where it joins an enormous gravel road. Follow this road, and as the road becomes a "divided gravel highway", stay on the left side and continue down this road until you intersect the pavement at mile 94. Turn left on the pavement, and follow it to Aid 14 (C-Store) at mile 95.

Leave C-Store and continue West to the intersection with Speedway Road. Turn left on Speedway Road and follow it North for just over a mile and then bear right onto the salt flats on the right side of the Speedway Access Road and head East staying about 50 yards from the Speedway Access road, ticking off the mile markers for your four mile sprint to the finish!
Where the salt flats themselves have collected rain water and are under 3" of water. Under this circumstance, we'll be running an alternate course, which proceeds as follows: Leave the start, and run west along the shoulder of the access road following the green flagging. At the Y with Levy Pass Road (mile 3.83), continue to head west for 0.71 mile to the "scenic byway" of east Silver Island Road (and an unmanned water stop). Follow the flagging north for 5 miles to Aid 1. Leave Aid 1 north and continue for 3.33 miles to Aid 2. Leave Aid 2 and head north past the 50K turn-around at 15.5 miles, and on to Aid 3, where you'll continue up to Cobb Pass and the normal course.

Mehr lesen
Route
directions_runStart address: Bonneville Speedway Road, Wendover, UT 84083, USA
flagFinish address: Bonneville Speedway Road, Wendover, UT 84083, USA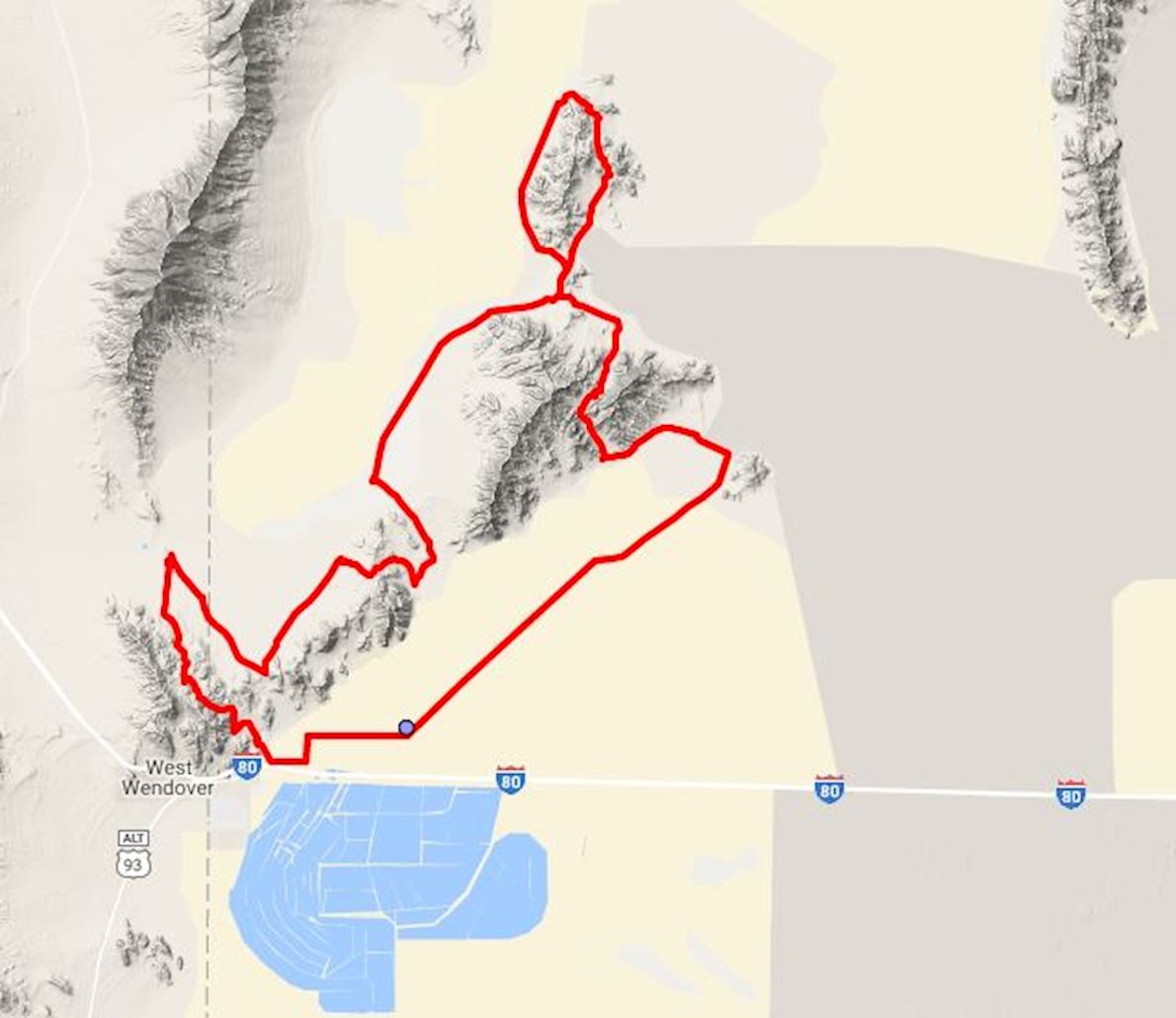 Es liegt zu diesem Event keine Bewertungen vor...möchtest du die erste schreiben?
Salt Flats 100 Mile Endurance Run
schedule 24-Stunden Ticketstornierung
local_activity Deals & Rabatte
verified_user Refundable Booking
Die Renninformation wurde auf der offiziellen Website der Veranstaltung oder über öffentlich zugängliche Quellen gefunden. Auf der offiziellen Website finden Sie stets die neuesten Informationen zum Lauf. Bitte lassen Sie es uns wissen, wenn Daten inkorrekt sind oder fehlen, indem Sie uns eine E-Mail schreiben.