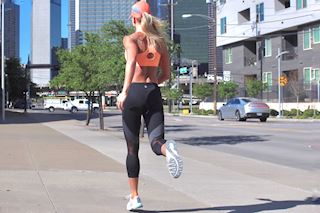 I've been running since high school where I ran track (though cheerleading was my bread and butter). Then in college I began distance running and fell in love. As a sophomore in college my game plan was to run 6 miles a day everyday and that did me well until an overuse injury led to knee surgery in 2005. Throughout that time period I began racing 5ks/10ks sporadically and had a first marriage that ended without children.
Running helped me through that tough time and has always helped me through times of uncertainty and anxiety. But as you'll learn more about me, anxiety is pretty much my middle name and I just manifest it via focus and discipline.

I met my husband Dustin in 2007, locked him down in 2008, had our gorgeous daughter in 2009 and ran my first marathon in 2010 (before my first half). I realized I wasn't half bad at the long distance thing and decided to continue at it in between having another child, a son in 2011, and suffering with 4 stress fractures along the way (2 tibial, femoral and second metatarsal).

I also made it a goal to run throughout both my pregnancies till the end and that's a huge belief of mine (if you can) because I loved it and it made me feel so good. So while I'm often the poster child of what not to do, I love sharing what I do (for learning purposes for myself to look back on) and maybe my story will touch someone and impact them in a positive way. If not, that's ok, too.

My biggest goal on the horizon right now for 2017/18 is to get healthy and build my base again. I've been injured left and right for the past 4 years (stress fracture metatarsal, torn quad, high hamstring tendinopathy, and most recently a plantar plate tear) and I just want to train smarter rather than harder. I have 0 races on the horizon but have already completed 9 or 10 this year and do plan to pick a full marathon in 2018, as well as get on with a coach again.

I feel so grateful now for every step I run that I am not being greedy about my miles. My ultimate dream is to Boston Qualify but I can't get there unhealthy. I'm hoping by sharing my journey, as winding as it is, others may identify and can see what I do! Feel free to follow along in my blessed journey.
Did you enjoy reading about Jessica? You can connect with her on Instagram.
If you would like your runner story to featured as well, kindly drop us an email  at [email protected], and we will be in touch to get you all set-up!