Heading to a Work Conference? See these Cities in Less Than an Hour by Taking a 5k or Less Running Tour!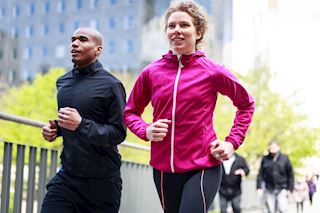 As life starts to get hectic, the first thing that tends to go is exercise. And if you are traveling for work, when you get home, you probably want to spend some much-needed time with friends and family. The good news is there is a way to get your workout in, while at a conference and see an entire city in less than an hour. These fabulous five and under mile running tours are for the newbie to novice runner who is looking to sightsee on foot.
1. Austin Personalized Running Tours
Whether you are an expert runner or more of a jogger, you might want to see only the things that you desire. An Austin personalized running tour is the way to go. You can choose to view Austin on foot running either three miles or an entire 26 miles, which is just .20 mile shy of a marathon. The greatest part about the Austin City Running Tours is that you not only get to choose how far you want to travel on foot; you can design the path to only see what you want to see. A personalized running tour is excellent for someone who isn't really into the whole "group" thing.
2. Two Bridges and a Bull Sightseeing Running Tour
If you are visiting the epicenter of commerce, Manhattan, then the Two Bridges and a Bull Sightseeing Tour is a great way to start your morning. The five-mile run starts off looking down at the harbor as the sun begins to rise and finishes in the heart of the action. The tour charges right through the downtown financial district. Not only will get your workout in before the conference starts; you will learn a whole lot about New York's History. It is an excellent way to fit it all in, and still, have time to socialize after the work day is done.
3. St. Louis Running Tour
The St. Louis Running Tour is touted as the first and the only running tour that allows you to see downtown St. Louis. The path through the downtown is a quick 3.5-mile run through the streets. Runners pass through all the historical spots that St. Louis is famous for. The tour is generally a flat course, so anyone can enjoy it. The route goes through the Gateway Arch, Eads Bridge, Stan Musial, the Old Cathedral, along the Mississippi River, through St. Louis Union Station, and past the runner statue standing in Kiener Plaza. This tour is totally doable for anyone who wants to get in a quick workout within an hour.
4. Run with a Local in Johannesburg
When staying in Johannesburg, you can see the beautiful city with the help of a guide who knows best; a local one, at Run With Me Tours. Following a Johannesburg native either through the downtown center or going off-trail and seeing the countryside are both a great way to get around and get your exercise. The 8km run tour is enough to see a good majority of what you want in just about an hour or less. You can either book a tour with a group, or if you want to make it a team building exercise, book it with co-workers. A team that plays together, stays together. So create some memories outside the boardroom that will carry into working hours and a more cohesive team of workers for the long-term.
5. San Diego Running Tour
If San Diego is your next conference destination, don't miss out on seeing the city from end to end. The Downtown Running Tour is a 3 and a half mile trek through the city viewing some of the oldest historical landmarks with the best view ever, on foot. Or if you want to see some green space in between meeting rooms, the bridges of Balboa Park Running Tour is an excellent choice. A tour guide will lead you through hidden pedestrian bridges located throughout Balboa Park that you would not otherwise know about or see. If your a beer fan, then the Beermar Brewery Running Tour will allow you to combine your hard workout with a little pleasure. The 3 and a half mile run begins at the most beloved breweries of the city, Beermar road. It contains a vast number of microbreweries to look over, which is why it is known as "Beermar". Or, finally, if canyon running is something you want to try your hand at, the San Clemente Canyon Trail Running Tour runs through what San Diego residents call the "Enchanted Forest". Although the running paths are comprised of flatlands, it has a whole lot of green cover to absorb and to pack in a ton of oxygen.
6. Good Morning Belfast Running Tour
If you are visiting Belfast in Northern Ireland, you can see all the amazing sites in just one hour. Runners can get their workout in before most people have even gotten out of bed. See the sights of the Cathedral Quarter and the River Lagan Towpath. While racing around the city in the brisk air of the morning, you can get a glimpse of all the great pubs and restaurants to choose from when the work day is over. If you are going to travel to Belfast, make sure to see more than a boardroom and a couple of guests speakers. Enjoy a guided tour surrounded by spectacular sites and fantastic architecture.
7. Tour Rotterdam
If the Netherlands is your next conference destination, then get in a little history while traveling. The World War. II Tour Rotterdam will guide you through all of the best sites that Rotterdam has to offer. You will pass across the Erasmusbrug, past the Cube House, and into Market Hall. The medieval and 17th-century buildings are like nothing else you've seen. Since the tour is only 5km, it is suitable for people of all fitness levels. So bring some co-workers along and make an afternoon of it.
Traveling for work can take a lot out of you, and it tends to take a lot out of your workout routine. Next time you head to another city to learn more about your trade, book a quick tour to see the sights of the city. You can see the greatest points of most cities in less than an hour. So you can finish it before most people have even had their coffee. Or, you can even take a quick run on your lunch break. Try out these great running tours, or get more information about running tours around the world at
.