From Beginner Runner To Elite Marathoner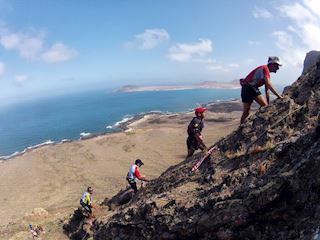 Taking Recreational Running To The Extreme, Marie Wallin Is Going From Casual Runner To Elite Marathoner
Most of the people that I know can barely run to the mailbox, little less ever dream of running a marathon. That is why, when someone makes the commitment to take their recreational runs to a new height, the rest of us stand in awe. The occasional five to eight-mile run is an accomplishment in its own right, but covering over 25 miles plus of pavement with nothing but your gym shoes and the drive to make it to the finish line, puts athletes like Marie Wallin on a whole different level.
There are all different types of marathon trails you can set course for, but what Wallin has chosen to commit herself to is something that will push her body and her soul to the limits of what is humanly capable. Never running a marathon before, she has set her sights on the  Haria Extreme Marathon on Lanzarote, which is one of the most spectacular, yet grueling, courses in the world.
This past January, Wallin decided that she was going to expand her running horizons by originally signing up for another extreme marathon race on a different Canary Island, Fuerteventura. When that race was cancelled, she did not put her marathon dream aside - she instead decided to do the Haria Extreme Marathon on "the neighbor Canary Island" Lanzarote . The trail starts and finishes at the village Haria on the northern part of the Canary Island Lanzarote. Being from Sweden, she believes that the heat and sun will not be a problem, but the strong winds may challenge her senses and, obviously, the rocky course will wreak havoc on anyone who has not trained for it.
What is the
Haria Extreme Marathon
?
The Haria Extreme Marathon is a trail marathon course that takes place on the northern part of the Lanzarote Island. What it means to those who never went to Lanzarote is sun and volcanic mountains.
For those who do, that means 20 plus miles of heavy terrain including volcanic rocks and unchartered territory, which is extremely hard on the joints, and takes the stability of an elite runner to find their way to the end injury-free. At the highest peak, those who participate will have to endure a race uphill 1.600 meters and then catapult down to 1.600 meters with a maximum altitude of 540 meters overall. No small feat for even the most seasoned marathon runner.
There is no doubt that it is one of the most scenic races on earth, but the undeniable difficulty that the volcanic mountains and rough terrain present to runners, requires more than just race running experience and training. A diverse marathon, due to the unique nature of it, not only is it a tough choice for marathon newbies, it calls people from across the globe looking for more than just your average marathon course.
Marie's experience
Previously completing, in a similar setting, the Fuerteventura Coast 2 Coast Trail races in the distance 10 K in 2014 and 2015 she came in 3rd overall female in 2014 and 2nd in 2015. Although never considering herself an elite running athlete before, she found that she had what it took to train for, and perhaps, win a marathon. The thing that she wasn't prepared for is the limitations of injuries.
As any runner knows, when you get into the groove and start feeling really competitive, is when you find your Achilles heel, literally. Running is a sport that takes every bone and muscle in your body to the point of exhaustion. Just like finding the weakest link in any chain, training for a marathon, will make you feel less invincible.
A lawyer and well-accomplished woman, she has always faced a challenge head on, but pushing yourself to the limits when out on the course, when it is just you and your thoughts, is something completely different. When asked what her biggest hurdle would be, first she said her knees, and then almost corrected herself to admit that it was the mentality of continuing to push on that might get her on race day.
Finding her Achilles heel
Struggling with knee pain and injury, Marie's first goal has been to train the smart and stop worrying about being a warrior. The mistake that many athletes make is believing that repetition is the key to success, so we hit the trail on those days when our bodies say "stop," instead of taking those days to rest or to work on the reasons our bodies speak to us.
Recognizing that the key to making it all the way to the end is not only about having the mental strength to talk yourself into finishing when you least want it, it takes building those parts of us, both mental and physical, that limit our ability to achieve our goals, Marie sought out trainers to improve those limitations in her mechanics to ensure that her physical capabilities were optimal.
Her friends and family are not only supportive; they find it admirable that someone who has always been so independent, and accomplished so much already, continues to push the envelope and believe that believing in yourself can move mountains. The truth is that she knows you can't move mountains, but with some hope and perseverance, and a whole lot of hard work, you can make your way through the peaks and valleys, to do something really amazing.
At the end of my interview with Marie she mentioned that she intended to run for cancer charities in Sweden. When I told her of my husband's death of pancreatic cancer in 2009, she told me she would use him as inspiration to make it to the finish line. A truly inspirational person herself, she made an impression on me not only for her commitment but her compassion. We will all be cheering her on to the finish line. Go Marie!
Follow Marie's journey via her Instagram and for our Swedish readers check out her blog.