5 reasons to run Ephesus Ultra Trail in beautiful Şirince in Turkey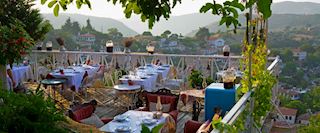 Ephesus Ultra Trail Run offers everything from distances for everyone, to UNESCO World Heritage Site, pittoresque villages and closeness to the ocean. Ephesus Ultra Trail run is perfect for an active spring getaway and takes place on the 17th of March 2017.
1. UNESCO WORLD HERITAGE SITE EPHESUS 
The 85k Ephesus Ultra Trail passes through the 8,500-year-old city of Ephesus which today also is an UNESCO World Heritage Site. In Ephesus you can also visit one of the 7 wonders of the world, the Temple of Artemis which includes 3 ancient sites; the Virgin Mary House; Church of Saint John, and Şirince village.
2. PAMUCAK BEACH
When you've had your fill of ancient ruins head over to Pamucak Beach, between Selçuk and Kuşadası, which is a top place to relax and catch some sun. Do as the locals and bring a picnic to enjoy while you hopefully will get lucky enough to do some spotting of the flamingos who usually stay by the nearby estuary during early spring.
3. THE PICTURE-PERFECT VILLAGE OF ŞIRINCE
Start and finish of the Ephesus Ultra Trail run is placed in Şirince Village, close to Ephesus ancient city. Şirince is a picture-perfect village of red-roofed stone houses surrounded by cobble stoned streets. The pittoresque village of Şirince is known throughout Turkey for its olive oil, fruit wines and atmospheric boutique hotels.
4. DISTANCES FOR EVERYONE 
At Ephesus Ultra trail Run everyone can participate with distances that are suitable for all. 85k, 30k, 15k, 5k and there is also a kids run, so that you can bring your full family and enjoy some great running and beautiful sights together.
5. A WELL ORGANIZED EVENT WITH ULTRA TRAIL PROFILES
The Ephesus Ultra trail run is a well organized event offering everything from yoga workshop, keynote speakers and pasta party to after run party celebrations, all taking place in Şirince Village located on the top of a mountain with impressive vineyards and peach trees.
THE EPHESUS ULTRA TRAIL RUN ALSO ATTRACTS ULTRA TRIAL PROFILES SUCH AS:

Bakiye Duran, First Ultra Runner Of Turkey.
Faruk Kar, Ultra Runner And Adventure Runner.
Anna Arseniuk, Elit Runner From Poland. Cappadoccia Ultra Trail 3rd. Women In General
Davood Shirkhani, Salomon Iran Team

CLICK HERE TO LEARN MORE AND REGISTER!