6 facts about Skopje and Wizz Air Skopje Marathon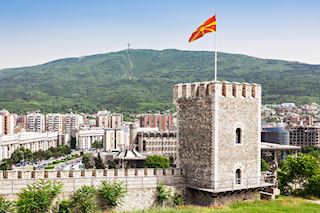 Every May the streets of Skopje is crowded with thousands of runners taking part in the Wizz Air Skopje Marathon. It's the biggest sport event of the country attracting not only a lot of runners but also a cheerful crowd who support the runners from start to crossing the finish line
1. Promotion team of 2017 edition are the marathon trio sisters from Estonia
In 2017, the triplet sisters from Estonia, Leila, Liina and Lily Luik are the promoters of Wizz Air Skopje Marathon. The triplets are the first triplets in the history of the Olympics to have qualified and participated in the summer and winter Olympic Games. They will come to Skopje to promote the race and participate in the 5k run!
2. The country's biggest sporting event
Runners from across Europe - and further afield - will take to the streets of the Macedonian capital where they will run to raise money for charity, to smash personal goals or simply to run for their health and well-being.

The Skopje Marathon has a relatively short history and nevertheless the event is the biggest event in the country's sporting calendar. Based on preliminary entries, organisers expect 7500 runners from 45 countries to take part!
3. Fast running 
Are you looking to set a new full or half marathon record? Skopje Marathon and Half Marathon offers a flat course and you can also choose to run with one of the pace holders who have been assigned the task of leading a pace group.
4. Beautiful historic city 
In Skopje you will found a flood of historic monuments and archaeological sites. Take some time and enjoy some of the historic sites such as: the city square, Skopje Old Bazaar and Art Bridge. The Old Bazaar is one of the city's main attraction and is the largest preserved bazaar in the Balkans. On the Art Bridge you will find statues of famous Macedonian artists and musicians, the bridge was built in 2014 as a part of the larger refurbishment project of Skopje
5. Lake and Canyon Matka
You will find Lake and Canyon Matka only a 30 minute drive from the city and represents one of the favourite week-end destinations for Skopje citizens. As the river carved the canyon many caves were created and most famous one is Vrelo Cave which can be reached by a boat ride across the river. Lake and Canyon Matka is highly recommended an after marathon getaway destination, to refuel and reconnect with nature.
6. Macedonian cuisine and wine
After either completing one of the marathon distances or cheering the runners on along the route you truly deserve to give your taste buds something extra. What better way to give yourself a treat then enjoying the typical macedonian cuisine and accompany it with some locally produced wine? 
You will be able to choose from in particular lamb or red meat served with a variety of fruits, herbs, vegetables and cheese. If you're into spicing up your night a notch more, why not round of dinner with some Rakija?