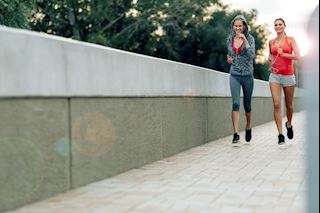 No Boys Allowed… Races with female marathoners
If you are looking for an event to bond with like-minded female running enthusiasts, forget the testosterone and just enjoy the ride. Women only marathons are an amazing time to join forces with other girls, moms, daughters, even grandmothers. You can be as competitive as you want to be, so don't be fooled by the lack of men.
For most women only marathons it isn't just about the race event day, it is an opportunity for women to connect with other women and to enjoy some time away from the everyday work. Whether you are running for a cause, or just to say you did it, these are some really amazing female only marathons to participate in. Many train for these marathons with a group or friends and the race preparations is as important as the race itself.
Race For Life Women-Only Marathon UK
Raising money for cancer, this woman-only marathon was created for women who have been challenged by other things than a running course. Dedicated to women who have beat cancer, the Race for Life Marathon unites women from around the globe who have beat the odds and are ready to move on to a new challenge. Every dollar earned goes straight to cancer research which makes it even more inspiring to those who participate as well as those who stand in observance. It is also for those who have had women in their lives fighing cancer. A truly spiritual experience, it combines the will and the hearts of women around the globe.
Conducted in the backfills of Dakota, the Leading Ladies Marathon is an inspiring run that is almost all downhill, but only in terms of the course. A stunning race route through the Spearfish Canyon, the mystic Black Hills mountains are awe-striking. If you want to try your hand at a woman-only marathon before running with the "big boys", this is a Boston qualifying race that is a more gentler feel and a time to be surrounded by the support of other women from around the country. From elite to beginner this race is just about challenging yourself and getting to the finish line.
Japan has had a long tradition of women only marathons. Eventhough some of the events have lost their popularity in recent years, so still attract thousands of female marathoners and even olympic runners. In the annual marathon in Osaka, you run alongside women from around the world who are coming together to share a unique marathon experience. A mostly fast and flat course, it is comprised of many road running. You also get the opportunity to discover the Japan with nothing but your running shoes and the comoradary of other women.
Held in the Balearic Islands in Palma de Mallorca Spain, this women's only marathon is one of the most scenic and spectacular races from around the world. A road running race, run alongside other women challenging each other to make it to the end.
All Women Ultra-Marathon
For those who want to push themselves above and beyond surrounded by the encouragement of other "insane" runners, All Women Ultra-Marathon is a race in Cebu Philippines that spans over 50 kilometers. Limited to 250 runners, this one will put you in an elite category of athletes from around the world. Explore the Phillipine countryside alongside other women who are pushing themselves to the brink, an accomplishment that only very few women will finish in their lifetime.