Running Tour in Paris - Discover Paris with your guide Andréa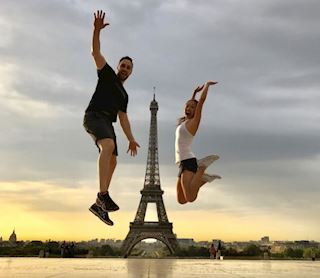 Come discover Paris together with your running tour hosts Andréa, Hamidou and Chabane! You will discover the sights you just cannot miss, in the most beautiful and romantic city of the world. We will show and teach you more about the main Parisian landmarks while running the calm morning streets of Paris.


The reason I started my own running tour company in Paris
I first had the idea of leading running tours back to 2013 while running with some friends in the streets of Paris. I thought the idea of being able to show people the beautiful landmarks of Paris while running seemed like a lovely idea and a way I would love to experience other cities.

Most of my friends thought it was a crazy idea, and back then, even I thought so. That was until I found out that others had been hosting running tours worldwide since the middle of the 2000's.

For me, to host my own running tours is a perfect combination of my university background in tourism (I have an entire academic background in the tourism field, being a Professor of Tourism) and my passion for running, with a reasonable curriculum in race competitions, from 10K to ultra-marathons.
The top reasons to why I think you should book a running tour in Paris
1. You get a private experience, off the beaten track, while catching the sights most visitors to Paris will never get to experience.
2. Getting to know Paris from a local, hidden gems and insides you would not get to know from a normal guide
3. Visiting Paris, getting fit and staying active means guilt-free indulgence in all the delicious Parisian foods like bread, croissants, macarons and more.
4. Developing as a runner, your guides are expert runners and willing to share their experiences and fitness advise with you.
5. You don't have to worry about finding the route, we know them all and are already looking forward to sharing them with you!
What should I do/visit after doing my running tour?

You should definitely have a huge breakfast- we'll make sure you'll deserve it! Most of our guests book a running tour in their first days in town, so they get to know their way around. Later they will go back and visit the places, monuments and museums which they liked the most - and show them to their friends or family, who choose to sleep in while the others were out running Paris!

We give a lot of suggestions on places worth visiting; the best restaurants, bakeries and pastries in town and excursions outside Paris. One time I even helped a guest to choose between a weekend on the Northern coast of France and in the Alps (I suggested the latter because we were in full winter and he told me afterwards that they followed my advice and had loved it!). 

We are truly passionate about Paris and about France. We also do travel quite a lot, either for race competition or just for exploring new places, so we're quite comfortable to play the role of "travel consultants", whenever asked.
Click here to find and book a running tour in Paris!