Runner in the spotlight: Pris Chew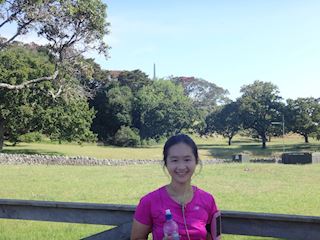 I had started running in early 2012, purely as a way to get fit. I had been eating a lot, but not been working out much at all, before then.
And then in mid 2012, some of my friends encouraged me to sign up for a 10km race with them; that had been my first running race, and after completing it, I found that I could not stop running. I had caught the running bug.
Finished several marathons and a couple of ultras
Today I am not just completing 10km races, but I have also gone on to finish several full marathons. As well, I am also a finisher of a couple of 50km trail races and a 101km road race too.
The 101km event, which had taken place at the Craze Ultra run in Singapore, had not been on the cards for me. I had only participated in it because of persuasion from my friends and I did not train for it adequately, with my longest training run prior to the race, having been only about 21km.
This was definitely the most tiring experience that I'd ever had in the name of running, and I can still remember how I had run till I could not even walk. After about 2/3 of my way through the race, it was so bad and the pain had been so intense that every step felt as though a knife had been plunged into me. It took nothing but sheer willpower in order for me to finish that run, but I made it.
Improved my personal best marathon timing by leaps and bounds
Since I began running, I have also improved my personal best marathon time from 5h 17min at the Standard Chartered Marathon Singapore 2013, to 4h 31min at the Gold Coast Airport Marathon in Australia this year.
This is a 45-minute improvement and it has whetted my appetite to see how much faster I can get in running. Prior to this, I had been struggling to break the 5 hour mark in a marathon.
Running and Traveling
Besides Gold Coast, I have also run races in Kuala Lumpur, Malaysia, as well as in Auckland, New Zealand, and I feel that running is the best way to experience a new country and to see its sights and sounds. I also hope to be able to run the Sydney Marathon in Australia soon, as Sydney is a place that I used to live, so running through the streets there would feel nostalgic and memorable to me.
I hope to make it to the Boston Marathon someday
Though I might still be quite slow compared to many of the other runners out there, but with every improvement in my marathon time and with my improving levels of fitness and regular training, I hope to eventually be able to qualify for the Boston Marathon someday.