Runner in the spotlight: Holin Wilbanks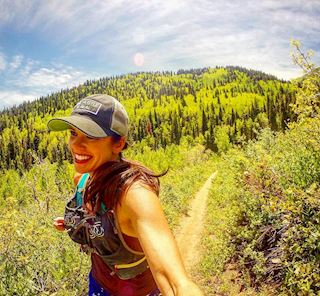 How has running changed your life? I'm a better mom, wife and friend since I've been able to spend time lost in the mountain. There's just something magical about the climbs, the peaks, the rivers and the quiet that you can hear so loudly when you are miles away from the real world.

Where is your favorite place to run? My Ogden, Utah mountains are really the best place to run. I've tried to find other trails that I love just as much, but I keep coming back here.

What is your favorite post run food? Peanut butter and jelly sandwich... or an ice cold beer... or both ;)

What do you consider your biggest accomplishment? When my six-year-old daughter is waiting at the door in her running clothes for me to get back from the trails and take her back out there... that's the biggest accomplishment.

Who is your dream running partner? Obviously I'm pretty smitten with my kiddos, but I would love to share the trails with my daughter or son when they are older. That time together would be something that I would hold on to always.

If you could run any race what race would it be? Zagori Mountain run in Greece is on my bucket list. You gotta dream big, right??

Favorite piece of running gear: My dog... if I could take him with me on every single run, I would. His goofy dog smile and his excitement for "going" completely matches mine. Also, I'm trying to run "naked" (sans technology) more often, but honestly I love my running watch and tracking the mile and ascent of the trail. I run with a Suunto Ambit 3 and it's so freaking cool.

What is your most embarrassing running story? I wish I had a good one, but honestly, what you see is what you get... I pretty much own any weird or unusual moments in my life. I figure that's really what's life is all about. If we weren't all different... and strange... and weird at times, how boring would that be?

What is one thing we should know about you? One thing??? Good question... I'm not sure I could find just ONE THING, but I hope that people can tell from the way I live my life that I want to see, feel and explore all of it. I love big and I laugh a lot. And probably, most importantly, I like chocolate cake.

Did you enjoy reading this? You can connect with Holin on Instagram.
If you also would like to be featured, send an email to [email protected]