Runner in the spotlight: Emily Sanone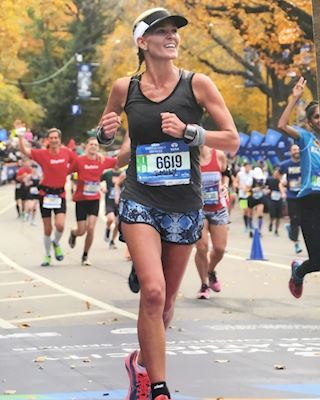 How has running changed your life? My daily runs are what clears
my head and gives me perspective on things. I feel gratitude when I
run. It is a time when I am completely in tune with myself… my
feelings, my thoughts, and my body. Taking that time for myself
early in the morning helps me approach the rest of the day with
more clarity and a better attitude.
On a bigger scale, running races, specifically marathons, has
changed my life because it has taught me to get out of my comfort
zone. Every time I sign up for a race I get butterflies and I am
completely intimidated. I love this about running because by the
time I cross the finish line I am SO proud of myself for the
accomplishment, that I am already thinking about the next event. It
teaches me that with determination, confidence in myself, and a
positive attitude I can do really hard things.

Where is your favorite place to run? I have two answers for this. If
I am running for my HEAD, I would choose to be up in the
mountains. I love running on trails and I find it to be a spiritual
experience. Running up to Elephant Rock in Bountiful, Utah, is
one of my favorite trails in every season. If I am running for my BODY and working on improving my performance, I love pounding the pavement and really watching my pace. I am constantly setting new goals and racing against myself. It is fun running a specific route and then running it again the following week and beating my previous time.

What is your favorite post run food?  I love frozen blueberry
smoothies after a long hot run in the Summer.

What do you consider your biggest accomplishment? I would say
my biggest accomplishment is sharing my passion for running with
others. Whether I am coaching kids at the elementary "Run Club"
or helping clients train for a marathon, I love watching people fall
in love with running. It is very rewarding to help people set big
goals and accomplish them! I don't think my clients realize that I
am glued to my phone when they are running their races just
waiting to hear updates on how they are doing. I get so excited for
them because I know the dedication and time that has gone into
that one event.

Who is your dream running partner? My dream running partner is
someone that is adventurous, likes to talk, likes to laugh, and
pushes me to go farther and faster than I normally would. 
If you could run any race what race would it be? Well, I have

always had it on my bucket list to ski Mont Blanc in Chamonix,
France, but this year I found out there is a trail marathon there! I've
never run a trail race and I'm thinking I want to change my bucket
list to RUN Mont Blanc instead of ski there.

Favorite piece of running gear? My Kahtoola microspikes. These
are spikes that are so easy to slip on over running shoes and they
give perfect traction to run all of my favorite trails when they are
covered in snow. Winter can be tough for running when roads are
slick. To have the option of running outside on the snowy trails is
awesome… anything to avoid the treadmill.

What is your most embarrassing running story? When I got lost on
a race course of a half marathon. I had run the race the year
before and I was determined to beat my time. I was running along
the course and a group of high school cross country runners that
were just out on a morning run hopped on the trail where we were
racing. The race course went to the right and I just stayed in the
pack with the high school kids and veered left. When the teenagers
turned off to go a completely different way, I looked around and
realized there were no other runners with bibs around!! There
were some ladies out walking that had to give me directions to get
back to the race course (as I stood there looking like a total idiot
with my race bib on). I found my way back to the course and
finished the half marathon that ended up being a 15 mile half
marathon. Needless to say I didn't beat my time from the year
before.

What is one thing we should know about you? One thing? That I
am not an elite athlete and I never have been. I fell in love with
running during my teenage years and now I'm a mom that loves to
run. I love coaching and helping others realize that the only person
they are racing against is themselves. Goals are personal and setting
them is important. I have learned to not let others intimidate me or
hold me back from going after my dreams. If I was worried about
beating everyone around me I never would have gotten into marathon running and I would have missed out on this life changing hobby.
Also, I am currently training for my 26th full marathon and my goal is to beat my first marathon time by one hour (my current PR is 3 minutes away).



Did you enjoy reading this? You can connect with Emily on 
Instagram 

If you also would like to be featured, please send us an email to
[email protected]