Knarvikmila – 35 years of spectacular running in the heart of Norway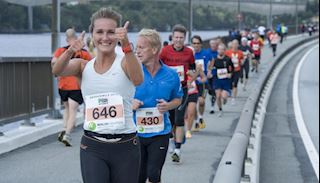 Norway's nature with fjords, mountain ranges and the proximity to Nordic sea is world-renowned and attracts millions of visitors each year. The Knarvikmila Half Marathon is yet another reason to travel to Norway. The race gives you an opportunity to run next to the sea and explore the unique fjord landscape, about half an hour north of Norway's second largest city of Bergen.
The Knarvikmila Half Marathon started in 1982 by Helge Brakke, thus celebrating its 35th anniversary in 2017. The race was first part of Knarvik Games. Knarvikmila has had a rapid development and in the last three years the number of runners has exceeded 8 000. Knarvikmila attracts as many female as male participants. 
Knarvikmila offers different routes along seawalls and both inland and uplands slopes giving extraordinary views. The runners pass the Nordhorland bridge which is the world's longest floating bridge, 2443 meters. The beautiful scenery and the closeness to the sea are of course the greatest values in Knarvikmila. In addition, there are nice arrangements in connection with the races, for example award ceremonies for the 5K, 10K, Half Marathon and the extreme race. Every participant in Knarvikmila receives a medal, goodiebag and a little to eat and drink at the finishing line. There is also the chance to win a car in a special draw(!)
Knarvikmila's finishing area is well-planned with a stage and big screens, a sports fair and as an extra bonus free buses to and from Bergen. Staying a few days extra before or after the Knarvikmila event is highly recommended. Discover the beautiful mountains and fjords around. One of many attractions that can should be seen is the mountain Fløyen and its funicular. 
Of all thousands of runners who sprung The Knarvikmila Half Marathon, the Ethiopian double Olympic gold medalist (1996 and 2000) Haile Gebrselassie is by far the most famous. He won Knarvikmila's in 2011 and set a new record time at 28:39.