Hassan Dia's story - BLOM Bank Beirut Marathon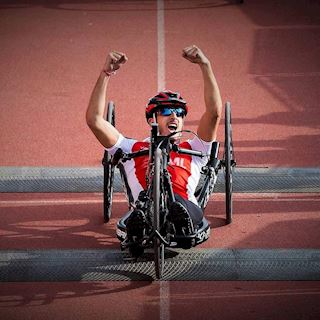 Every race is special in its own way, but this year's BLOM Bank Beirut Marathon will carry extra meaning for Hassan Dia, a 22-year-old Lebanese hand cyclist. 
Not only will the November 11 race wind its way around the streets of his home city, but it will also offer the rising star a golden opportunity to boost his qualification hopes for the 2020 Paralympic Games in Tokyo. 
"It's the most beautiful race for me," says Dia. "I lived all my life in Beirut, studied in Beirut for me to race in my city means a lot. In this race, we truly feel the heart of Beirut."
Next month's race will also mark the 10-year anniversary of Dia's introduction to para-sport, and as he reflects on his beginnings in this realm he cracks a wide smile.
"I was watching TV and saw the ads for the Beirut Marathon and I told my dad I wanted to participate," recalls Dia, who soon signed up for the wheelchair race in 2008. 
That was the same year Lebanon's Edward Maalouf won two medals in hand cycling at the Paralympic Games in Beijing, and his achievements left a strong mark on an inspired young countryman. 
"I said I want to become like him," says Dia. "I had a chance to meet Edward at the Beirut Marathon and every time I do, he gives me great advice."
Back then Dia started his career by racing the 10km wheelchair event, but throughout his teenage years he continued to progress and ultimately dreamt of tackling the full marathon distance (42.2km). 
In 2016 he got his chance when he was chosen to take part in the Ability Program run by The Beirut Marathon Association, which offers substantial support and professional hand cycles to a selection of para-athletes. 
Dia was among the 11 athletes chosen for the program in 2016 and the support received proved pivotal for his marathon preparations. 
"As a hand cyclist you need to train on the roads but it's often very difficult to do that in Beirut with the traffic," says Dia. "The program provided a stadium for us to train in and a coach to guide us in a professional way. It's become better and better each year and they always try to do their best and help the para-athletes in the Beirut Marathon."
Dia was born with spina bifida, a condition that affects the spine and spinal cord, but he has always refused to allow his disability to limit his potential. 
"For me, whether you have a disability or not, it's all about having goals in life," says Dia, who hopes his achievements inspire other disabled people to embrace the sport, both in Lebanon and further afield. 
"There is no difference between you and anyone else and you can be whatever you want, whatever your goal is," he says. "Just have goals in your life and follow your dreams."
As a student of audio-visual arts at Saint Joseph University in Beirut, Dia has to work hard to carve out time in his schedule for both his academic and sporting goals, but in recent years it began to reap rewards. 
To fulfill his dream of competing at the Paralympics, he realized he needed to race internationally, gaining points at races accredited by the UCI, cycling's world governing body. 
Last year he claimed victory in the hand cycling race at the Bucharest Half Marathon in Romania and also competed at the World Championships in South Africa, while already this year he has claimed victory at the Tripoli International Half Marathon and raced in both Sweden and Serbia. 
In the latter race he crashed and sustained a hand injury, which has since recovered, and Dia is feeling confident as the days countdown to November 11 and this year's BLOM Bank Beirut Marathon. 
He clocked his best time for the marathon in last year's race (1:43) but failed to make the podium, and having gone faster at shorter distances throughout 2018 he feels he's ready to achieve a long-term dream in next month's race. 
"Now I'm ready," he says. "I want to finish on the podium."
This year's race will be accredited by the UCI, allowing Dia and other para-athletes a superb chance to accrue qualification points for the Paralympic Games in Tokyo. While the 2020 Games may well be within his scope, Dia believes the 2024 Games will see him reach his ultimate peak and his journey there will start in his home city next month. 
"I want to be in the Paralympic Games and to see more disabled people in Lebanon engaged in sports," he says. "That's my dream."
About the BLOM Bank Beirut Marathon
The race was first held in 2003, attracting over 6,000 runners from 49 countries, and has since grown into one of the world's biggest marathons, with 48,000 runners toeing the line last year and a record-breaking 50,000 expected this year. Created by businesswoman May El-Khalil, the race has the theme of unity at its core and brings together both competitive and recreational athletes from various backgrounds in a friendly festival of participation and inclusion. 
For more information, contact [email protected] or
the race website www.beirutmarathon.org